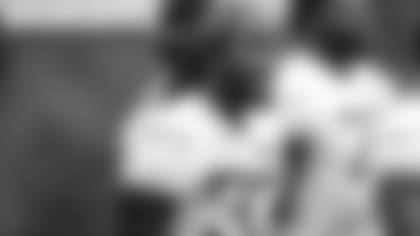 As if it wasn't enough to hear Aaron Rodgers talk up his new team and its growing culture ever since he climbed aboard right before the draft, the Jets and their fans got to hear it all over again today when superstar running back Dalvin Cook proclaimed that Florham Park, North Jersey and the New York Jets were the places for him to be as well.
"When I came here on my visit, I think I pretty much saw everything I needed to see," Cook said Thursday in his first news conference since officially signing his new deal with the Jets a day earlier. "It was a good vibe with the coaches, the players, everybody around the bullding. Obviously when you dig deep and look into the roster, all the pieces are put together. I think I can come and help these guys."
Some of the top guys in the Jets hierarchy couldn't agree more.
"It's great to have him here," head coach Robert Saleh said. "He's excited, we're all excited. Just watching his interaction already, you forget that we have a bunch of pups in that running backs room, and here comes a veteran who's still got a lot of juice, another well-placed veteran where I think it's going to help Michael, it's going to help Bam, Izzy, Breece, along with his ability to help the offense, because he can still play football, so we're excited about his addition."
Besides those young woofers in the RBs room that Saleh mentioned — Michael Carter, Zonovan "Bam" Knight, Israel Abanikanda and Breece Hall — the big dog himself, Rodgers, weighed in on the Cook signing Wednesday.
"Dalvin has got it done for a long time at a high level," the QB said. "He's motivated, he wants to win a championship. Obviously, he made it well known to me during the process that he wanted to play with me and play here, in Jersey, so we're excited to have him,"
"Being on the other side of that for the last six years, I couldn't be on the other side no more," said Cook, referencing his half-dozen years with the Vikings during which he ran into the Rodgers Packers twice a season. "I've got the chance to go join him and help him win again. That was a big thing for me to come over here."
Calling Cook an NFL superstar is only a reach in the sense that the tailback position has had less prominence in the NFL than it used to. But he and Cleveland's Nick Chubb both are working on current four-year streaks of 1,000-plus rushing yards, the only backs to do that since 2012. And if the rushing bar is raised to 1,100 yards, Cook has the opportunity this season to become the first RB with five consecutive 1,100-yard rushing seasons since Thomas Jones did it from 2005-09, the last three seasons as the Jets' well-respected and highly productive veteran import.
Cook and his wife are expecting their first child, so he won't be around One Jets Drive for a week or so, but he was in uniform Thursday and will be again Friday, going through workouts so the team can assess where he's at from his offseason shoulder surgery.
But he's already shown a familiarity with one of the staples of the new Jets offense. As Cook walked past Rodgers, in conversation with FB Nick Bawden, the two enjoyed a no-look connection, Rodgers slapping Cook's shoulder pad and Cook responding with a tap on the ARod butt.
Will the Cook addition spoil the broth of the still marinating Jets offense as skill position players now have to scour even harder for those precious touches? Saleh didn't think so, saying he didn't see "the disease of me" in any of his backs or receivers. And Cook said, during his information-gathering visits and again Thursday, that he's up for whatever role his new team has in store for him.
"It's a small window for that in this league," he said about building a team to win a title. "Me being in year seven, I kind of know that, getting to playoff games and losing, getting to championship games and losing. You've got that small window of kind of figuring things out.
"I once said I could be a missing piece, but I know I can come here and help a team win, I know on the football field what I can bring to a team. I'm just here to be Dalvin Cook, be explosive and be a great teammate."
See the best photos of the Jets during Thursday's open practice at 1 Jets Drive.