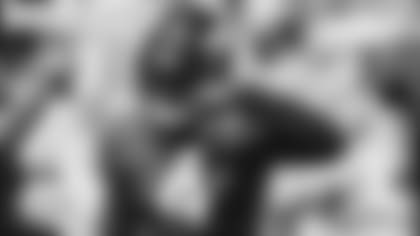 D.J. Reed, being a sixth-year cornerback and a mellow dude, is comfortable in his own skin. Comfy enough even to give credit to a much younger safety for coming up with a turn of phrase that all the Jets' corners and safeties are embracing as their own.
"That's our DB slogan this year: 'young and turnt,' " Reed said after Thursday's second Jets practice at Wofford College in Spartanburg, SC, tipping his hat to second-year S Tony Adams for applying the phrase to the room. "I want to say TA came up with it, Sauce ran with it, I ran with it. We young and we turnt, swaggin' up, handshake-ready. That's just what we're going to do."
For those not up on the hip-hop phraseology, "turnt" has been defined as "excited," "intoxicated" and "a state of being wild." And for the Jets secondary, after last season's exciting debut for Defensive Rookie of the Year/Pro Bowler/All-Pro Sauce Gardner and for the corner tandem of Sauce and D.J., the secondary's second year together should provide even more wild numbers and more intoxicating highlights than it did in 2022.
Reed also sends more props Adams' way for giving his own play a bit of a boost — which is saying something since many inside and outside the Jets thought Reed should have accompanied Gardner to the Pro Bowl and All-Pro teams.
"Yeah, TA, that's my dog. ... Just the energy he brings, and he's also showing it by how he's playing," Reed said. "He definitely motivates me when I'm playing out there. He makes a play and he's gonna swag, he's gonna let you know about that. And he's making plays every day. It's his work ethic, for real, before, during, even post-practice. He's a dog in the way he approaches everything, walkthroughs, lifting weights. He takes everything seriously. He's a real professional."
In fact, Reed is all about passing around the praise. Talk about Wednesday's joint practice with the Panthers and D.J. was all over "BE", Brandin Echols, coming up with a pick-six. Talk about battling against Aaron Rodgers in 7-on-7s and 11-on-11s and he lays out exactly how ARod is making him "a lot better."
"First of all, my whole career playing corner, I haven't really been tried like that, getting deep balls at practice," he said. "Even last year, I probably got only three, four deep balls the whole camp. This year I've probably got 12 to 14 go-balls, so I'm getting better at that. .... And he knows what defense we're playing, so I'm getting hard routes to cover because they know what we're in. ... So it's definitely a challenge."
The challenge may be to get Reed turnt-on and talking up his own game, his goals, how good he can be. But the best he'd offer in Thursday's media avail was a blanket statement about how effective he and his DB mates can be in '23 ... after of course praising the D-line "that gets everything started."
"I think it's going to be great," Reed said of the Jets secondary. "Our goal, everybody's goal who goes in that room, is to be the best."
For Jets fans everywhere, that's intoxicating talk. Seriously.
See photos of the Jets during Thursday's training camp practice in South Carolina.