The speculation is over. Jay Cutler has been traded to the Chicago Bears and the Jets will continue to move forward with their trio of quarterbacks.
"It's just getting crazier and crazier. Every time you put on SportsCenter or NFL Network, he is the top story in the NFL right now," Jets cornerback Darrelle Revis said today before the trade was finalized. "I don't know the situation of what we are going to do or what any other teams are going to do. We need to focus on what we have here and move forward."
Just hours later, Cutler flew to the Windy City in a blockbuster deal — and the Bears didn't get their franchise quarterback at a discount rate. According to FoxSport's Jay Glazer, Cutler and the Broncos' fifth-round pick this year were dealt to Chi-Town in exchange for two first-round picks (2009 and 2010), a third-round pick in April and QB Kyle Orton.
There was a real sentiment in the Jets' locker room that they could win without making a deal. If Cutler ever joined the Green & White, he'd have a lot to prove to his teammates. So the situation would have been completely different than Brett Favre entering with a ring on his hand and three league MVPs on his trophy case.
"They have to be the most accountable one on the team," safety Kerry Rhodes said of starting quarterbacks in general. "You're going to take a lot of the praise when you win, but you're also going to take a lot of brunt of the blame if you don't do it. You have to have a guy who's mentally tough who can handle it, especially in this market here in New York. If you're not playing well, you hear about it. You have to have a guy who's mentally tough and is a leader and is accountable every day."
The Jets got closure today and are assured that Cutler, whose maturity has been questioned by many throughout this process, will not be their field general.
"It needs to get done," Revis said. "If not, we just need to focus on the guys here and we feel very comfortable with Kellen [Clemens} and [Brett] Ratliff and [Erik] Ainge."
David Clowney's got a new look over his locker. The number 87, which was vacated by Laveranues Coles when he signed that lucrative free agent deal with the Cincinnati Bengals, has been taken by Clowney.
"That's my college number, man. I used to mess with LC about being able to get it," he said. "Now that he's gone, I feel like it got me here and maybe it will be able to take me a little bit further."
Clowney, whose 34 receptions paced Virginia Tech in both 2005 and '06, wore 17 last season. He hasn't spoken with Coles since the change.
"I don't know if he knows or not," he said. "It's been only two days, but he knows it was my college number, too, because I used to mess with him about it all the time. If he finds out, maybe he'll shoot me a text and say something."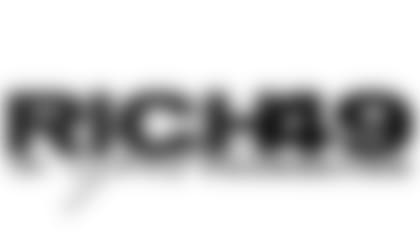 Once again, we have to take time to salute Tony Richardson for his community involvement. T-Rich, a Queens resident, hosted a "Dictionary Project" event at P.S. 14 Fairview on Wednesday and provided 240 third-graders with new dictionaries. Literacy and education is one of the major programs implemented by Richardson's Rich in Spirit Foundation. During the event, he also received a $25,000 grant from the NFL.