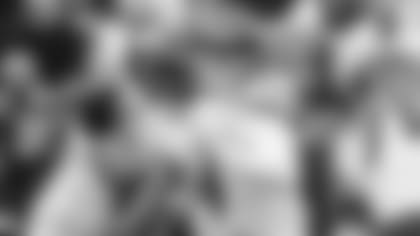 Down on his farm in Lexington, KY, former Jets QB Chad Pennington and his wife, Robin, are quarantining and home-schooling their three boys amidst the country's ongoing battle with COVID-19. Staying busy as ever, Pennington has kept an eye on the Jets and the NFL while staying positive about a challenging period.
"We'll look back at this situation as a time we were able to, as a family, really concentrate on one another and spend quality time with one another," Pennington said during a recent appearance on The Official Jets Podcast. "When you have a growing family with three boys and you see time flash in front of your eyes as they grow and mature, you're trying to push the pause button sometimes to enjoy it. This has been a way for us to push the pause button and enjoy the three boys."
The NFL hasn't pressed pause this spring. The entire AFC will look dramatically differently next season as Tom Brady exited New England after a historic 20-year run and signed with the Tampa Bay Buccaneers in free agency.
"I think the AFC East got a snapshot of what like could be like without Tom Brady in 2008 when I was playing with Miami and Brady went down with the knee injury at Matt Cassel came in. That division became one that was very competitive and one that the Patriots did not win that year," Pennington said. "Now they were still successful and that's something I think people have to understand is the Patriots organization and Bill Belichick will find a way for that team to be successful. It will just look different and it will be different, but I think all three teams in the Jets, the Bills and the Dolphins feel like now that this division is completely wide open."
Pennington, who led the Jets to their last division title in 2002, was named NFL Comeback Player of the Year in 2008 — for the second time in three years — when he helped direct a 1-15 to 11-5 turnaround in Miami. With Brady on the sideline, Pennington connected on 67.4 percent of his passes while throwing for 3,653 yards and 19 touchdowns. Even without Brady, the Pats won 11 games but lost out on tiebreakers and failed to get to the postseason.
Brady isn't coming back to the Patriots this time. Under Belichick's guidance, they will remain the team to beat until someone knocks them off their throne. Pennington believes the Jets' young signal-caller, Sam Darnold, has the ability to help the Green & White close the gap.
"I think it's a really great opportunity for Sam to really assert himself within the division and really take the next step in the maturation process as a quarterback," Pennington said of the 22-year-old passer. "I think he has been able to make strides, I think all of us as fans see the potential there. But we have to be patient with that potential and understanding that potential just doesn't automatically appear one day. It's over time and we've seen strides in a positive direction, and now it's time to take the next step."
Darnold was 7-6 as a starter last season, upping his marks in completion percentage, yards, touchdowns and passer rating from his rookie year. Never one to stress statistics, Pennington says Darnold's next step doesn't have to mean an AFCE title.
"Does that mean an AFC East Championship? Not necessarily" Pennington said. "But it certainly does mean more and more competitive football and it means more and more consistent performances. It means a season everyone can look back upon and whether it be the Jets coaching staff and organization or Jets fans and say, 'Wow the team has that franchise guy and the future is really bright.'"
Pennington, who is the head coach of Sayre High School and whose philanthropic efforts over the years have helped communities in New York West Virginia, Tennessee, and South Florida, has his focus on much more than football nowadays. His family is priority No. 1 as he continues to root on our ultimate teammates.
"Our heart goes out to all the families who have been affected by the virus," he said. "Our thoughts also go to the frontlines, thinking about the health-care workers and the first responders who are out there on a daily basis, fighting the virus and trying to do everything they can to keep people safe."