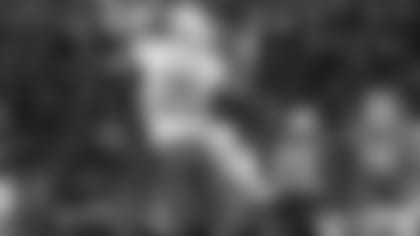 Cornerback Dexter McDougle is the newest New York Jet.
The 5'10", 196-pound University of Maryland product possesses very good speed and picked off six passes over his four NCAA seasons.
His senior year was cut short after suffering a shoulder injury on Sept. 14 against the Connecticut Huskies. The injury required surgery and prevented McDougle from participating in the NFL Combine. He had recorded two interceptions, including one returned for a 49-yard touchdown, against UConn before jamming his shoulder.
"I wasn't surprised or anything," McDougle told newyorkjets.com senior reporter Eric Allen about being drafted in the third round. "But I'm just humbled and I'm glad the Jets saw that an injury could not stop me and I'm the same guy that I was in those first three games and will continue to be."
McDougle explained how the injury happened.
"It was a freak accident, a really big hit and I dislocated my shoulder and fractured my scapula," he said. "It ended my season. It was a tough time, a long process, but I overcame it and I'm back now. Everything's healthy. I'm ready for minicamp, OTAs, all that. The hard work and dedication I put in after my injury, I didn't let it get the best of me at all and I'm just blessed right now."
Maryland head coach Randy Edsall presented him with the inaugural Dexter McDougle Ultimate Team Player Award at the team's end-of-year banquet. He was also named to the All-ACC Academic Football team as a criminology and criminal justice major.
This is the seventh Terrapin selected in our history with the most recent pick coming in the second round of 2001 with RB LaMont Jordan. This is the first time that we've made a draft selection 80th overall.
McDougle played safety, cornerback, running back and wide receiver for Stafford Senior High School in Falmouth, VA, where he was teammates with Baltimore Ravens WR Torrey Smith.
We added S Calvin Pryor with the 18th pick last night and TE Jace Amaro in Round 2 earlier tonight.
Jets 3rd Round Draft Pick: with the 80th overall pick of the 2014 NFL Draft the Jets Selected Cornerback Dexter McDougle from Maryland