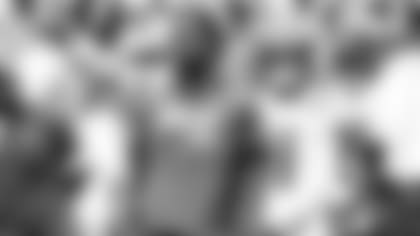 While the Jets will get Sam Darnold back Sunday, their defensive signal-caller will likely miss a fourth consecutive game. Inside linebacker C.J. Mosley, who hasn't played since the second half of the season-opening loss to the Bills, didn't practice Wednesday as he continues to work his way back from a groin injury.
"His issue right now is really opening up. For him, like when he would be dropping in the middle of the field in (Tampa 2) is pivot, burst and then kind of that next stride, and that's where it's been hard for him," said head coach Adam Gase Wednesday. "We kind of took a different approach as far as the progression they're going through now. And it's looking better now the closer we get to this thing being over."
But Gase added that it would be hard to envision Mosley suiting up against the Cowboys and declared his four-time Pro Bowler "doubtful at best."
Mosley collected six tackles against the Bills and also scored on a pick-six and registered a fumble recovery. He was forced to the sideline after preventing a touchdown from Josh Allen to speedster John Brown, tweaking his groin on an impressive pass defense. The Green & White knew he would miss time, but Mosley's month-long absence has been longer that they originally expected.
"I think the injury was a little bit more severe than obviously what any of us felt or what he felt as well," Gase said. "But we're on the back end of this thing, we're close. It's been a lot time. We've sent him everywhere and kind of have gone through all the steps we've needed to go and we have a good plan to get him back sooner than later. It was a little longer than any of us thought."
Neville Hewitt is set to make his fourth consecutive start at the Mike 'backer spot. Hewitt, who figures to switch back to weakside 'backer when Mosley returns to action, has played a central role for a defense that ranks 12th overall (347.8 Yds/G) and is seventh against the run (87.5 Yds/G).
"Each week, it's just little details here and there. Somebody hopping out of a gap or me not doing something I was supposed to do. Some of the mistakes are my fault," said Hewitt, who leads the club with 34 tackles, this week. "There are very little things that have to get cleaned up on defense and it's going to get cleaned and we're going to be even better."
Minus Mosley, the Jets will take on a Dallas offense ranked No.1 overall (452.8 Yds/G) that features one of the game's elite running backs in Ezekiel Elliott.
"Whenever a team wants to run the ball, as a linebacker or as a defensive lineman, if you're not excited about that game ⁠— something is wrong with you," Hewitt said. "You're probably playing the wrong position. This week, I'm very excited. They have one of the better offensive lines in the game — if not the best. We're up for the challenge."