Buddy Ryan, the spirited Jets' assistant coach who became one of the most brilliant defensive technicians in pro football history, died this morning. He was 85.
A native of Frederick, OK and an army sergeant who saw action in Korea, Ryan joined Weeb Ewbank's staff as a defensive line coach in 1968. In Ryan's first season, the Jets led the AFL in both total defense and rush defense.
"When I first got there, Al Atkinson, our middle linebacker, said we need to get a strong defense because they were last in the league in run defense," Ryan said. "At the end of the '68 season, we had the No. 1 run defense in the AFL and Al Atkinson had a lot to do with it along with our front four."
Ryan, who was the defensive line coach at the University of Buffalo from 1961-65, helped develop his former college protégé and future Jets' Ring of Honor inductee Gerry Philbin into an All-Pro. Verlon Biggs and John Elliott joined Philbin on the all-star squad as the Jets capped off one of the most memorable seasons ever with a 16-7 upset over the Baltimore Colts in Super Bowl III.
"I remember him as a good coach, a contributor to our Super Bowl III win," said Ewbank of Ryan in a Philly.com article. "He was a fine assistant coach. He got a lot out of his players. His players did what they were supposed to do. They were in good shape. He did everything I expected.
"I liked his spirit. Everything about him, I liked."
In his six seasons as the Green & White's defensive line coach, Ryan helped the Jets finish No.1 against the rush in both 1968 and 1969 along with a No. 2 ranking in 1970. Ryan shifted over to coach the Jets' linebackers in 1974-75 under Charley Winner.
Ryan tasted success once again with the "Purple People Eaters" in Minnesota, but he revolutionized the game with the Bears and their "46" defense. Ryan moved up a safety into the box, joining the front seven as he brought pressure from all angles. Eliminate the run and get after the quarterback was the name of the game while corners played man on the outside and a free safety roamed deep.
"I played the middle linebacker in the alignment, so he just circled my number," said Ryan's former hard-hitting safety Doug Plank. "He never referred to anybody other than as a number or you had a nickname — you were never known as just your last name. Sometimes he called me Blondie, sometimes he called me 46, but that's how he would write things on the board as far as alignment and things like that."
Ryan, who served as the Bears defensive coordinator from 1978-85, orchestrated perhaps the most dominant defensive unit of all time in his final season in the Windy City. His 1985 Bears led the NFL in total defense, scoring, rush defense and interceptions. And then in the playoffs, they shut out their first two opponents before trouncing New England with a six takeaway, seven-sack performance at the Superdome.
After the 46-10 championship win, Ryan became the first assistant coach ever to be carried off the field following a Super Bowl triumph.
"That's what my friend Bill Parcells said — Buddy Ryan changed the way the NFL plays more than anything else that's come along," Ryan would later say. "We had 10-man fronts, we didn't call it 8 in the box. We called it over 10 or under 4. We had 8 in the box, 9 in the box, but no 100-yard rusher ever rushed against that in several years."
The two-time Super Bowl champion racked up a 55-55-1 record as a head coach of the Philadelphia Eagles (1986-90) and the Arizona Cardinals (1994-95). Buddy Ryan's twin sons, Rex and Rob, were first-time NFL assistants on their father's Cardinals staff.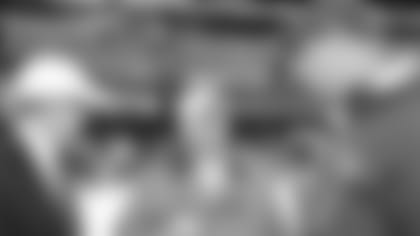 After the Jets named Rex Ryan their head coach in 2009, Buddy Ryan remembered the family's early beginnings in Queens, NY.
"I used to take him to Shea Stadium all the time and they'd play in the carpet room. Weeb would be thrilled right now with Rex and Rob because he thought a lot about those guys," Buddy said. "When they were 6years old, I would bring them to Shea and they'd watch the Mets play and I'd break down film downstairs. They were around football a lot."
Buddy Ryan, who lived on a horse farm in Kentucky late in his life, named one of his horses Blitz to Win. That philosophy was born from his relationship with Ewbank as the late Jets' head coach specialized in protecting the quarterbacks and Ryan focused on making it tough for the signal callers.
"To me, when I turn to blitz somebody, I know that I'm going to have a free guy on the quarterback.  He may not get there in time, but he'll be free," he said. "He'll be unblocked.  What we do is check the pick-up scheme, not the quarterback. You don't blitz the quarterback, you blitz the pick-up scheme.  The coach doesn't like to hear that because then he's getting blamed when the quarterback gets hit.  But that's the way it is."