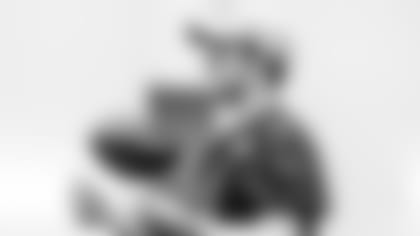 As the Jets prepare to face the Broncos in Week 5, Denver's elite pass rusher Von Miller had high praise for rookie quarterback Sam Darnold.
"I don't know anything about drafting quarterbacks or anything like that, but I thought he was the No. 1 pick for sure," Miller said on a conference call with reporters. "I thought he was the best offensive player in the draft last year. He's a great quarterback and he's been playing well. They haven't been coming up with the wins, but he's been playing really well."
Miller said Darnold is playing like the top pick in the draft despite going third overall to the Jets. The 6'3", 250-pounder, who has racked up four sacks in as many games in 2018, said the USC product's mobility is frustrating for defensive linemen.
"As a pass rusher, you want a guy who's just going to fall when you get to him, kind of like how Peyton [Manning] was," Miller said. "That's exactly what you want. When you get close to him and get ready to touch him, he just falls. That's exactly what you want and Sam is not like that. He's going to create space and try to get the ball downfield and rightfully so. He's a playmaker and he's out there to make plays."
Darnold also received a ringing endorsement from Broncos head coach Vance Joseph, who personally worked him out in the pre-draft process.
"He's an athletic guy. He's got a great arm, he can make every throw," Joseph said. "He's very intelligent. He's a really good athlete. At the workout, the things he could do physically were very impressive. You watch him play now, he's doing those same things. He can make big plays down the field.
"Obviously he's a young guy and he's made some mistakes, but he can go hot and cold. If he's hot, it can be a problem. No different than last week, he's a good young quarterback and a big-time talent."