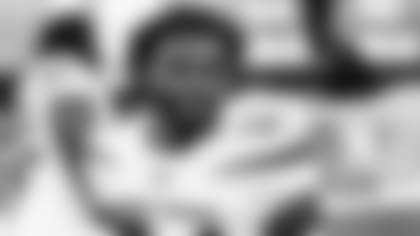 Brian Poole will face his former teammates in Atlanta Thursday night as the Jets hit the midway point of their preseason slate. But Poole, who played the past three seasons for the Falcons after signing as an undrafted free agent in 2016, is not treating this as a special return engagement.
"Those guys are my family and I still keep in touch with a lot of them. It isn't like I haven't talked to him since I left, so I have a pretty good relationship," he said. "No, I don't really think I'll get emotional for a preseason game."
Poole signed with the Jets in March after the Falcons elected not to tender the restricted free agent. The 5'10", 213-pounder hit the open market despite setting personal-bests with 74 tackles, three interceptions and three sacks in 2018.
"Brian is very instinctive. He's a natural football player," said Jets passing game coordinator/defensive backs coach Dennard Wilson. "He has a good grasp of the game. He understands concepts ⁠— he's not a repeat mistake offender. You tell him something once and he gets it and then when he goes out there, he plays fast. He has a chip on his shoulder and he practices like he has something to prove."
Defensive coordinator Gregg Williams has also liked what he has seen from Poole. Back in 2016 as an undrafted free agent, Poole had multiple offers from clubs before opting to reunite with his former defensive coordinator at the University of Florida, Dan Quinn. He made Atlanta's 53-man roster and started in nine games while playing in all 16 contests. Williams was the Rams' defensive coordinator when Poole was leaving school and had his eyes on him.
"He's done excellent," Williams said of Poole. "I really wanted to try to get him when he was coming out. It's good about the circle of life. I keep on talking to those guys about when we're interviewing you back at the Combine or interviewing you back in the 30-man interviews and that type of stuff and when we get a chance, you never know. It comes back around on free agency or whatever and we get a chance to do that. I like it because it didn't take much convincing when he got here. We had a chance to bring him in here and he remembered those conversations and he's done very well. And now just like all of them, it's about staying healthy and helping them do the best they can do."
One of the best matchups in training camp has been Poole's daily tussles with slot wideout Jamison Crowder.
"It's been great. I think day in, day out, we make each other battle," Crowder said. "He's a very physical corner, a very physical player and he's definitely a guy you have to use your hands against."
In 47 contests with the Falcons, Poole totaled 196 tackles, 20 pass defenses, five sacks and four interceptions. He is taking over the nickel spot for Buster Skrine, who signed with Chicago Bears after manning the inside role for the Green & White from 2015-18. Poole has shown good route recognition and he's also a willing run defender.
"The physicality. The way Gregg's (Williams) system is, that nickel is active, especially in the run game," said head coach Adam Gase. "He's sticking his face in the fan a lot. That's what Brian does. Brian does that, he plays the slot well, he's really good with his leverage, he doesn't make a lot of mistakes. Occasionally, if he gets beat, it's tight coverage and the guy made a good play. That's what Crowder, I feel like, really loves the fact that he's going against a legit dude every day. It's challenging and Brian's competitive. He fits into that group well."
With Trumaine Johnson (hamstring) week-to-week and rookie Kryon Brown dealing with a hamstring ailment himself, Poole could see duty outside the numbers in base situations before shifting over to nickel in sub packages against his first pro club.
"I want to execute my assignments and I want to do it on a high level," he said. "I just want to go out and play well."