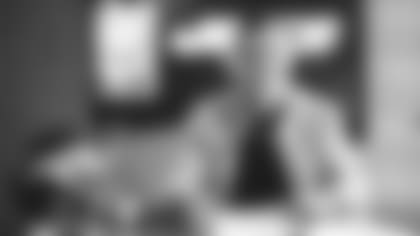 After receiving his first significant pay raise in the NFL, Braxton Berrios expressed his relief on Tuesday that he is staying with the Green & White. Following a breakthrough season with the Jets, he had faced an uncertain future with the start offthe NFL's League Year on Wednesday.
"I really tried to not think too much about it too much the last few months," Berrios said of free agency. "And the last few days, it's been kind of all I could think about. I'm extremely happy that it's here, I'm extremely happy that this whole process is over and I can get back to focusing on football, what I should be focusing on right now."
After signing his new contract, Berrios told media members on that he had conversations with his agent, Drew Rosenhaus, about his connection with the team that claimed him off waivers from New England in 2019.
"I have a great rapport here," he said. "I have a great thing here with everybody in the building and obviously on the field as well. I did, I told him I didn't want to chase every penny. I wasn't trying to auction off to the highest bidder.
"This was comfortable, this was a great, great destination for me and I was clear about that throughout this whole process to him and to the media as well. I'm so happy that I'm here."
Berrios is part of a free-agent class that will also include OL Laken Tomlinson and TE C.J. Uzomah. On Tuesday, the Jets reportedly also struck deals with S Jordan Whitehead and CB D.J. Reed.
"Well first and foremost, last year, they wanted to change the culture," Berrios told team reporter Caroline Hendershot. "We as a team did as well. When you bring guys like that, that are veterans, high-character guys, and guys who just work and obviously produce on the field, that culture begins to shift even more. Putting veterans in those positions, it brings everybody up."
Along with Berrios staking his claim as the NFL's top return man last season, he also established career highs in receptions (46), receiving yards (431) and total TDs (5). He grew close to rookie QB Zach Wilson and that bond has extended into the offseason.
"He got better each and every week," Berrios said of Wilson. "This offseason, we haven't taken it for granted either. He's coming out and staying with me next week and we're going to be working. Honestly, I can't wait to get into the building with everybody and really start this thing up this year."
While his paycheck will be bigger, Berrios (5-9, 180) says he will remain in prove-it mode.
"My job is to prove to everybody again -- Zach, the coaching staff -- that I can do it and I can do it consistently like I did toward the end of last year," he said. "That's where my focus is. Just helping this team and proving day-in and day-out that I can consistently help us win."
Berrios, whose production has increased each year in the NFL, believes the Jets are a team on the rise. And with his future taken care of, he is certain of what the next step has to be for the Jets.
"This is a production-based business," he said. "Everybody can hoorah and hype everything up, but at the end of the day, this business is wins and losses. That's the next step for us. We have to win. We have to show what we feel in this building, we have to show it in the win column."