A plethora of injuries at the Jets' running back position have given fullback Tommy Bohanon a rare opportunity to carry the football. It's a change of pace for the 6'1'', 247-pounder, who is used to clearing pathways as opposed to running through them.
"I pride myself on being very versatile. If I'm asked to handle the ball, I'm happy to do that," he said. "There are a lot of injuries, so I'll help out in any way I can."
The Jets currently have multiple running backs sidelined with veteran Matt Forte still nursing a hamstring injury, Khiry Robinson fresh off the PUP List and Bernard Pierce (hamstring), Dominique Williams (concussion) and Romar Morris (shoulder) also out. So during Sunday's practice, Bohanon might have doubled his touches from the entire 2015 season.
"I probably had anywhere between 10 to 12 touches today," said Bohanon, who totaled two carries and four receptions last season. "I was working as the second running back behind Bilal (Powell), so I was doing a lot of different things while also taking care of my main job as a fullback."
The Wake Forest product was also a target through the air, catching a few passes including an intermediate sideline grab from QB Bryce Petty.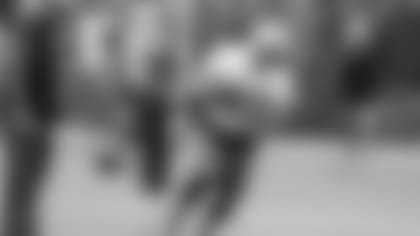 "Anything that I can do. My main job is to block, but I'm able to do those types of things," he said. "If I'm given the opportunity to get the ball, then I'll be glad to do it."
Bohanon, who now squats over 700 pounds, is entering his fourth professional season. He embraces the dirty work away from the ball, but he'll be ready when his number is called and he could have a busy week ahead.
"That's one of the main things with being a fullback— you have to be physical. You're not going to be doing this job for very long, so I've enjoyed being physical," he said. "I've enjoyed getting the ball and running people over too, blocking and knocking people out of the hole. I love being able to do that."