Eleven months ago, Jets OLB Freddie Bishop was happy to get the opportunity to play football back on American soil. And after spending the first 13 weeks of the 2016 season on the Green & White's practice squad, the former CFL standout received his chance to make an impact on Sundays.
"I felt like I readjusted pretty well," Bishop said of his four-game stint down the stretch. "There are things I can work on in the offseason like affecting the quarterback more rapidly. As far as coming in from Canada and adjusting to the game, I felt like I did pretty well. The coaches continue to have confidence in me and give me good feedback. All I can do is go hard in the offseason and try to work on some things I need to get better at."
The Western Michigan product racked up 17 tackles, two TFL and one QBH while making three starts. Even with the small sample size, Bishop's play caught the eye of the coaches.
"I felt Bishop came in and did a nice job, coming up from the practice squad," head coach Todd Bowles said in his season-ending press conference. "He showed some toughness there."
Despite a favorable first impression, the 6'3", 255-pounder wants to become a better all-around player. After taking some time to travel, he said he would return to his native Michigan for offseason training.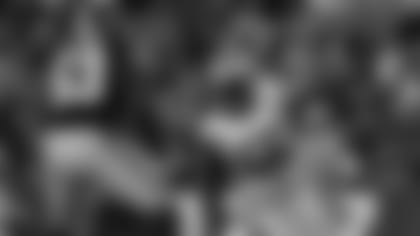 "I want to become more rangy," said Bishop when the Jets cleared out their lockers in early January. "Drop a little weight and get better in my coverage drops, do different things that make myself more versatile, especially on special teams. Then just get a little extra speed for the edge and affect the quarterback."
Bishop, who had never been asked to drop in coverage before this season, made steady progress in his pass defense and registered a PD in the season finale against the Bills.
"I just have to continue to get better at it," he said. "It's all going to come with repetition, so I'm going to get better at it. That's what I'm going to work on in the offseason and hopefully I'll come back next year with a better grasp of it."
In addition to his work on the outside, Bishop is also adapting to another new facet of his game — special teams.
"I never did a whole lot of special teams, but I had the opportunity to do it this year," he said. "I feel like I did okay, but there are definitely some things I can improve."
Before leaving One Jets Drive for the final time this season, Bishop reflected on his year that started in Calgary and ended as the starting outside linebacker for the New York Jets.
"It's been a constant journey," he said. "Me just being on the practice squad, putting the work in every day even though you're not playing, taking the time to study film and watching to see how the other guys were playing things. So when my time came, I was ready for it. I didn't have to get ready, I was able to go out there and not miss a beat."