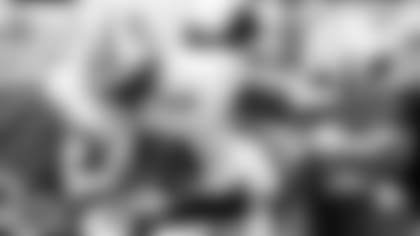 Bilal Powell has a bit in common with Teddy Roosevelt. Really. One of the senior players on the 2018 Jets talks softly, if at all, but carries a big stick.
"I don't say too much, man," Powell said after Wednesday's training camp practice at the Atlantic Health Jets Training Center. "I just come to work and whenever my number's called, I just go out and take advantage of my opportunities."
It's almost hard to believe that Powell has embarked on his eighth Jets camp. And he's aging well. Last season he posted his most carries (178), rushing yards (772) and rushing TDs (5) in a season, and added 23 catches for 170 yards to that production.
Over the past four seasons, Powell, while far from being overused, has averaged a very strong 4.7 yards/carry. He needs just 93 rushes and catches to get to 1,000 touches in his career and 440 yards to reach 5,000 scrimmage yards.
Fans might think at that pace, he'd want the ball more this season, and isn't going to get it with the signing of veteran Isaiah Crowell, who also was far from being overused with the Browns.
But it's never been Bilal's way to worry about such things.
"There's always a good group of guys that come in," he said. "Crowell is a guy that has been consistent in his years over in Cleveland, and coming over and adding to the running back corps, he's doing a good job."
As for how coordinator Jeremy Bates and run game coordinator Rick Dennison's rushing attack will sort itself out, Powell won't jump the gun on that, either.
"It's way too early. We're still trying to find our way as an offensive unit," he said. "We just keep stacking the days and keep moving forward."
And at the end of 16 games, we won't see Powell's image on Mount Rushmore but we should see him as one of the key contributors in yet another Jets offense.