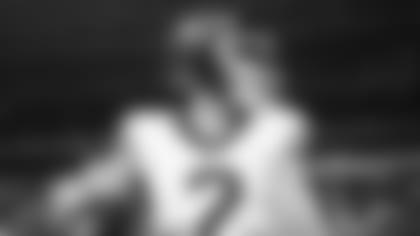 Jets former linebacker Bart Scott had a simple and direct observation about the Green & White's thrilling Sunday night game against the defending Super Bowl champion Kansas City Chiefs:
"NBC, they had Taylor Swift ... and those where was she born questions and where was her album-type questions that they never got to because in the midst of all the hysteria a football game broke out."
Certainly Scott meant no offense to the superstar performer who also appears to be the main squeeze of Chiefs TE Travis Kelce. Scott's point -- one among many -- is that the Jets' gritty performance in erasing a 17-point deficit, the spirited and much-improved play of QB Zach Wilson and another strong defensive performance (at least for the game's final 45 minutes) bodes well ahead of Sunday's game at Denver, and beyond. 
"I think there's a lot to build on," Scott told Eric Allen on this week's installment of "The Official Jets Podcast." "It was a tough start to put yourself into a 17-0 hole, but they showed a lot of character and a lot of heart, especially Zach Wilson. He probably had one of toughest weeks any New York athlete has had in a long time. He handled all the criticism with grace and showed something we haven't seen in a while. We saw some practice work translate to the football field when it mattered. Sure, there are some things to be cleaned up, but you have to tip your hat to him. He showed a lot of heart."
After spotting KC a pair of TDs and a field goal, there were some 80,000 restless fans at MetLife Stadium, not to mention some of an average of 27 million national-TV viewers who made the game the most-watched Sunday show since Super Bowl LVII last February. Instead, Wilson helped to rally the offense as the defense got back its sea legs.
"The fact they were able to move the ball and pick up third downs gave Hack [OC Nathaniel Hackett] a chance to grow with the package," Scott added: "The next step is to establish the run game. What are different types of plays [Breece] Hall gets and [Dalvin] Cook get. They have to do a better job. I know Michael Carter does a lot, but Cook has been a third-down back in this league and needs to be involved in the screen game. There's a lot to take that was positive. Breece looked like he's getting stronger."
The Jets gained 108 yards on 16 rushing plays (6.8 a carry), sparked by Hall's 56-yard dash. Wilson was surgical in the passing attack, connecting on 28-of-39 passes for 245 yards and a 105.2 passer rating. He also ran for 14 yards (on 2 carries) and scrambled to complete a successful 2-point conversion in the third quarter that tied the game at 20-20.
 "I thought he threw the ball with timing and anticipation, throwing to spots when guys were not yet in their breaks," Scott said of Wilson. He added: "He was throwing it early and so fast they couldn't trap him. Back shoulder [throws] to [Allen] Lazard and [Tyler] Conklin, putting the ball in tight spaces, throwing the ball early when his back foot hit. It's about knowing your reads and believing your eyes. Let's just see what he can handle, just let him go. What have we got to lose? It was an opportunity for Zach to gather his confidence. This week will be interesting to see how he handles it."
As a defensive maven, Scott said that the diverse set of weapons on offense mirrors what the opposition faces against the Jets' defense.
"The same way we applaud the defense for being able to roll guys in and us multiple talents I want to see that on offense," he said. "We got [Randall] Cobb, Lazard, [Mecole] Hardman, [Xavier] Gipson, [Jeremy] Ruckert and [C.J.] Uzomah. Seven, eight guys who can put pressure on the defense. Sometimes the defense takes away one or two options, but we trust our third guys against their third guy."
Still, the defensive beast inside Scott, a guy who prowled behind the defensive front first with Baltimore then with the Jets, knows the defense has to come to play from the opening whistle. In the first four games so far this season, the Jets have fallen behind by double digits in the first half.
On Sunday night, the worm began to turn when DL Bryce Huff, who played 27 of the team's 70 snaps on defense (39%) and 11 snaps (42%) on special teams, forced the second-quarter safety that jump started the Jets' rally.
"Talk about momentum shift," Scott said about the safety, which was engineered by an undrafted free agent who signed with the Jets in 2020. "Huff is a tremendous pass rusher and he did his thing. He may not have the biggest name, but he's the best pure rusher the Jets have. I know he's undersized [6-3, 255], but he's disruptive, slippery and hard to deal with." He added: "He changed the game and the moment."