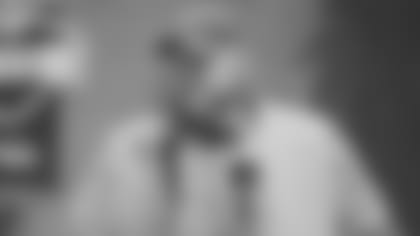 The first wave of free agency has officially passed, and the Jets have reportedly made numerous moves at multiple positions to improve the roster. Although there's still plenty of time for more transactions, first-year general manager Joe Douglas got off to an early start after identifying players who can add value to the team. 
"He's bringing in guys he understands are important for the culture," said former Jets LB/ESPN Radio host Bart Scott. "Joe Douglas, for the first time in Jets' recent free agency, is not trying to win the back pages. It's not pretty, but these are quality football players that are going to add a lot of depth… Now you need quality glue guys, guys that you can count on and have versatility."
Since the beginning of the League Year, Douglas and the front office have begun to revamp the offensive line, reportedly agreeing to terms with four new players in tackle George Fant and interior linemen Connor McGovern, Greg Van Roten and Josh Andrews. On the other side of the ball, the Jets released a pair of 2019 opening-day starters in conrerbacks Trumaine Johnson and Darryl Roberts. Nickel Brian Poole officially re-signed and fellow corner Arthur Maulet reportedly agreed to terms. The Jets also reportedly agreed in principle with Pierre Desir following his release from the Indianapolis Colts. 
"The Jets can be right there if Sam takes the next step," Scott said. "This offseason has to be all about building around Sam Darnold. We know the Jets defense is solid and can be a top ten defense with the pieces that they have because Gregg Williams is just that good. There are moves to be made and I'm sure Joe Douglas has a plan for the draft."
In 2019, Williams and his defense finished ranked No. 7 overall, and No. 2 in run defense, allowing 86.9 rush yards per game and 3.34 yards per rush. With new additions on that side, Douglas is preparing Williams to find more success for the upcoming season.
"What really stood out to me most after breaking him down is that he's a teacher, and that's the important part," Scott said of Williams. "He doesn't want to hear what somebody can't do; he wants to know what they can do. I think that's what Gregg Williams figured out. You look at what he did with Neville Hewitt, Blessuan Austin and James Burgess. These guys are guys that struggled at first, but then by the end of the season, you can tell they had been coached up and learned from their mistakes."
He added: "It helped develop a lot of depth. In football with 100% injury rate, you have to have guys that you can plug in and have confidence in them that they can play. Now if you have a player go down, you feel confident that they can go out there and perform well."