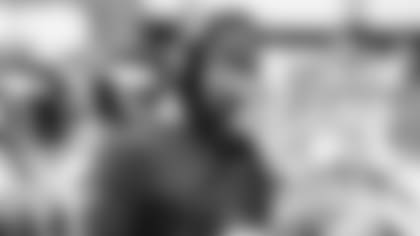 The Jets started their virtual offseason program Monday and head coach Adam Gase felt quite comfortable about the process ahead.
"A lot of this stuff preparation-wise is really kind of done. It's not that hard. I'm sharing out my screen to them and the coaching staff is on the same page," Gase told reporters Monday morning. "The defense, they're always way ahead of schedule and offensively, we've had our stuff ready to go. We got a huge jump on it once the offseason started this year to where we were ready to go when the building closed down. As far as preparation, I feel like we're in a really good place."
The Green & White will go digital four days this week as their program began with positional group meetings.
"We'll have a four-hour window where it's broken up into meeting times. We have guys spread out all over the country, so we've had to stagger our meeting times as far as our positional stuff," Gase said. "It's very similar to what we're doing when we were here, it's just kind of a little different since we're doing it online. We'll still be able to go four days a week, we'll be able to get two hours of work done per day. It's still voluntary."
Up until this point, the coaching staff's communication with the players has been limited. During the pandemic, the conversations had been relegated to well-being checks.
"We can check on guys, we just have to be careful about what we talk about because of the rules — we don't to put ourselves in a bad position. We've been trying to check on all of our players to make sure they're all okay and if something has gone wrong, they can do something about it right away," Gase said. "Thankfully, we haven't had to deal with anything like that as far as right now and hopefully we can keep our guys healthy."
After the Jets raved about their smooth communication during draft preparation and draft weekend, the 42-year-old Gase believes a virtual offseason program actually offers inherent advantages.
"I'm going to be very hands-on with this whether it be meeting with certain positions, quarterbacks, any of the offensive positions. The best thing about this program is that I can jump in and out of a lot of different meetings," he said. "The video stuff that we're able to do, it's pretty cool how we can share our screen and watch the film with players and be able to diagram and talk through some stuff. It's a unique way that we're doing things, but I think it's going to be very beneficial for us."
With One Jets Drive closed up and players and coaches quarantined, the normal springtime routines have been altered quite a bit. Gase was eager to get reacquainted with his players albeit in a virtually setting.
"I'm excited because we've been basically doing this with the personnel guys and coaches when we had meetings," he said. "That's really what our life has been and it's going to be fun to see the players because I haven't seen them in a long time and been able to talk to some of these guys and some of the other position groups, the defensive guys. It feels like it's been a long time since I've seen these guys. A lot of times leading up to the offseason, you at least see guys passing in the hallway because guys are filtering in, getting their things lined up for the offseason and we haven't had that opportunity this year."
Although some teams opted to employ virtual workouts, Gase explained that Jets strength coach Justus Galac delivered detailed workout instructions during exit interviews. He also indicated that a number of players have stayed in shape with the help of personal assistants.
"The workout stuff, everybody has been doing a little bit of a different thing. I do think there are some instructional things that these guys had before they even left that they've been using for a long time," Gase said. "Guys who are on their own also have trainers that they've been using for a long time. I feel good with where we're at with guys working out."
Last week ESPN's Adam Schefter reported that star safety Jamal Adams is not expected to participate in the Jets' offseason program. GM Joe Douglas has reiterated that he wants to keep Adams a Jet for the long-term and also said he would likely connect with the two-time Team MVP after the draft.
"With Jamal, this is voluntary. That's just what it is," Gase said. "It's one of those things where guys have the choice if they want to do this, they can. If they don't, it's just what it is."