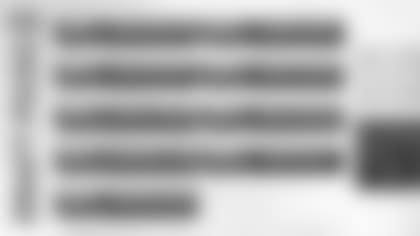 Joe Douglas closed his first draft as general manager with five selections Saturday and the acquisition of veteran cornerback Quincy Wilson. He found young pieces behind QB Sam Darnold and RB Le'Veon Bell, addressed a need at corner with a pair of moves and found a punter to help his special teams. And even before the draft had reached its end, Douglas was getting in place for his next move — signing a quality group of undrafted free agents.
"This is a great opportunity to put the finishing touches on a productive weekend," he said. "I know our scouts and our coaches are working together and they're making the calls. There are still a lot of good players left on our board and we're hoping to find a home for them right here. The recruiting process is on. We have the virtual boiler room going with the recruiting calls."
Entering the weekend with questions behind Bell in the backfield, Douglas landed a complementary piece to start his day in La'Mical Perine. The 5-11, 216-pound Perine, who ranks ninth in Florida history in rushing yards (2,485), is a dual threat back as he had 40 receptions last season and 5 receiving touchdowns. He is noted for his toughness and is a willing blocker who also contributed for the Gators on special teams.
"Versatility, big-play ability," Douglas said. "He can help both the run and pass game, really good in pass protection and has good hands. He was productive and he's a great young man. He's going to be great fit for our culture and our locker room."
Then in somewhat of a surprise, Douglas selected a quarterback with his second fourth-rounder (No. 125) in Florida International's James Morgan. The Bowling Green transfer, a 6-4, 229-pounder with a big arm, ranks third in FIU history with both 5,375 yards and 40 passing touchdowns. While Darnold is the team's franchise signal-caller, the Green & White went 0-6 the past two years when their starter did not play.
"Outstanding leadership qualities," said the first-year GM of Morgan. "He has a big arm and is a bid kid who was highly productive. He's very intelligent and he just wowed us at the Senior Bowl with his interview. He is just an extremely intelligent, football smart young man who has a lot of physical tools. … It was just a unique opportunity for us to get someone there at a very premium position to really develop and work behind Sam."
After landing Mehki Becton with the 11th overall selection Thursday, Douglas got himself an offseason training partner of the Louisville tackle's in Cameron Clark. The 6-4, 308-pound Charlotte product, a two-year captain and three-year starter, played mostly left tackle in college but could shift inside for the Jets.
"He was a high school All-American at center, so you're talking about a guy who has versatility and flexibility," Douglas said.
With their sole pick in Round 5, Douglas addressed a position of need on defense. Virginia cornerback Bryce Hall, who was limited to six games last season because of an ankle injury, led the nation with 22 pass defenses in 2018. Hall, 6-1, 202 pounds, appeared in 44 games for the Cavaliers and finished his collegiate career with 5 INTs and 44 PDs.
"He's a guy who has unique size and length and ball skills," Douglas said. "Here's a young man who can really play the ball when he's in phase and find it and that's important attribute to have when you're playing in Gregg's [Williams] defense."
Then finally in the sixth round, the Jets turned to Texas A&M punter Braden Mann (No. 191). Mann, a kickoff specialist his first two seasons for the Aggies, won the Ray Guy Award in 2018 after setting an NCAA record with 51 yards a punt. He averaged 47.1 yards per punt last season when he placed 26 of his 57 boots inside the 20. Douglas' final draft move was his third trade of the weekend, acquiring CB Isaiah Wilson from the Colts for a sixth-round pick.
"Coming out of Florida, a lot of people had him pegged as a press-man corner," Douglas said of Wilson. "But he was a player in Indy who did a lot of different things from lining up at safety to nickel to lining up outside. Rex Hogan spent a lot of time with him in Indy and we felt good about what he could contribute to our DB room."