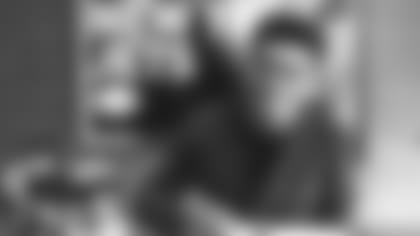 The path to the bright lights was not always paved in gold for new Jets WR Allen Lazard. Before he cashed in on a free-agent deal with the Jets, Lazard went undrafted out of Iowa State, was cut by both the Jaguars and the Packers, and spent some time on each club's practice squad until he became a regular in Green Bay. From 2019-22, Lazard caught 169 balls for 2,236 yards and hauled in 20 TDs, propelling him into a multi-year deal with the Green & White.
"This journey has been incredible," Lazard told reporters Friday. "I'm still kind of taking everything in right now. I don't think it will fully hit me until I'm in the first team meeting with all of my teammates and players, and we're getting ready to talk ball and everything.
"If you would have told me five years ago, I was going to go undrafted and I was going to play for the New York Jets and they were going to be wanting me in free agency to sign me to a four-year deal, I would have never thought my career would have turned out like this a few years ago. So, I'm extremely humbled and blessed and so excited for this next chapter in my life."
Lazard, a Des Moines, IA, native, was ready to get out of the Midwest and experience the melting pot that is New York. He also had maintained a healthy respect for Jets HC Robert Saleh since the days the Jets HC was walking the San Francisco sideline as the Niners defensive coordinator. And then perhaps most importantly was the connection he made with new Jets OC Nathaniel Hackett in both Jacksonville (2018) and Green Bay (2019-21).
"He's the best teacher I've ever had in my life and that goes from school to football," said Lazard of Hackett who also later added, "He makes it really easy, and he allows you to go out there and just play fast. And because of that is the reason I've had a lot of success these past few years."
Lazard gained the trust of Aaron Rodgers in Green Bay, playing in 16 games in 2019 and catching 35 balls with 3 TDs. He became a fixture in lineup and last season was targeted a career-high 100 times, amassing 60 catches for 788 yards with 6 TDs. Lazard (6-5, 227) is a big red zone threat who collected 14 TDs in 2021-22 and he's also a very good run blocker.
"During my time with Aaron in Green Bay, he put his arm around me and he's a big reason why I'm here today," Lazard said. "He stood up on a table for me during training camp when I probably didn't deserve to make the roster at least in the front office's eyes. He called for me to be in the game in a lot of heavy pressure situations and has always believed in me. As a wide receiver, the best relationship you can have is with the quarterback. The relationship I've had with him has been phenomenal and obviously there is an inclination that he's coming here."
Rodgers appeared on the Pat McAfee this week and stated his intentions to play with the Jets, but a trade will have to be consummated between the Packers and the Jets for that to happen. It's possible Lazard (27) and Rodgers (39) may again wear the same shade of green, but they each continue to follow their own road.
"He works out the same place I do, we were able to cross paths and just connect a little bit on what we were thinking and everything but there was no trying to do this in a sense," Lazard said. "We were both trying to do what's right for the both of us and his situation is a little bit different with his career and everything and where I want to take my career and the next step. Sitting here today, obviously it feels good 12 is going to be my quarterback again."
Lazard joins a WR group that features Offensive Rookie of the Year Garrett Wilson, a player he called "phenomenal." Lazard will bring postseason experience as well, having caught 11 balls for 200 yards in five playoff games.
"I know how to win — I know how to operate in late-game situations," he said. "We're going to carry that same standard, the same expectations here as well."