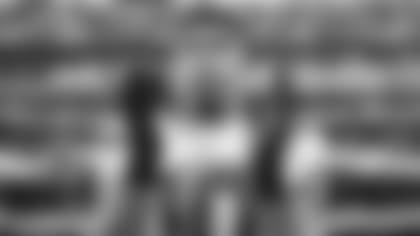 In a nod to Halloween, Allen Lazard and his Jets teammates ambled into MetLife Stadium on Sunday wearing costumes. For Lazard, a wide receiver signed in free agency after five seasons in Green Bay, the choice was a Ghillie suit -- a camouflage outfit favored by military personnel, the police, hunters and nature photographers.
One downside of Ghillie suits is that they tend to soak up moisture. Hardly an appropriate outside attire for the game against the Giants, which was played in a downpour throughout.
"I showed up in a Ghillie suit for the game," Lazard said. "I always wanted to wear one, especially with the way the NFL is shifting pregame on what you can wear. I told my stylist, my cousin, I wanted to wear one and he looked it up and got me one. Super light, thin yarn and string stitched on the outside."
Perhaps great for trick-or-treating, but hardly appropriate for 60-minutes-plus on the turf of a NFL stadium. Lazard said on this week's edition of "The Official Jets Podcast" said that his wasn't even the best outfit. That honor belonged to LB Quincy Williams, who went full Joker, caked on makeup and all.
"Hey, it's also New York, I've seen crazier things around [here]," Lazard said. "More than in Iowa [where he grew up] and more than in Wisconsin for sure."
With all that on the record, Lazard also glanced back at Sunday's wild overtime victory, the Jets' third straight, against the Giants, a game he called "the craziest game I ever played in."
He was referring, of course, the final 24 seconds of the fourth quarter and the final offensive play from scrimmage or regulation in which he hauled in a 29-yard pass from Zach Wilson, went to the turf with time running out and cannily handed the ball to third-string center Xavier Newman before Wilson spiked the ball with a single second showing on the clock. Greg Zuerlein entered to kick the tying field goal as the Jets (4-3) came from behind to tie the game and then win their second OT game of the season.
"After Zach got sacked [on a fourth-and-10 play with 1:36 to play] I thought, man, this has been a horrible day," Lazard said. "We could not get out of our own way, the rain was causing issues, we had good plays, then one person dropped a pass. It was so frustrating. I told Zach if we get another possession or two I know we walk off victorious. It's how I approach the game. You're allowed to make mistakes, not to try to force it. I was telling him, but also speaking to myself.
"I see them [the Giants] driving the ball, they went for the field goal and I'm thinking 'OK.' We're going over end-of-game situations, not trick plays, but plays with 30 seconds left and no timeouts. All you hear is 'missed the field goal.' I'm like, all we need is 3 points, we need to get only 40 yards. We come out the first play and Zach hits Garrett [Wilson] across the middle. Luckily they jumped offside and it stopped the clock. That was probably the biggest play.
"Then Zach scrambles right. I was supposed to run a corner route, but I tried to pick Malik's [Taylor's] guy because he had an out route. If I pick him, maybe Malik catches the ball and gets out of bounds."
Instead it was Lazard who floated into space over the middle, caught the ball and made perhaps one of the headiest plays you'll ever see on an NFL field. He looked for Newman, who raced to the 17-yard line, had an official touch the ball before Z.Wilson tossed the ball into the turf with a second left.
"We did a great job executing," Lazard said. "We had the one in the Broncos game going into the half when we didn't execute [and time ran out]. That's in the back of my mind. I was looking at the clock, watching 3 ... 2 .... I said we did it. I knew Z would make it, and once he did we knew we were going to win."
So far this season, the Jets are one of two teams with multiple overtime contests and the only one to win both. Additionally, despite being behind in every game this season (among seven other teams) only the Jets and the Steelers have winning records. Lazard so far has caught 17 passes for 255 yards (15.0 yards a catch) and a TD.
"It's been a rollercoaster, that might be too cliché, more like a tornado," Lazard said. "It's just like in a tornado, you get sucked up, spun around in circles, get thrown out 20 miles away with no cellphone and you're not able to communicate. We're just trying to figure out. Even Sunday, it was the craziest game I ever played in. How the defense performed, offense struggling, guys getting injured, rain is such a big factor. Man, somehow we won. That's all that matters." He added: "I really feel as ugly a win as it was, it was probably one of the better things that happened this season."
After catching 6 TD passes from Aaron Rodgers last season, Lazard, 27, signed on with the Jets then watched as the Green & White engineered a trade for Rodgers. After the veteran QB sustained an apparent season-ending Achilles tendon tear four plays in the season opener, Lazard said he's been amazed and not amazed as Rodgers has made impressive progress in rehabbing.
"I ignore it, it's not real to me until he puts a helmet on," Lazard said, referring to the reports of Rodgers' impressive progress. "I don't want to know, then I'd just be thinking about it too much."
That said, Lazard added: "His aura so strong, his energy, it's a comforting feeling to have him back to see his face, as much as try to ignore rehab progressing. Seeing it is such an encouraging and motivating thing. You see how much work, time and effort he's putting into it, trying to get back because he wants to play the game. The thing with football players is that usually practice and lifting sucks, but there's nothing worse than watching your teammates practice and play, knowing you can't be out there with the rest of the guys. Seeing what he's going through makes me grateful I'm able to play. It's always great to have Aaron around."
Though he's new to the New York/New Jersey area, Lazard said he's embracing the overall experience, but mostly appreciates the variety of food options -- though he's fallen in love with Jets fans.
"They're crazy," he said. "Before the first game [Monday night vs. Buffalo on Sept. 11], no one knows this, we're sitting at my house waiting for the day to go by. Someone came and rang my doorbell. I had just moved in and I know some people know about me in the neighborhood. The guy ran back to the street, my dad opened the door, and the guy said 'I just want to say good luck and not be in your personal space.'
"I was like 'Oh boy, Week 1 and it's already like this.'