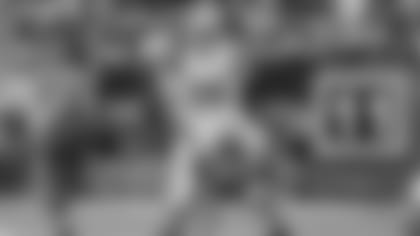 On a day where former Jets quarterback Joe Namath and the rest of the 1968 championship team were honored, Sam Darnold put together his most accurate day in green and white as he completed 24 of his 30 passes (80%) for 280 yards, two touchdowns and one interception in the team's 42-34 win over the Colts.
"It's a 16-week process. That's what we like to say," Darnold said. "It's really been fun to be able to go in there every single week, every single day and see what everyone likes in terms of the cadence and in terms of the different plays. Continuing to grow as an offense has been really special so far as we continue on through the weeks."
Despite putting up over 40 points for the second time this season, Darnold said the offense can improve in the red zone after they finished 1-of-6 inside the 20 on Sunday. After averaging 18.6 points per game last season, the Jets are averaging 27.5 points per contest through six weeks.
"Obviously, we want to finish in the red zone," said Darnold after Jets kicker Jason Myers set a franchise record with seven field goals. "That's what we pride ourselves on, but at the same time, it was awesome to just get down there and leave it up to Jason. But that's somewhere we can get better, finishing in the red zone when we get down there."
Darnold and the Jets overcame a pair of first-half turnovers including a Darnold force to Robby Anderson that was intercepted by safety Malik Hooker. Darnold was patient and on the mark otherwise in the opening 30 minutes, hitting on 15 of 19 for 168 yards with a touchdown to Terrelle Pryor.
Perhaps the rookie passer's most impressive drive came in the final moments before intermission. Starting at their 28-yard line with 42 seconds remaining, Darnold crisply drove the offense 58 yards in six plays before Myers nailed a 32-yard field goal.
"It's our mindset as an offense. It's JB's (coordinator Jeremy Bates) mindset," Darnold said. "It's awesome to be able to have an offensive coordinator we're all on the same page as. We know we're going to attack the defense until the clock goes down to zero. We're just going to stay in attack mode and continue to play that way."
Head coach Todd Bowles added, "It's trust in the offense. It's something we do every day against the defense and we try to do it every week with our two-minute drill. We were going pretty good on offense."
With Quincy Enunwa down with an ankle injury that he suffered in the second quarter, Darnold relied on wide receiver Jermaine Kearse, who finished with nine catches for 94 yards, and Pryor, who tallied 57 yards and one touchdown on five receptions.
"We have guys who can make plays, so it's just a matter of what the defense dictates," Darnold said. "We have got guys in certain spots that can make plays. All of the receivers, it doesn't matter who it is, we know that they're going to get open especially if it's man coverage. They know on every single play any receiver can get the ball. That's kind of how I play and I'm going to continue to do that."
The Jets would tack on four more Myers field goals and Darnold punched the Green & White in the end zone on the team's opening possession of the second half. He hit rookie tight end Chris Herndon on a 32-yard pitch-and-catch that gave the Jets a 20-point lead on a day their rookie quarterback took the win, but looked forward to what's ahead.
"We're definitely back in the thick of things, but we're not satisfied," Darnold said. "I'm sure Coach Bowles said that, but we're not satisfied with where we are. We just have to keep grinding every single week and take every single week as a new challenge."