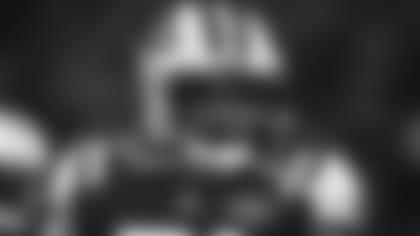 As Super Bowl LIII quickly approaches, many Jets fans and players are reminiscing about the 50th anniversary of the Green & White's Super Bowl III victory. But for Jets linebacker Brandon Copeland, that game has a slightly different meaning.
Copeland's grandfather and longtime Baltimore Colt Roy Hilton was part of the 1968 team that fell to New York at the Orange Bowl in Miami. For nine of his 11 pro seasons, Hilton was a "mainstay" on a defense that pushed the Colts to make two SB appearances, one of them being against Copeland's current team. He passed away on Jan. 6, 2019.
"My grandfather was an amazing role model, mentor, and just friend to me," Copeland says of his "grandad." "He was the athlete who I wanted to be like…a lot of young kids don't have that person in their lives that they look up to."
The 6'3", 263-pound Copeland plays off the edge just like his grandfather did. But despite the similarity, the University of Pennsylvania product had a much different journey to the NFL than Hilton. Going undrafted in 2013, Copeland spent the next few years in different roles with the Baltimore Ravens, Tennessee Titans, Detroit Lions, and eventually starting with the Jets. One of his biggest supporters was always his grandfather.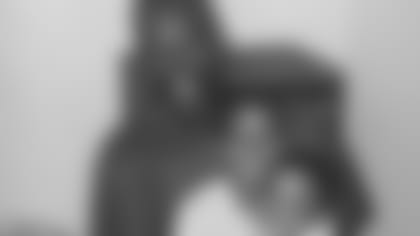 "He'd been one of my biggest fans. And the beautiful thing about my grandfather is obviously even though he was a football player, he never pushed me to play football," he said of Hilton. "When he called me, we weren't talking football most of the time. We'd get to football, for sure, but it was more one of those things if I wanted it, then we'll talk about it. I never felt like my worth or value to him was how far I made it in the NFL."
Hilton, in the last year of his life, was able to witness one of the best seasons of Copeland's NFL career. During the 2018 season, the Jets OLB tied for second the team with five sacks. He had career highs in multiple categories only a year after missing the 2017 season due to a pectoral muscle tear. The work ethic Copeland strived for ultimately came from Hilton, who he said "had a sixpack at 75 years old." It was not only a mindset, but an expectation.
"Lessons like that I think he's naturally just engrained in me to have turned into just what you see on the field," Copeland said. "Nobody expected me to come to the Jets and start at or start as an outside linebacker. And then to actually have a good year, nobody expected that. But I expected it, my grandfather expected it. He always told me I could be great."
There was so much more to Roy Hilton than the numbers that jumped off the page. He was a Super Bowl V champion, an NFLPA-Baltimore chapter member, and a "humble man" who stopped by to say hello at camp. He had an impact beyond football on Copeland and those around him.
"To honor his legacy," Copeland says, "my foot is going to be on the gas."