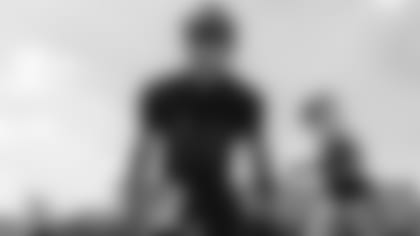 Once Todd Bowles made his starting quarterback official, Sam Darnold's first call went to his parents back home in Southern California. 
"They were just excited. Mom was crying as usual," Darnold told reporters Tuesday. "My dad was just pumped for me. He said, "You know, you worked so hard. You know this is what you worked so hard for." So, it was a cool little moment there, with them and my sister. Yeah, it was fun."
Darnold, who attended San Clemente High School, is the son of Mike, a medical gas plumber, and Chris, a physical education teacher at Shorecliffs Middle School. His older sister Franki played volleyball at Rhode Island. They provided the love and the support, but Darnold has acclimated well to his new job and his teammates.
"Now that I know that I am starting, it is just an amazing feeling and I'm really just happy to be able to go out there and play with all these guys," he said. "Right now, we have been practicing for a long time: OTAs, training camp and now we have the Lions Monday night. It's going to be a really fun first start for me in the NFL. But at the same time, I know that I have a long way to go this week. Just going to study, study up on the Lions, and then go from there."
With history on tap Monday night, Darnold says becoming the youngest quarterback to start a season opener since the AFL-NFL merger in 1970 is humbling. But the 21-year-old Darnold knows he will be taking his first steps in Motown.
"First of all, I know that I haven't done anything yet. I haven't won any games in the NFL, so I just got to go out there and do my job," he said. "But knowing that I am young compared to a lot of the other starting quarterbacks, I just know that for me, I think that's more of just affirmation, knowing that I have a long way to go. So I know that I just have to continue to work every single day. Put my best foot forward for the team, for the organization and just go out there and be consistent."
As cool and poised as ever, Darnold is comfortable in his own shoes. Veteran Teddy Bridgewater, who had a good camp himself before being dealt to the Saints, delivered a key point of advice after the rookie arrived.
"I think it just all goes back to what Teddy told me my second day here. He was just like, "Bro, just be yourself." No matter who you are in this league, you want to win," Darnold said. "That's the biggest thing. Now that I'm named the starter — anyone, whether it's a fifteen-year vet or a second-year guy — they want to help anyone they can. They want to help anyone as much as they can if they're playing. That's really the whole thing about this league is when we start winning, everyone has success in the locker room. I think that's the biggest thing is knowing that I just have to be myself and if I do that, I don't really have anything else to worry about."