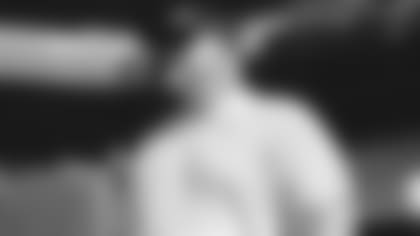 In his fourth year as general manager of the Jets and in his third season, Joe Douglas has built a talented young roster that sits at 5-3 with a visit from the division-leading Buffalo Bills on the horizon Sunday at MetLife Stadium. With nine games remaining, Douglas is staying in the moment and wasn't too reflective when speaking to reporters following the NFL trade deadline.
"Definitely the best record sitting here in early November, late October, talking to you guys," said Douglas, who executed two pre-deadline deals in acquiring RB James Robinson from Jacksonville and sending DE Jacob Martin to Denver. "In a perfect world, we're 8-0 and we're not so we have a lot to work on. Obviously, 5-3 is better than 3-5, but we haven't accomplished any of our goals. We have a big, big division game this week at home, and we know the crowd is going to be loud and crazy like it was last week. We know the task at hand and really that's the focus. While you don't really have much time to think about, to dwell on how you think about now versus past years, we're worried about plowing forward."
Douglas, who landed the likes of CB D.J. Reed and TE Tyler Conklin in free agency before a draft haul that included CB Sauce Gardner, WR Garrett Wilson, RB Breece Hall, DE Jermaine Johnson and T Max Mitchell, said this spring that he expected the Jets to be playing meaningful football in December. 
"I think we set ourselves up to play important games and that's a credit to Coach (Robert Saleh) and a credit to the players," Douglas said. "But we all know the challenge in front of us, we all know it's not getting any easier, and we know we have to play good football moving forward. Our focus is on the Buffalo Bills and it's a great opportunity to for this team and some of these young players. These guys are last year's division champs, outstanding organization, outstanding team, and it's a great opportunity to prove themselves."
The Jets had their four-game win streak snapped last Sunday at home, falling 22-17 to the Patriots. Second-year QB Zach Wilson threw for 355 yards and 2 TDs in the defeat but was intercepted three times after playing mistake-free football the previous three games.
"I think if you talked to Zach, I'm sure he'd tell you there's a few throws that he'd want back," Douglas said. "Look, we're 4-1 with Zach as our quarterback. In his first game back, he brought us back from a double-digit deficit in hostile territory in Pittsburgh. I know I'm sure he'd say he'd want a few of those throws back, but he also had 9 explosive passes. There's a lot of good to take away from that game.
"I know the focus was on the turnovers, but we love Zach. We love the way his approach is every week, love his competes, and he's our quarterback."
While transitioning on offense without both OL Alijah-Vera Tucker and RB Breece Hall, who sustained season-ending injuries at Denver, the Jets also were without WR Corey Davis against the Patriots. Entering Sunday's tilt with the Bills, the Jets rank 6th overall (311.4 yds/g) defensively and 11th in scoring defense (19.9 pts/g). They also rank 9th in takeaways (12) and tied for 9th in sacks (21).
"It's tough because when you lose, the quarterback gets the blame and it's not always just the quarterback's fault," Douglas said. "When you see how we played the first eight games of the season, we're going to be tough to beat when we take care of the ball and when we don't have self-inflicted wounds. We talk about that every week how games aren't won in this league, they're lost. When you take care of the ball and with our defense and special teams, we're going to be a tough team to beat. Just focus on the turnover battle, focus on the eliminating the self-inflicted wounds and that's not just for Zach — that's for the entire team."