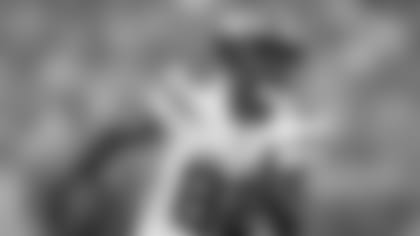 It didn't take long for Jamison Crowder to make an impact with his new team — just three minutes and seven seconds to get into the end zone to be exact.
On the Jets' first offensive possession in 2019, Crowder capped off a sharp seven-play, 75-yard scoring drive with a 3-yard touchdown reception from Sam Darnold as the visitors took a quick 6-0 lead over the cross-town Giants. Darnold connected with his new slot receiver twice on the series, including a 28-yard catch-and-run where the fifth-year veteran ran across the middle and sat for a half-second before taking off towards the sideline, leaving Giants linebacker Tae Davis in the dust.
"Any time that you can have a slot get open versus man-to-man like he can, but then he just has great awareness in zones. He fits in this offense well," head coach Adam Gase said. "He can do all the things that you need him to do and he has something about him. He's a veteran player that just knows how to get it done for the quarterback."
While preseason wins and losses don't have any bearing on a team's regular-season record, the Green & White's opening march was a victory for the starting unit.
"Just going out there and executing like we did on the first drive, I thought that was huge for us," Crowder said. "That was a good way to start the preseason and I feel like we've put in a lot of work during training camp and I feel like going out there and starting the way we did was huge for us. Now we have a really good foundation to build upon and continue in training camp and continue with these preseason games."
On the 28-yard connection, Darnold said he felt there was a massive hole in the defense, the same feeling Crowder had. The 5'9", 177-pound wideout could have sat in the zone, but went to the open area, and Darnold said it was encouraging to be on the same page as Crowder in their first game.
"Jamison's a great player, he has such a good feel out there," Darnold said. "On that note, you could tell too, in practice, just the way he runs routes. Some of the option routes that he runs, they're so clean and, for me, they're really easy to read."
The Darnold-Crowder chemistry was strong out of the gate in in training camp and it carried into the preseason opener. Five months into his Jets' career, the 26-year-old Crowder is hoping to continue to grow his rapport with his quarterback, and has enjoyed his role in Gase's offense.
"We have a lot of weapons," he said. "My mentality is go out there and take advantage of whatever opportunity I get. That's just kind of my mentality and whatever role I have as far as being the guy to get open in the middle, I'm going to try to work it, be the best at it. I think it is a really fun offense."