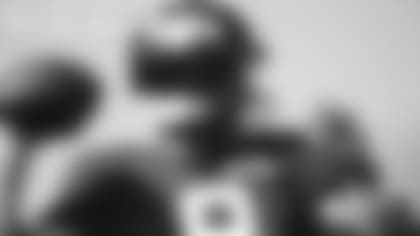 Everything old can be new again with Aaron Rodgers, as the Jets and their fans and reporters continue to discover.
For instance, the question that arose in recent days about the Jets vaunted quarterback still needing to redo a section of his contract that he arrived with in the April trade with Green Bay came up at the top of his Wednesday postpractice news conference.
"Yes, yeah," Rodgers said about the reworking being done between his representatives and general manager Joe Douglas' staff and his representatives. "There's going to be something probably hitting later on today."
That then led to questions about the five-day-old story regarding whether his time in green and white is more of a multiyear project or a one-and-done deal. He stated his thoughts about being with the Jets into 2024 in an ESPN New York radio interview last Friday, with head coach Robert Saleh following that by saying, "I wouldn't put pressure on him to commit to something like that, but I'd be shocked if he doesn't play multiple years."
And after Wednesday's sixth practice and second padded session of his 19th pro training camp and Rodgers' first as a Jet, he repeated and expanded on that best-case scenario.
"Definitely some of it is how much fun I'm having. It's all about the body, how my body feels," Rodgers told reporters. "The team gave up significant pieces for it to be a one-year deal, I'm aware of that.
"Now again, anything can happen with my body or with the success we have this year. But I'm having a blast, so I don't really see this as a one-year-and-done thing."
With the Brett Favre experiment of 15 years ago that started with a bang, ending with a whimper and wrapped after one season in 2008, the topic of trying to keep Rodgers around for more than a season has always been a background conversation among Jets reporters and Jets Nation. But as Rodgers has noted, so many elements of the trade with Green Bay have dovetailed with the QB's desires, such as being reunited with Packers OC Nathaniel Hackett and cruising New York City.
Being a 40-something NFL signal-caller has also played a part.
"Definitely, I think being a 40-year-old starter was a goal, just because that's a big number, to put yourself in that position," said Rodgers, who turns the big-4-0 in December. "It means you've got to really take care of yourself in the offseason, so I've adjusted some things with that goal in mind.
"Obviously, Tom [Brady] kind of set the standard, playing till 45, I think — which is crazy. But it's less crazy when you're starting to get closer to that, because you still love the game, you still want to be there doing it. And if you take care of yourself the right way, you put yourself in position to at least entertain that thought."
So Rodgers said he dedicated himself this offseason to building his flexibility, and he's continued his dietary pursuits that began around 2015, educating himself on how best to eat and manage things like "inflammation regression" and not waking up "feeling heavy-legged and swollen."
The physical side of his position gets mentioned by No. 8's critics and concerned fans because his passing game last season with Green Bay, while still at a very high level, wasn't what it had been in his back-to-back 13-win playoff and MVP seasons in 2020 and '21. Meanwhile, his rushing average dropped each of the past four seasons while his sack rate rose the past two years.
But Rodgers in effect says: What mobility issues are we talking about?
"I'm still going to have that element to the game," he said. "I'm definitely nowhere near some of these incredible runners outside the pocket as far as being dangerous, but I have some assets. I have a pretty good pump fake, I can throw both ways on the run, and every now and then I can get what's there. I still enjoy extending plays. I just enjoy being in the pocket and not taking a lot of shots a little bit more."
He also clearly continues to enjoy running "his offense," working with all his new teammates and receiving targets, and "working the room" even if that room has endless yards of green carpeting and no walls outside the Atlantic Health Training Center.
"I see him walking all over the place talking to people," Saleh said. "It's funny, I think I'm learning his body language, where he's either going to talk some trash or talk a coaching point. So he's been great."
"Look, I love our guys, and any chance they can see and feel me encouraging them is a good thing," Rodgers said. "I really enjoy the conversations with the DBs — and there's been a lot of 'em. ... They need to be talking to me about if my receivers are tipping anything off or something I'm doing is tipping them off. And I need to tell them, 'Hey, this is hard for me ... this isn't.' So there's things to work on for both sides and that sharing of information is really important for us, getting together on the same page and taking that next step."
It's just the latest chapter of Rodgers' new book, and he seems to really be diving into these new chapters of his still unfinished thriller.
"Change can be difficult, for sure, especially when it's that drastic,18 years in one spot," he said. "But if you can lean into it and embrace it, there's some really beautiful things on the other side, and I've been experiencing them so far. The people have been great, both in Jersey and the city, and I'm having a hell of a time."
And just maybe, Rodgers suggested while making no Namathian guarantees, his time with the Jets could be measured not in months but years.
See the best images from Wednesday's training camp practice at 1 Jets Drive.