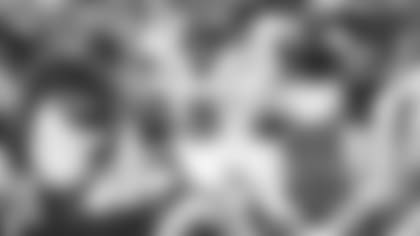 Aaron Rodgershad a simple list for a successful game-action debut as a New York Jet, and he checked all the boxes in his short and sweet stay on the MetLife Stadium turf, starting the Jets on the way to their ' 32-16 victory over the Giants on Saturday night.
"Yeah, got in, didn't get hurt, scored," Rodgers said. "Good night."
It was a little more than a good night especially for his teammates, his coaches, and the green-and-white-clad fans who got seats among the blue at the Giants' home game and saw a typical upbeat Rodgers showing, even if the cheering was confined to his introduction and to his guided-missile touchdown to WR Garrett Wilson for the quick TD and a 7-0 lead on his second drive.
"It felt like that first drive he was going to score, too," head coach Robert Saleh said of Rodgers' first game series as the Green & White field general. "Obviously, we got set back on that personal foul, but just the way he works at the line of scrimmage, and Garrett's a special football player and obviously he trusts him. It's a start, it doesn't mean much. We've just got to continue to play football together and see where it goes."
Rodgers even got everything done that he wanted despite having ... some jangled nerves? Maybe that's understandable since this was ARod's first start for a different team after spending his first 18 NFL seasons as a Packer.
"I had some butterflies for sure. I think that's always normal," he said. "The first time I strap it on, that's normal, whether it's year one playing the San Diego Chargers or year 19 playing preseason No. 4, there's always some butterflies. But I loosened up pretty good when I got the ovation when I took the field. That was a special moment, just to have that kind of support."
Rodgers handled the Jets' first two series with his trademark aplomb and quick release in completing five of his eight passes for 47 yards. He opened with a 23-yard drive that stalled on which he completed his first two passes, only to have former Packers teammate Randall Cobb get flagged for his blindside block that slowed that drive to a punt.
But Drive No. 2 was a sight for green eyes. On third-and-4, Wilson drew a 22-yard pass-interference call for the first down. Then came a Rodgers 10-yard completion to Mecole Hardman Jr., then the crowning touch on the 14-yarder to Wilson in the end zone.
"It was a run play to the right," Rodgers explained of the transition into his perfect throw over rookie corner Gemon Green, adding that center Connor McGovern "actually made a nice call up front, it was a zero-pressure look again, with Garrett with an adjustment on the back side, something we hit against Tampa in the joint practice. ... This time, he just outside-released, didn't waste any time. And he's pretty easy to throw that ball to."
After Rodgers' TD strike, the Jets' defense added to the ones' production in the first quarter when Giants rookie QB Tommy DeVito threw a ball that Jets CB Brandin Echols jumped all over for the sprawling interception, then bounced up and took the pick for six down the right side. The 14-0 lead with 4:11 to play in the opening period was the Jets' largest first-quarter lead and their first double-digit advantage in their 54-game summer series against the Giants since, well, since their first meeting, the 1969 August get-together at Yale Bowl when Joe Namath & Co. opened a 17-0 lead en route to their 37-14 victory over the Giants.
But the HC was correct, of course. The Rodgers and Jets numbers in this game, while nice to see, mean nothing ultimately, other than to maybe tell No. 8 what he wanted to see out of his productive dress-rehearsal debut.
"I think we're ready," he said without hesitation. "Next week will be an important week. Obviously there'll be some tough decisions with the roster. But just to work in some other things as we transition to the final 53 that we're going to be doing every single week. But we've held back a few things that we've been taking notes on in the quarterbacks room, stuff we want to put in this week coming up. So we'll put kind of the final touches on the offense, but I feel good about where we're at."
The QB noted that three important pieces of that offense still have to get folded into the mix, with LT Duane Brown having just returned to practice, RB Breece Hall still getting fully up to speed, and RB Dalvin Cook expected to get his first Jets practices this week, following his addition to the backfield. But the man called ARod is not looking back, only ahead to this brave new world that he and the Jets are set to embark on.
"It's going to be electric," Rodgers said of his real Jets debut, in front of a full home crowd at MetLife on the night of Sept. 11 against the Bills. "Monday night football, last game of the first week, so it'll be pretty special to take the field against a division rival, a great quarterback and a really good team. So it'll be a special environment to start off my career with the Jets."