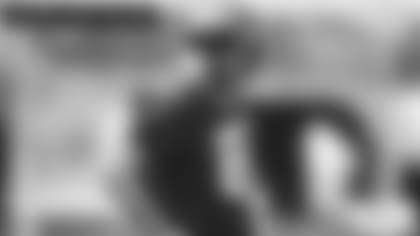 After going through an offseason of hearing the attitude, confidence and "juice" former Green Bay icon Aaron Rodgers was bringing to the Jets, the quarterback and his still new teammates participated in their first practice of training camp today. And the post-workout talk was about ... the Rodgers attitude, confidence and juice.
"It's always a good vibe," second-year WR Garrett Wilson said of football in general, "but when you've got Aaron, it's cool, he brings a little vibe with him, too."
"He has brought a lot of juice, a lot of hype,' head coach Robert Saleh said. "He brings a lot of wisdom to the quarterbacks room, a lot of confidence to the offensive side of the ball, a lot of excitement to the organization. But none of that matters if we're not attacking the day."
"Yeah, it's spectacular," the 19th-year QB and first-year Jet said, not about himself but about the anticipation that continues to surround the team he joined just before the draft. "That's what you want. You want to be part of a place that has high expectations. There's a lot of positivity around here, which I think is a good thing. But we have to temper expectations in camp. It's a long season filled with ups and downs, peaks and valleys. I think we've got to build this thing the right way. But there's a lot of positivity here and that's fun."
The Jets, who are starting training camp earlier than in any summer since 2000 due to their meeting with the Browns in the Aug. 3 Hall of Fame Game, are taking it step by step on offense, in part because a number of players have spent a lot of time away from the offseason practice fields.
"Today it was nice to see Mecole get some opportunities," Rodgers said of WR Mecole Hardman, who's been rehabbing following his offseason core surgery. RB Breece Hall, TE C.J. Uzomah and longtime Packers WR Randall Cobb have started out on active-PUP. WR Corey Davis has been in and out. T Mekhi Becton is finally "full steam" (Saleh's description) as is G Alijah Vera-Tucker.
They've all got some catching-up to do in Saleh's new offense, which is also new OC Nathaniel Hackett's old offense. Which, as former Packers WR Allen Lazard put it, is also "the Aaron Rodgers offense," although A-Rod declined bidding for the naming rights.
"I'm not going to say it's my offense. It's one I've had success in, for sure," Rodgers said. "Back in 2020, it was a conglomeration of what Matt [LaFleur, Packers HC] wanted to run, what Hack and I had run in the past. This is more of an offshoot of that, with a little more of a West Coast flavor to it. I love it but there is a lot of teaching, for sure. We've got to assimilate those guys into what we're doing."
Rodgers said his assimilation style has changed over his 18 Packers seasons. Lazard agreed.
"I'm not going to say he was hard to play with at first in Green Bay. He was more, 'You guys have got to pick it up,' " Lazard said with some finger snaps to demonstrate the Rodgers urgency from several seasons past. "Here he's a little more laid back. He plays in a state of flow. You have 11 guys playing that way, that's when the magic happens."
"Listen, I feel like I've grown a lot over the years," said the 39-year-old Rodgers. "I think it's always important to have patience in shorts and helmets, especially the first days of camp. ... I feel like I'm a patient person, but when it comes to ball, there's a right way of doing things and a way that's going to slow us down."
So on day one, Rodgers and the Jets built methodically. He said there weren't a lot of "down-the-field opportunities" during today's practice. In team drills, only one "touchdown" was tossed, that from Zach Wilson to Hardman.
Rodgers did some more of his impromptu coaching. His passing highlight might have been a play described in a tweet by The Associated Press as "a nice toss over the middle to a reaching Tyler Conklin — where only Conklin could grab it."
"Conk made a nice catch on a pressure alert," the QB said of his TE.
As the days go on, the actual playing of the game will move to center stage, but Rodgers' coaching, teaching and preaching won't be retiring to the wings. It's an intricate part of the Jets' unfolding A-Rod script.
"He's a coach who can still play football," Saleh observed. And two of Rodgers' wide receivers expanded on their views of life with Rodgers now that the Jets' summer countdown clock has begun ticking.
"Just to be able to play alongside him going back to 2019, he's someone I've always looked up to," Lazard said. "To share the field with him is an honor, and that's why I play the way I do."
"The vibe around here, it's cool. It puts a little chip on our shoulder," Wilson said. "We have to do it on Sundays. And it starts now."
See the Green & White on the field for the first time at 2023 Jets Training Camp.