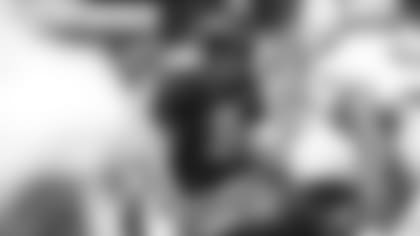 The Aaron Rodgers Reality Tour, a.k.a. Hard Knocks, moved into Week 2 with Rodgers and the Jets in Spartanburg, SC, for Wednesday's first day of joint practices with the Panthers.
Rodgers received rave reviews about his star turn in HK Episode 1, which debuted on HBO Max on Tuesday night, and as has been observed widely, that's a good thing for the Jets because the 19th-year signal-caller knows how to work the cameras and how to let the attention and any drama roll off his and his teammates' backs when it's time to get to work.
And work for the Jets' first offense is what it's all about these two days in SC because once again Jets head coach Robert Saleh will rest his frontliners when the teams play their preseason game back across the border in Charlotte, NC, on Saturday afternoon.
"That was the most reps we've taken as a first team offense all camp, so I'm sure there'll be some tired guys," Rodgers said after the morning's first joint practice. "Saleh, just like many coaches, doesn't want to play a lot of players in the preseason. Today and tomorrow, even though tomorrow is just helmets, is going to serve as our preseason against Carolina and we'll let the young guys play Saturday."
What the Jets O showed to the Panthers Wednesday was kind of a mixed bag.
"I thought we were pretty good," Rodgers summed up before breaking it down. "I thought we didn't maybe have the same type of energy, for whatever reason, to start practice. But I thought we did some good things. There was a lot of learning tape out there. It was good to be out there against a different defense. I thought we handled their front pretty well in the run game. In the pass game there were some issues."
And ARod was in the middle of it all again, reprising one of Saleh's themes of him being "a coach that's still a player." Said veteran WR Corey Davis: "There's nothing too little for him to coach. We're blessed to have a guy like him, a really elite quarterback."
Despite the aforementioned pass game issues, Rodgers delivered one of the Green & White highlights when he hit WR Allen Lazard wide open down the sideline for a long gain against sketchy Carolina coverage, much to the delight of the solid Jets contingent that made the trip south.
As for the state of the Jets' blockers that many fans are concerned about, Rodgers wore his coaching hat when talking with reporters, saying there was nothing pressing to worry about along the line.
"We've got to figure out who the first five's going to be," he said. "A lot of guys are in competition right now. It seems like they're switching the tackles left and right just about daily with Max [Mitchell] and Billy [Turner]. They're just looking for consistency with those guys. I feel like the interior has been a bright spot, pretty consistent for us with both the first and second group. We just need a little more consistency on the edge.
"I honestly think a lot of that's overrated," he added about the OL/QB chemistry question. "It helps, we had some great ones that played next to each other for a long time. But that's the exception. Usual for the NFL is there's going to be multiple starting offensive lineups throughout the year because of injuries."
Meanwhile, there is the "mentor" theme that's sure to be explored in the final four HK episodes. Just as Rodgers and Zach Wilson bonded during the Jets-Packers joint practices in 2021, No. 8 was captured schmoozing with Bryce Young, Carolina's first overall pick in April's draft and the Panthers starter. But Rodgers was quick to correct the potential storyline.
"I'm not here to mentor Bryce. He's got a great one in Andy [Dalton], who I've known for a long time, too, awesome guy," Rodgers said, then provided his background with Young, which includes sharing an agent and Rodgers being an admirer of Young's from his high school days in Los Angeles and his college career at Alabama.
"I just wanted to get to talk to him, tell him what a fan I am of his and how he carries himself. But there's no mentorship out there. With Zach, there's more confronting him about his comments about my attire and swag."
Asked about the advice that he's imparted to young guns like Wilson and Young, Rodgers as always had a ready answer.
"Be gentle with yourself. It's a long journey," he said. "It feels like every little snap in practice is the end of the world if it doesn't go right. That's just not true. It's a long journey. It's about holding onto your confidence and enjoying the ride."
See photos of the Jets on the field in Spartanburg, S.C. for joint practice with the Carolina Panthers.