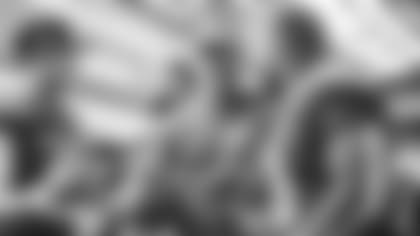 Aaron Rodgers was back on the Jets sideline on Sunday during the win over the Eagles, no crutches and wearing a headset during the game. He is making impressive progress in his recovery after surgery to repair a torn Achilles tendon.
"Just to be back around the guys was incredible," he said on the "Pat McAfee Show" on Tuesday. "To be on the field without crutches, to be on the sidelines, to be on the headset, it made me feel like I wasn't so separated from the team. That was a special moment for me to be able to feel a little bit more normal. The five weeks have been really tough not just physically, but emotionally and spiritually."
Rodgers interrupted his rehab on the West Coast and returned to New Jersey after speaking with HC Robert Saleh.
"I was I was kind of on the fence this last week, to be honest, because my rehab has been so great, and I've really been coming along so incredibly well here on the West Coast," he said. "I was like, if I fly out, I'm going to miss a few days of rehab and am I going to regret these couple days of not getting the same type of work? I just hit up Robert and I said, 'Hey, what do you think?' and he said, 'need you out here, buddy.' So, that was that was cool."
In just five weeks since his surgery, Rodgers is ahead of the curve when it comes to standard rehab. Walking freely and throwing a football before the game surprised. Since the injury he's dedicated himself to rehabbing as quickly, and smartly as possible.
"This entire time I've said what I'd like to do rehab-wise," Rodgers said. "Neal, my doctor Neal ElAttrache, did kind of a newer, innovative surgery. I asked him if we could push it, if we could push it beyond the normal protocols. I've just wanted to do things quicker, smart, but quicker. It's just about being smart with the rehab and pushing it as much as I can and then backing off on the days that it doesn't feel good."
Rodgers' injury was to his left foot, which is his 'plant' foot, key when dropping back and throwing . He acknowledged that the left foot is an important part of punch step, but a similar injury to his right foot would be dicey because he uses to push off on every throw.
"I really felt great," he said. "I had just a little bit of a limp, I'm just not quite walking perfectly normal. Standing and throwing is not a problem, moving in smaller area was not a problem, and I was excited to get back out there. Again, it just felt a little bit more normal in a time that anything has been the abnormal."
While Rodgers continues to defy the odds in his rehab progress, he knows there are certain benchmarks he must attain before he can return to the field. He emphasized that it will take time and there's no timetable.
"There's just markers," Rodgers said. "You saw me walk without crutches and throw on the field. Another marker is going to be jogging, another marker is going to be going through a pregame workout probably, and then getting out on the practice field. All these are going to take time. There are critical markers that I have to hit as far as single leg strength and, and being able to do heel raises, and being able to do explosive movements. These are all progressions that take time.
"Obviously, we're ahead of schedule and there's a lot of factors to that. ... I'm not going to put a timetable on it specifically."