I visited with LB Craig Kobel, one of the most recent FA signings by the Jets, in the locker room last week. His demeanor was calm but his words were effervescent regarding his chance to sign with another NFL team.
"It feels incredible," Kobel said. "You kind of take a pro career for granted till it gets taken from you. I'm about as happy as you can possibly be."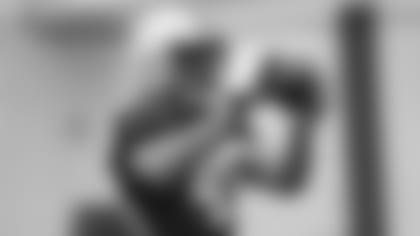 The reason for his joy: Kobel was once a top player at South Florida who held the school's career tackles-for-loss mark for four seasons. He played for the Arena League's Utah Blaze in 2006 and was sent by the Eagles to NFL Europa in '07. But he developed a sports hernia that cost him two surgeries and the past two seasons.
"It happened just over time, kind of wear and tear," he said. "I've worked relentlessly to get back."
Jets assistant GM Scott Cohen scouted Kobel when he was Philadelphia's pro personnel director, which led to Kobel being brought to this year's rookie minicamp as a tryout. He wasn't signed then but was added to the roster last week.
There are no guarantees for Kobel, but he has a track record as a penetrating defensive player who has position versatility — DE at USF, Mike LB with the Eagles, Sam LB in NFL Europa, perhaps rush LB here.
"Everything has worked out for the good," Kobel told the Tampa Tribune. "I'm ready for Round 2."
Here are two more Buddy Ryan stories from Gerry that I didn't get into in that story:
Buddy, as Weeb Ewbank's D-line and special teams coach, instituted a system of "black boxes" with which he rewarded players for things like sacks and big teams plays. Philbin remembered that commissioner Pete Rozelle didn't like the "bounty" aspect of a few hundred dollars in each box and banned the practice. But that's not how Philbin recalled the context.
"If you got to the quarterback, or whoever had the best game, you'd get one of the black boxes," he said. "And I was on the kickoff team. If you want down and made tackles or forced a fumble, you'd get a black box.
"In those days, after taxes we were taking home $500 a week. So a black box with $100 or $200 in it was a lot of money."
Buddy also brought in a guest coach during camp one year, who just happened to be Art Donovan, the celebrated DT for Ewbank's Colts who was inducted into the Hall of Fame in 1968.
"When I was a kid, Artie was a hero of mine," Philbin said. "Weeb and Buddy brought him in to help coach the defensive line. He was so funny. He'd work us hard, then we'd have meetings after dinner at night. He'd bring a case of beer in and we'd drink a beer and watch the film with Artie Donovan."
Those were the days, my friend ...
What Moves These Jets WRs
Kudos to Brad Smith, who wrapped up the What Moves U Challenge presented by the 3-A-Day of Dairy campaign with his visit to Ridgedale Middle School in Florham Park, N.J., last Friday.
Smith exercised with students, doing such activities as basketball passing, football catching and rope-jumping. Then there was interaction time with the Jets wide receiver discussing ways for the students to exercise 60 minutes every day.
The What Moves U Challenge/Play 60 is a national youth movement developed by the NFL and the American Heart Association to inspire middle school students to get the recommended 60 minutes of physical activity of each day.
Fellow Jets WR Jerricho Cotchery is also busy during his "football camp season." He's hosting his camp at Legion Field in Birmingham, Ala., this weekend, for which registration is already closed. Then in July he'll be back in North Jersey for his third annual camp in Wayne, and that registration has yet to begin. But J-Co will have details soon on his Website, **www.cotcheryfoundation.com**.