A game of flag football is something we might take for granted here in the United States. But if you are service members from the 10th Mountain Division and the 25th Signal Battalion of the U.S. Army as well as Soldiers of the 518th Resolute Support Sustainment Brigade* *stationed at the Bagram Air Base in Afghanistan, the largest U.S. military base in Afghanistan, then a Jets-themed flag football game can take on an entirely different meaning.
"If you look at some of the other pictures from the game, you see a giant cement wall in the background. That's because the Taliban are on the other side of that wall," said Jets military liaison Steve Castleton, who broached the idea of a game with the Jets last November.
Dubbed "Mission Resolute Support," military service members donned custom uniforms donated by the Jets and competed in an eight-on-eight, friendly flag football game as part of the Bagram AFB Sports Day.
"The main mission in Afghanistan is 'Resolute Support.' The idea was that we were going to have a Green & White scrimmage in Bagram, Afghanistan," Castleton said. "So we took the white jerseys and put 'Resolute' on the back where the name goes and on the green ones we put 'Support.' The Jets made custom made jerseys and we sent those along with official NFL footballs, some signed footballs for the winners. We sent the belts for the flag football, coaching clipboards, whistles, air pumps and stuff like that."
"It was our honor and pleasure to participate in such a special event," said Woody Johnson, the team's Chairman and CEO. "When we were approached, there wasn't any hesitation and we did as much as we could to make sure they had what they needed to enjoy the day. They place their lives on the line each and every day to protect us and this was just a small token of our appreciation to thank them for their service."
Before the game took place, the families of service members participating sent tailgate items to their loved ones stationed at Bagram AFB.
"I told the USO and the National county Blue Star Moms, meaning you have a child on active duty, about the event and they said you need a Humvee-gate party instead of a tailgate party," Castleton said. "Throughout the country from Oklahoma, Nevada, Arizona, Mississippi, New York and to Louisiana, they arranged about 100 boxes of tailgate goodies — all kinds of snacks and thank you notes — sent by the Blue Star Moms that went to the soldiers. The USO actually came and cooked food for them, so it was like a real tailgate party."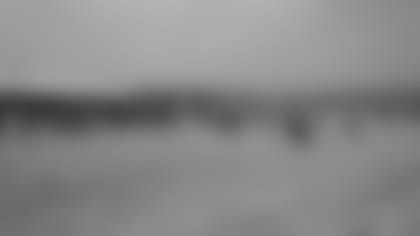 Participating members included Colonel Seung Paik, Lieutenant Colonel Oscar Malave and Lieutenant Colonel Cedric Gaskin. While rank and structure are essential in the military, the Jets-themed flag football contest allowed for a free-flowing of opinions throughout the week.
"It grew and grew to the point where I was briefing the Pentagon and the game was also filmed. During the last week and a half, Non-Commissioned Officers (NCOs) were trash-talking Captains and Colonels that they were going to kick their butts," Castleton said. "If you're a Sergeant, you don't trash talk your Colonel, you don't trash talk your Captain. They were trash-talking each other like it's a bunch of guys that are getting together to play football."
The NCOs cruised to a 38-6 victory, but everyone was able to celebrate afterwards as C Nick Mangold and WR Eric Decker joined the service members via Skype.
"I wanted to personally thank them for their service and support abroad," said Mangold. "I admire and respect their sacrifice and dedication to service."
"To be able to give back to our military community is important to myself and this organization," added Decker, whose father-in-law is a Colonel in the Air Force. "I will always have the utmost respect for our service members."
On one side of the wall, a football game and expressions of freedom in Afghanistan. On the other side of that wall, the Taliban.
"The idea was to have a football game where the soldiers can have a day where they did not have to worry about defending our freedom," Castleton said. "They only had to worry about defending against the deep pass or a sweep to the outside."
A precious few moments before the service members went back to containing the Taliban and providing training, advice and assistance for the Afghan security forces and institutions.
"I can't stress it enough, these guys are risking their lives every day," Castleton said. "A soldier was just killed in action (KIA) this past week and we owe it to these kids. And I can't say enough about Woody Johnson and Neil Glat because whatever I asked for with this, there was never once a comment, 'Well, you know, what it's too expensive, we can't do that.' All the comments I've always heard since I've first suggested this, 'Okay. Let's do it.'"