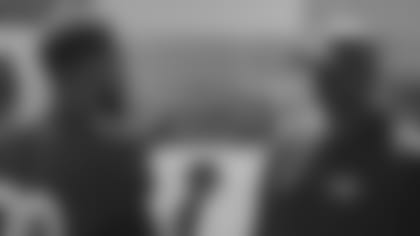 It's not often a parent gets the opportunity to work alongside a child in a profession, and it's even more rare of a situation in the National Football League. But for New York Jets defensive coordinator Kacy Rodgers, this unique circumstance has become part of his daily life.
It was February when Rodgers was able to witness his son, Kacy Rodgers II, sign on with the Jets as a defensive back. And although it's been nothing short of an exciting time, Rodgers assured that it's all business inside the Atlantic Health Jets Training Center.
"We separate the two once we come to work every day. That's not a problem," he said. "We're father-son outside the building, but I'm coach and he's player once we walk in the building."
Being a coach's son his whole life has brought feelings of familiarity to young Kacy , but the position he's in now is not lost on him.
"It's been a blessing, honestly," he said. "Like my dad said, this is so rare in our profession and this opportunity that's afforded to me right now, to play for my dad. I'm just going to take full advantage of it, and it's been awesome."
Proximity and timing haven't always graced the Rodgers' relationship. In fact, the two factors have ultimately been part of a bigger, more complicated equation in the past few years. After graduating from the University of Miami, Kacy II went undrafted in 2013 and spent the next year working out for multiple professional teams. It wasn't until June of 2015 that he signed his first professional contract with the Edmonton Eskimos of the Canadian Football League. For the next 2 ½ years, Kacy would remain in the CFL, while his father served as Todd Bowles' defensive coordinator in New York.
Having his son a whole country away on a schedule similar to his didn't necessarily make family time easy. In fact, Coach Rodgers can only recall having time to see Kacy no more than a handful of occasions in the previous years.
"You don't realize the last few years I saw my son once, twice a year because our schedules just didn't line up," he said. "Usually when he was in season, I was in season. So we were all busy about the same time."
Distance didn't do damage to the father-and-son duo's communication line, though. If anything, it motivated the two to stay connected, with Dad making sure he was able to watch Kacy's games, even if that meant rewatching his plays through tapes.
"I would only get to see his games live if they aired on ESPN3," he explained. "So I didn't get to see all of them, but luckily the CFL and the NFL have an agreement that they pass along his tapes. So I can sit at my desk...and watch it like I watch NFL games."
Although his leap from the CFL to the NFL was huge, making it to the Jets has only been the start of a very competitive process for Kacy II. As he takes this experience and what he's learned thus far and looks ahead, there's a lot more to consider than just having his dad as his coordinator.
"The NFL obviously comes with enough pressure that a lot of people don't see, but I'm in here working for hopefully a position on this team come training camp," he said. "Obviously my dad being my direct coach on my side of the ball and my direct boss if you say, I mean, that has pressure in and of itself."
Pressure or not, the exact moments this coach and son are living in have brought many emotions and strengthened an already unbreakable bond.
"I went from seeing him once, twice a year, to seeing him every day, and coaching him on the highest level of football," said the 48-year-old Rodgers. "That's really surreal in so many ways. As a father you sit back, and it's amazing to me because of his journey to get here."
Although nothing is guaranteed, what's been most valuable for the Rodgers pair is embracing this experience together. Because at the end of the day, there's nothing quite like the bond of father and son.
"Everything that he has ever done for me has never gone unnoticed," said the 26-year-old Kacy, "I can only hope to pay it forward to my son like he's done to me."