The Jets and the Patriots won't be passing ships in the night. After they collide Sunday at MetLife Stadium, they'll have a return engagement at Gillette Stadium on Christmas Eve.
While the 8-2 Patriots are searching for their eighth consecutive divisional title and 13th in 14 seasons, the 3-7 Jets are focused on changing the narrative over the last six games. They insist there is plenty to play for and recent history suggests a close game could be on the horizon. In their past three home games against the Patriots, the Jets have captured two contests in overtime and they dropped a one-point decision in between.
One Goal: Before his team departed for its Week 11 Bye, Jets head coach Todd Bowles made it clear that he has only one objective.
"You're always trying to win and get better. The name on your back is as important as the name on the front of the jersey is important. You're always trying to win," he said. "We have to win for a bunch of reasons. That's our job to come in there and try to win, mine as a coach, theirs as a player and ours as a team."
Self-Scout:  While the bye gave many Jets an opportunity to heal their bumps and bruises, the coaching staff got a chance to review the team's first 10 games. Despite the 3-7 start, there are some things that the Jets can build off entering Week 12 action. The run game has kicked it up a notch of late and the duo of Matt Forte and Bilal Powell combined for 198 total yards against the Rams. And the Patriots experienced some difficulty with 49ers RB Carlos Hyde last week as he averaged 4.5 yards a carry and amassed 110 total yards in defeat.  Powell turned in a masterful performance against the Patriots in a 26-20 OT win last December, registering 90 yards on just 12 touches. One of the keys to the Jets' late run in 2015 was Powell's emergence as the team's third receiving target. This year is a different animal, but Forté and Powell look primed to give the offense some much-needed juice down the stretch.
"Playoffs may or may not be in the future, but that doesn't mean you pack it in and tuck your tail," Forté  said. "You have to keep fighting and build for everything that we have. It's a privilege to play this game and we need to have that mindset."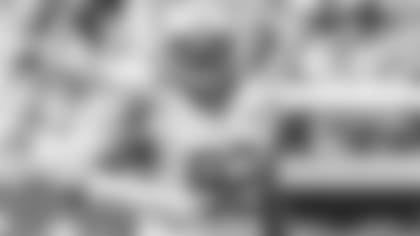 Breakout Performers: The Jets have a couple of second-year studs in WR Quincy Enunwa and DL Leonard Williams.  Enunwa put himself on the NFL map last December with a 48-yard catch-and-run against the Patriots in overtime, setting up the game-winning 6-yard TD from Ryan Fitzpatrick to WR Eric Decker. With Decker on injured reserve, Enunwa ranks second on the Jets in catches (38) and receiving yards (534).  After he's been limited to just two catches the past two games, the Jets would like to get Enunwa back on a hot streak.
Williams, the No. 6 overall selection in the 2015 NFL Draft, leads the Green & White with 6.0 sacks and his 15 QB hits tie OLB Lorenzo Mauldin for the team high. Williams also ranks second with 55 tackles and he has 8 tackles behind the line of scrimmage. No QB likes pressure up the middle and Leo has the ability to make things uncomfortable for Tom Brady. The Jets will run a bunch of looks at Brady, but it would be advantageous to crowd the pocket with four rushers and flood the passing lanes.
30-Something: Since Brady returned to the lineup in Week 5, the Patriots have averaged 32 points a contest.  Brady, who is completing 70.4% of his passes with 16 TD and just 1 INT, has been held below 30 in just two of his six starts. The Jets, who rank 30th in scoring at 17.9 points per contest, have topped the 30-point mark on two occasions this season. Finishing drives becomes even more paramount when the Patriots come to town. While the Jets' red zone struggles have been well-documented, the Patriots rank just 19th inside the red zone defensively.
Monster Test On Deck: The Jets' much-maligned pass defense has held opposition quarterbacks to a 73.8 QB rating over the last six weeks, the third-lowest in the league during that span. Also QBs over the last five games have averaged a league-low 6.0 yards per attempt while completing just 59.2% of their attempts. With or without the services of TE Rob Gronkowski (lung) and WR Chris Hogan (back), Brady has plenty of weapons at his disposal including the likes of WRs Julian Edelman, Danny Amendola and Malcolm Mitchell, TE Martellus Bennett and RBs LeGarrette Blount and Dion Lewis.
Divisional Dive: Of the Jets' final six regular-season contests, four will be played inside the AFC East. After this weekend's matchup with the Patriots, the Green & White close with a three-game divisional run featuring home games against the Dolphins and the Bills in Weeks 15 and Weeks 17 and the holiday collision with the Pats in Foxboro, MA on Christmas Eve.
"Four divisional games left, I think that's a big deal because they're all rivalries," Fitzpatrick said. "They're teams that you don't like. We play them twice a year and we learn not to like them for various reasons whether you've been here for a lot of time or just a year or two years. They are certainly games that are easy to get up for."