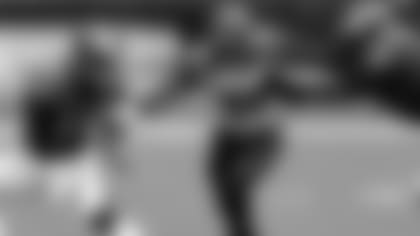 Law and Order
Carl Lawson applies pressure more than his 20 career sacks may indicate. He led all NFL defensive linemen with 32 QB hits in the 2020 season while leading the Bengals with 5.5 sacks. His 54 QB hits over the last season trails only Chargers' DL Joey Bosa among all D-linemen. Since Lawson was drafted in the fourth round out of Auburn in 2017, he ranks in the top five in pass-rush-get-off among edge rushers in all four seasons of his NFL career. He ranked No. 1 as a rookie in 2017 at 0.61 seconds followed by No. 3 in '18 (0.71), tied for No. 4 in '19 (0.78) and No. 4 in '20 (0.73).
Bloodlines
Lawson's father, Carl Lawson Sr., played fullback at Georgia Tech on the 1990 co-national championship team. At 13 years old, Carl Jr. figured he might follow in his father's footsteps when Carl Sr. tried to block him in the backyard and hurt his knee doing so.
"He was talking about, 'I was an All-American fullback. I could block you,' " Carl Jr. told WKRC in Cincinnati. "I was like 'All right.' It didn't turn out so well. I hurt his knee. It was bad. He never tried to block me again."
Lawson went on to become the No. 1 defensive end in the country as a senior, according to Rivals.com and 24/7Sports.com. He had 27 sacks and 44 tackles for loss as a senior at Milton High School in Alpharetta, GA, before heading to Auburn where he played in the national championship game in 2013.
From the TV to the Field
Having a father who played college football, it would be natural to assume that's where Lawson's love of football began. But it was anime -- animated cartoons such as Dragon Ball Z -- that motivated him to get on the field.
"It was the main contributor," he said during an appearance on Good Morning Football in 2019. "Literally it's all fighting, eating and training as hard as you possibly can, and that's football. Instead of tearing the stuff up in my house, my dad was like you need to stop watching this show and go play football. I feel like Dragon Ball Z is definitely a main contributor why I play football. It's a gladiator-type mentality on that show and it's a gladiator-type mentality on the field."
Green & White and War Eagle
Lawson has no direct tie to the Jets but dedicated his performance on Monday Night Football in Week 15 of the 2020 season when the Bengals beat the Steelers to former Jets OLBs coach Kevin Greene. Greene also played collegiately at Auburn and passed away at age 58, Lawson's number with Cincy, hours before kickoff. Lawson had 1 sack and 1 forced fumble as the Bengals beat the Steelers.
Miscellaneous
Lawson made a breakfast sushi roll held together by bacon with Auburn basketball Head Coach Bruce Pearl. … Going to a water park was on his bucket list in college because he doesn't remember going to one as a youngster. … Ronda Rousey was his celebrity crush because he found out she was a Dragon Ball Z fan. … And he loses his wallet frequently.
"I put a note in there and it says, 'Hope whoever finds this is having a nice day. War Eagle,' " he told Auburn. "And I put my number in there and it also says, 'please don't rob me.' I get my wallet back every single time."