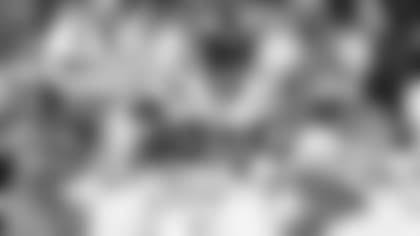 The Jets went on the road for the second time in the 2023 NFL regular season and came back to sea level after an up-and-down 31-21 victory over the Denver Broncos at Empower Field at Mile High on Sunday afternoon.
You could pitch a title for this game as a "Hall of a Game," as RB Breece Hall opened the second half by busting a 72-yard TD run on the Jets' first offensive play from scrimmage and then reserve CB Bryce Hall, who replaced the injured D.J. Reed (concussion), scooped up a fumble and dashed 39 yards to the end zone to ice the win.
It was an important victory for the Jets (2-3), who will face the unbeaten Philadelphia Eagles (5-0) on Sunday at MetLife Stadium before taking a week off, returning on Oct. 29 as the "visitors" for a game against the Giants.
No. 1 -- Breece Hall Goes House
By now there should be no doubt: Breece the Beast is back.
After showing his talent and speed early last season, Hall returned to the scene of his season-ending ACL injury in Week 7 last year, and amassed 194 scrimmage yards — 177 rushing on 22 carries (8 yards per average) and 17 receiving on 3 catches.
But it was his 72-yard dash on the Green & White's first play from scrimmage of the second half on which he reached 21.5 miles per hour, that turned the game on its head and gave the Jets a lead they never relinquished, 15-13.
"I had been complaining about it all day because I didn't feel like I had enough space to maneuver," Hall said. "Coach was like, 'Breece, give me one more, I'm gonna call one more and we'll see what happens.' He called it and the hole was wide open, blocked up perfectly [via OL Laken Tomlinson]. I just had to make the safety miss and there was nobody else there."
Speaking about his return to Empower Field at Mile High where he sustained the injury, Hall said: "I was like, 'Damn, when I tore my ACL, it was right in there.' " He added: "I don't care about it anymore. I'm new and improved now. I got my robot knee. I'm good."
Head coach Robert Saleh said: "He's a deceptive runner. He's so massive and it doesn't look like he's moving. You feel like you are tracking him properly and all of a sudden, it's like, 'Oh, crap, where'd he go?' "
In two games earlier in the season, Hall has come close to breaking long runs for TDs. His 83-yard run against Buffalo in the Monday night regular-season opener is one of three longest runs of the season. He now has two of the top three. Hall also dashed for 43 last week against the Chiefs.
Hall collected his third 100-yard-plus game of his two-year NFL career, the second this season. The 177 yards are the most by a Jets player since Isaiah Crowell ran for 218 in 2018. Hall is currently No. 6 in the league with 387 rushing yards.
No. 2 -- Bryce Hall 'Goes House' After Quincy Williams Sack/Fumble
LB Quincy Williams and reserve CB Bryce Hall snuffed out Denver's flickering hopes with 1:45 to play. Williams, who became the first player in franchise history to record 9 tackles, 2 sacks, 1 forced fumble, 1 TFL and 3 QB hits in a game, tracked down Denver QB Russell Wilson at the Broncos' 41-yard line, knocking the ball loose. It bounced toward the near sideline, where Hall scooped it up and headed for the end zone to kill the game and give the Jets their second-straight win at Denver in as many years.
"He's a game-wrecker at linebacker," Saleh said of Williams. "I'm so proud of him. You talk about the players, they get thrown away [Williams was cut by Jacksonville before the 2021 season] and they try to find their way. He stuck to it, kept his head down, kept working and he's found his way and we're very fortunate that we have him."
Williams said: "My biggest thing is doing my job. The play got called, and I know it's a sack. I wasn't really focused on the ball. I know he carried it loosely, but I wasn't really focused on the ball. I wanted to get the sack when the play was called. So it was my job to get the sack. I appreciate everybody else. I knew I was going to come up huge because I trusted my teammates in coverage. Then when the call came in, I trusted my teammate in coverage. I got the sack. That was my job."
Asked if he thought about simply falling on the loose ball, Hall said: "I saw the ball, and I picked it up and thought like I could be in the end zone. Thinking back on it, I probably should have taken a knee to end it, and we wouldn't have been in the stressful situation in the end, but I just saw it and picked it up, and I was like I might as well score with it. Tried to go a little bit toward the middle."
No. 3 -- Zach Wilson to Garrett Wilson for 32 Yards
It was still a one-score game, 21-13, when the Jets took over, after a Denver punt, at their own 28-yard line. On first down, Zach Wilson found an open Garrett Wilson in the left flat for a 32-yard completion that opened a 5-play, 41-yard drive that took 2:58 and opened an 11-point lead, 24-13, after Greg Zuerlein's 49-yard field goal -- his fifth of the game on five attempts. Greg the Leg extended his streak of games played with at least one converted field goal to 21 games, the second-longest streak in the league.
G. Wilson was targeted 7 times in the game, making 3 receptions for 44 yards. Z. Wilson was good when it counted in completing 19-of-26 passes for 199 yards, 0 TD and 1 INT for a 78.8 passer rating.
"I thought Zach did a great job," Saleh said. He added: "Overall, he did a good job. Just offensively as a whole we've got to be better in the red zone. If we did, we probably could have blown that team out of the water, but it's still, as I said, gritty win. We ran the ball well, moved the ball, stayed ahead of the chains. I thought that we were really good in the second half."
No. 4 -- Irvin Charles Elevates for Special Teams
Since he joined the Jets in May 2022 as an undrafted free agent, WR Irvin Charles has been on a practice squad merry-go-round. He made the final 53-man roster this season ... then it was back to the P-squad ... until Sunday at Denver. He was elevated after he impressed coaches with his skill and determination on special teams. It did not take him long to show why.
After the Jets failed to pick up a first down on the game's opening series, P Thomas Morstead kicked 51 yards to Broncos' returner Marvin Mims, Jr. In his first NFL game, Charles raced down the field and wrapped up Mims at the Denver 25-yard line, forcing a muff that was recovered by LB Sam Eguavoen at the 20-yard line, leading to Zuerlein's 30-yard field goal.
It was the Green & White's first special-teams fumble recovery since Week 4 of the 2021 season and the 12th special-teams fumble recovery in the league this season.
No. 5 -- Al Woods Forces a Penalty and a Safety
Safeties are among one of the most-rare scoring plays in football, and now the Jets are the first team since 2020 to score on safeties in back-to-back games -- the first time in franchise history.
Last week, LB Bryce Huff notched two points when he incurred a grabbing-the-face-mask penalty against Kansas City. Against Denver, DL Al Woods was about to sack QB Russell Wilson in the end zone when Wilson got rid of the ball. The 2 points, added to Zuerlein's 30-yard field goal to open the game's scoring, marked the Jets' first points in the first quarter this season.
The consecutive 2-pointers by the defense means this Jets team is now one of 10 teams in league history to record safeties in consecutive games. Dating to the start of last season, the Green & White has recorded four safeties, while no other team has more than two over the same period. It is also the third time in franchise history that the Jets have scored offensive and defensive TDs and forced a safety.