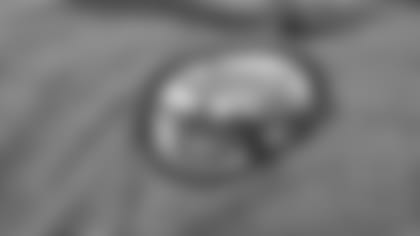 The Jets will host 44 tryout players during their rookie minicamp in addition to the team's six draft picks and seven undrafted free agents.​​Among the tryouts are three players with ties to the Green & White. Louisiana Monroe's offensive lineman Frank Sutton Jr. is a relative of former Jets running back Freeman McNeil, punter Ben Turk is the nephew of former Jets punter Matt Turk, and linebacker Darrian Bass is the younger brother of current Jets 'backer David Bass.​
McNeil played for the Green & White for 12 years (1981-1992) and was the last No. 3 overall selection prior to Sam Darnold in 2018. Turk played for the Jets in 2002, averaging 41 yards on his 63 punts and was a three-time Pro Bowler in his career. Bass re-signed with the Jets earlier this week and tied for second on the team with 3.5 sacks in 2017.
The full list of tryout players by positional group:
Quarterback
John Wolford (6'1", 200), Wake Forest — A four-year starter for the Demon Deacons, Wolford threw for 8,794 yards, 59 touchdowns and 41 interceptions while completing 59.7% of his passes. 
Running Back
Vic Enwere (6'0", 245), California — Played in 43 games (five starts) in four years for the Bears while rushing for 1,411 yards and 17 touchdowns. 
Ryan Green (5'10", 204), Florida State — A top-50 high school recruit, Green battled injuries and totaled 30 carries for 232 yards and three touchdowns in three years for the Seminoles.
Fullback
Shane Cockerille (6'2", 235), Maryland — Transitioned from quarterback to linebacker in college and played some fullback as well. Earned honorable All-Big Ten honors in first year on defense.
Wide Receiver
Donald Gray (5'10", 193), Mississippi State — Team captain in 2017, started 21 games and reeled in 86 catches for 1,309 yards and 10 touchdowns.​
Phillip Mayhue (6'3", 210), Memphis — Ranks 10th in school history with 1,589 receiving yards.
Gio Pascascio (6'1", 195), Louisville — Played in 25 collegiate game and spent time with the Titans last summer.
Matthew Sewall (5'10", 183), Bryant — Finished four-year career top-10 in Bulldogs' receiving yards (7th, 1,219), receptions (5th, 100), receiving touchdowns (3rd, 15).
Patrick Smith (6'0", 190), Tennessee State — The 2017 OVC preseason Offensive Player of the Year, Smith caught 42 passes for 648 yards and eight touchdowns.
Matt VandeBerg (6'1", 195), Iowa — Granted an additional season as a medical redshirt in 2017, VandeBerg played in 54 collegiate games and tallied 1,686 receiving yards and 10 touchdowns on 134 catches.
Austin Wolf (6'3", 210), Akron — Winner of the Henry "Doc" Smith Award, given to the outstanding Zips football player in each class.
Offensive Line
Matt Diaz (6'6", 295), Wagner — A 2017 team captain and preseason All-NEC, Diaz played left tackle as a fifth-year senior. 
Mark Korte (6'4", 280), Alberta — Invited to the East-West Shrine Game, Korte started four years at left tackle and was named Most Outstanding Lineman at Canada West Conference All-Star Game. 
Justin Lea (6'4", 290), Jacksonville State — Earned All-OVC honors and started every game for three years at tackle.
Dorian Miller(6'2", 300), Rutgers — A Metuchen, NJ native, Miller was named an honorable mention All-Big Ten in 2017 and was awarded the David Bender Trophy, given to the top Scarlet Knights' offensive lineman. 
Bentley Spain (6'6", 310), North Carolina — Made 33 starts in four years for the Tar Heels, including 10 at left tackle in 2017. 
Frank Sutton Jr. (6'3", 306), Louisiana Monroe — Father played in the NFL for the Giants and he is a relative of RB Freeman McNeil.
Tight End
Darion Clark (6'7", 235), Grand Canyon — A college basketball player, Clark played hoops at UNC Charlotte, USC and Grand Canyon.  
Garrett Hudson (6'4", 240), Richmond — Originally walked on at UNC in 2013 and transferred to Richmond with three years of eligibility. Invited to the NFLPA Bowl.
Defensive Line
Francis Kallon (6'5", 295), Georgia Tech — Born in London and played basketball and soccer before Yellow Jackets convinced him to play football. Signed with the Steelers as an undrafted free agent in 2017 and finished last season on the Jets' practice squad. 
Nifae Lealao (6'5", 312), Vanderbilt — Became the first Commodores player on scholarship with Polynesian heritage and started in 22 games in four years. 
Adam Reth (6'3", 270), Northern Iowa — A high school wrestler, the Iowa native placed first in the state in 2012.
Linebacker
Darrian Bass (6'4", 235), Missouri Western State — Brother of Jets OLB David Bass, Darrian played the same position for the Griffons and was named to third-team All-MIAA in 2015.  
Eric Boggs (6'3", 235), Appalachian State — One of five defenders in the FCS since 2000 with at least 300 tackles, eight interceptions and 10 sacks.
Chris Chambers (6'2", 228), Central Arkansas — Played in 30 games (10 starts) and made 74 tackles, 17 for loss. 
Malachi Hoskins (6'3", 230), Albany — The Queens native was named first team All-CAA in 2017 and led the Great Danes with five sacks.  
Jamal Marcus (6'1", 240), Akron — Spent the 2017 season on the Browns' Injured Reserve. 
Sione Teuhema (6'4", 260), Southeastern Louisiana — Played two seasons at LSU before transferring. Named second team All-Southland Conference in 2016.
Anthony Wint (6'0", 224), Florida International — Totaled 336 tackles, 20.5 for loss, six pass defenses and three forced fumbles in four years for the Panthers.
Defensive Backs
CB Johnathan Alston (6'0", 210), North Carolina State — Named the Wolfpack's 2016 Special Teams Player of the Year and transitioned to cornerback after three years as a wide receiver. 
S Tyrice Beverette (6'0", 210), Stony Brook — A Lakewood, NJ native, Beverette was named a team captain and led the team with 98 tackles in 2016, nine for loss.
CB Boobie Hobbs (5'10", 180), Utah — The Utes' primary punt returner, Hobbs averaged 9.2 yards per return on 70 attempts (645 yards) and returned two for scores.
S Will Johnson (6'0", 285), Oklahoma — An All-Big 12 honorable mention by league's coaches, Johnson started 11 games and tallied a career-high 62 tackles and two interceptions last year.
S Jordan Martin (6'3", 206), Syracuse — A graduate transfer from Toledo, Martin played in 42 games during his collegiate career including eight for the Orange and was invited to the East-West Shrine Game.
S Maurice McKnight (6'0", 200), San Jose State — Four-year starting safety for the Spartans, McKnight was a 2017 team captain and finished 10th in school history with 322 tackles. 
S Justin Strong (5'11", 190), Montana — Played two years at Oregon State before transferring to Montana.
CB Omari Williams (6'1", 200), Samford — Named 2016 All-SoCon by coaches and media, Williams led the team with four interceptions and 15 pass defenses.
Specialists
LS Dennis Long (6'4", 275), East Stroudsburg — Sayreville, NJ native, Long went to Nassau Community College and spent a redshirt year at Troy before joining the ESU Warriors. 
K Canon Rooker (5'11", 184), Middle Tennessee State — Named an honorable mention All-C-USA in 2017 and made 14 of his 17 field goals, including a perfect 7-for-7 from 45 yards or longer.
LS Colton Taylor (6'1", 223), Virginia Tech — Set a school record for specialists with a 36.5-inch vertical in spring testing and was the full-time starter from 2015-2017. 
P Ben Turk (5'11", 186), Notre Dame — Signed a reserve/future deal with the Green & White in January but was released in late April. His uncle is Matt Turk, who kicked for the Jets in 2002 and the Texans from 2007-11.  
K/P Tristan Vizcaino (6'2", 202), Washington — Was rated the No. 1 combination kicker/punter coming out of high school and primarily handled kickoffs until his senior year when he made 12 of his 19 field goals (63.2%). 
K Gary Wunderlich (6'0", 182), Mississippi — Rebels' all-time career leader in points scored (350), field goals made (64), PATs made (158) and was named to the 2017 Lou Groza watch list.
P Joe Zema (6'3", 195), Incarnate Word — A Melbourne, Australia native, Zema played one year for the FCS school in San Antonio and averaged 46.7 yards per punt on 77 kicks with a long of 75.