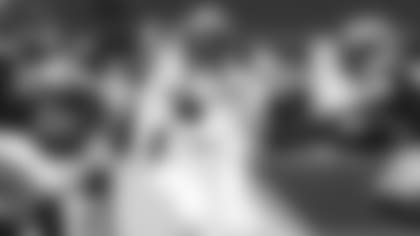 The Jets (7-9) lost to the Seahawks (8-8), 23-6, in Seattle in Week 17 and were eliminated from postseason contention. Here are three takeaways.
Run Revival in Opening Half
After two ineffective games on the ground, the Jets were able to take advantage of the Seahawks' 31stranked rush defense in the first half, running 13 times for 76 yards while averaging 5.8 yards a carry.
Ty Johnson got the start in the backfield and scampered for 22 yards on his first carry. He had 46 yards on his 7 attempts in the first two quarters. Rookie RB Zonovan"Bam" Knight also had an explosive run that covered 19 yards.
"After that first run that I had, I was just telling Bam to run and it would open up," Johnson said. "We were getting great double teams between Laken [Tomlinson]and McG [Connor McGovern] and same on the other side. I was just telling him run. There's going to be arm tackles, just run and it's going to open up. That's what we have to do. Just run, make them move. Holes are going to crease and open up."
But trailing 17-6 at halftime, the Jets had only 4 rush attempts in the second half and that resulted in minus-1 yards.
"I thought our run game started out pretty good," HC Robert Saleh said. "Hit a wall. You know, all 11 have got to work together and we're just not getting the precision that you need to be able to play with in this league. We generated an explosive, we're not finishing drives. There's a lot of things that we can look at."
The Jets rushed for 50 yards against the Lions on 22 attempts in Week 15 and then ballcarriers, sans QB Chris Srteveler, were limited to 12 yards on 19 carries in Week 16.
Metcalf Limited to 1 Catch
The Jets outstanding cornerback tandem of Sauce Gardner and D.J. Reed held Seahawks leading WR D.K. Metcalf to 1 catch on 5 targets for 3 yards. Gardner, who entered Sunday's game with an NFL-high 16 pass defenses, had a career-high 4 PDs, including one he broke up in the end zone intended for Metcalf. It was the rookie's third game with at least 3 PDs.
Metcalf, a second-round pick in 2019, had posted at least 5 receptions in his previous eight games and had been held below 10 receiving yards while receiving multiple targets once in his career. Gardner's performance was a silver lining for what was a tough day at the office otherwise.
"We lost," Gardner said. "The end result was not what we wanted. We don't think about that stuff unless we got the win. That would have been another bonus to talk about, but we are a team. We don't single stuff out."
Reed, who had 17 PDs with the Seahawks in 2020-21 before signing with the Jets in free agency, and Gardner also limited Tyler Lockett to 2 receptions for 15 yards. Lockett, who was returning from hand surgery after missing one game, exited the game in the second half with a leg injury.
"Sauce is playing phenomenal," Reed said. "I think he's playing as the best corner in the NFL. And to be a rookie player how he is, it's a testament to how hard he's worked. All the work that we put in, we work really hard. … We're going to handle this next week like a championship week because we've been doing that all year and we've been consistent all year. I'm definitely proud of my position group and the way we handled things and the way we've been coached."
Sack Happy
Entering the game tied for eighth with 40 sacks this season, the Jets had 3 sacks of Geno Smith in the first half. John Franklin-Myers and Carl Lawson had solos while rookie Micheal Clemons and veteran Solomon Thomas shared a takedown of Smith. Smith, a former Jets' second-round pick, came into Week 17 tied for the fifth-most sacked QB in the NFL.
In the previous three games, the Jets had combined for 4 sacks.
See the best images from the Week 17 matchup between the Jets and Seahawks.