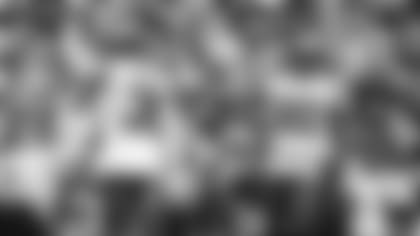 DeVante Parker vs. Jets Secondary
Dolphins WR DeVante Parker's 102.2 yards per game since Week 9, when the Jets and Dolphins played, ranks fourth in the NFL. Parker had 159 yards and 2 touchdowns on 7 catches last week against the Eagles and has totaled 385 yards the last three weeks. His 854 yards in 2019 are a career high and the 2015 first-round pick has turned a corner.
"I think it's a little bit of everything," Dolphins Coach Brian Flores said. "It's health, it's maturity, his experience. It's him. It's DeVante. He's worked extremely hard. This is very important to him. Football is very important to him. He's a guy who puts the team first, and we're really happy with the way he's played in games; but also how he interacts with the team and how on a day-to-day basis, he's really shown a professional approach to how to do this."
Parker had 4 catches for 57 yards and 1 touchdown when the teams played on Nov. 3, and this time the Jets are struggling in the secondary entering Round 2. Safeties Jamal Adams and Matthias Farley did not practice on Wednesday. They were joined by CBs Arthur Maulet (calf), Brian Poole (concussion) and Maurice Canady (illness).
"We have an initial plan," Coach Adam Gase said. "We just have to work through it in practice just because we have to have a contingency plan because what if somebody goes out, how we're shuffling things around. We have a lot of guys that will be responsible playing a few different positions."
Ryan Fitzpatrick vs. Jets Pass Rush
Dolphins QB Ryan Fitzpatrick has been on a tear. Since Week 9, he's ranked among the top-10 in the NFL in passing yards (No. 5), touchdowns (tied for No. 7) and completion percentage (No. 9). Fitzpatrick, 37, threw for 288 yards and 3 touchdowns against the Jets and did not turn the ball over. Last week, he threw for a season-high 365 yards and 3 scores while completing 69% of his passes against Philadelphia.
"They're throwing the ball, which I'm sure [Fitzpatrick] loves," Gase said. "He had a good game last week. Last time we played them, we struggled to get him to turn the ball over. If you don't create enough pressure to make him uncomfortable, that's the No. 1 thing when you're playing Fitzy. You have to try to get to him and make some mistakes and put pressure on him to make some of those throws tough."
Le'Veon Bell and Jets Run Game vs. Dolphins D
The Jets totaled 62 yards against the Bengals' NFL-worst rush defense last week and hope to get rolling against a Dolphins unit that allows 143.5 yards per game on the ground (31st). Le'Veon Bell hasn't eclipsed 70 rushing yards in a game this season and was limited to 32 yards in Cincinnati.
"We all have to be on our A-game at the same time," C Jonotthan Harrison said. "It takes all 11 people on offense to make a run play happen. It takes one person on defense to stop it. One guy beats a guard or a tackle or a receiver, he can stop the play. Really, it's just everyone making the play when the play needs to be made and everyone being on their A-game."
See Best Images from Wednesday's Practice at Atlantic Health Jets Training Center