The Jets have acquired three players off of waivers, released two, placed one on Injured Reserve, and  have agreed to add seven players to their practice squad this afternoon.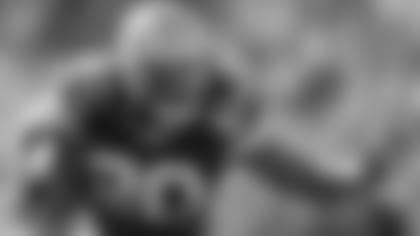 Claimed and awarded on waivers to the Jets are RB Alex Green (from Green Bay), T Ben Ijalana (from Indianapolis) and LB Scott Solomon (from Tennessee).
To make room for those three players, we released RB Kahlil Bell and LB Danny Lansanah and placed Josh Mauga (back) on IR.
The seven players added to the practice squad, all of whom were in the Jets' training camp, are:
The Jets have one spot left to fill on the practice squad.
Green (6'0", 220), who played his college ball at Hawai'i, was the third-round pick of the Packers (96th overall) in 2011  He played in 16 regular-season games with four starts in 2011-12 and has 138 rushing attempts for 475 yards (3.4 yards/carry) and 19 receptions for 131 yards (6.9 avg). This preseason for the Pack he had 21 carries for 72 yards (3.4 avg.) and two catches for 14 yards.
Ijalana (6'4", 322), out of Villanova, was the second-round pick (49th overall) of the Colts in '11. He played in four games that year for Indy and didn't play in any games last season.
Solomon (6'3", 263), who played at Rice, was the Titans' seventh-round pick (211th overall) last year and played in 13 games with two tackles.