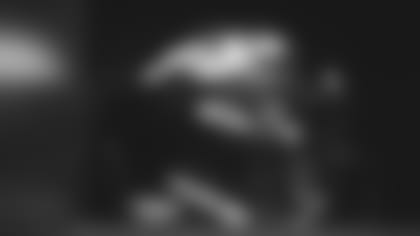 The Jets and Seahawks are both almost as healthy as they can be as the two 7-8 teams get ready to battle each other for their playoff lives at Lumen Field in Seattle on Sunday afternoon.
Offensively, QB Mike White was cleared by team doctors from his rib injury on Monday, and head coach Robert Saleh reinstalled him as the Jets' starting quarterback for the rest of the year, barring injury.
White will continue to work with WR Corey Davis, who had a quiet game against Jacksonville after sitting out the Detroit game in the NFL's concussion protocol. And WR Denzel Mims also is back in action after missing the Jaguars, also with a concussion. But WR Jeff Smith (knee) was placed on Injured Reserve.
But a vital part of the Jets' attack could be their rushing game as they try to power up their running attack to take advantage of Seattle's run defense, ranked 31st in the NFL in yards/game and 25th in yards/carry.
"Back by committee," Saleh said of how his RBs will be used. "We've got the backs, and the three that are active will usually kind of roll. Zonovan [Knight] will kind of get his opps, so will Michael [Carter] ... and so will Ty Johnson. That's always going to be the feel as the game is going."
Chris Streveler could also be a part of that equation. The sturdy, mobile QB, who came on late in the third quarter of the Thursday night game, has been elevated from the practice squad for the third time this season. He rushed for a team-leading 54 yards on nine carries vs. the Jaguars — the second-most yardage by a Jets QB who didn't start the game in franchise history. The most yardage was by Michael Vick, who had eight carries for 69 yards in relief of, as it turns out, Geno Smith against Buffalo in 2014.
The offensive line, seeking consistency, will not start the same starting five for the fourth consecutive game. Nate Herbig, the RG starter for 11 of the previous 12 games, has been deactivated. The O-line does have the availability of Cedric Ogbuehi, who had been the RT starter for Games 8-11 but went on IR for the past four weeks with a groin injury. He was activated from IR on Saturday.
The Jets defense, also eager to tighten up its run defense against hot Seahawks rookie RB Kenneth Walker and bring the heat on QB Smith and the 'Hawks passing game, gets a valuable return to its secondary as S Lamarcus Joyner is back in the lineup after being sidelined two games with a hip injury.
However, CB Brandin Echols will remain inactive for the third week in a row with a quadriceps injury.
A question mark for the Seattle offense coming into Sunday was wideout. Tyler Lockett, who broke a bone in his left index finger two games ago and had surgery to repair it, said this week he was ready to return. "We're only guaranteed two games until you get something else," he said. "I could sit at home in the offseason and get my hand right." Despite his optimism, Pete Carroll, Seattle's head coach — and the Jets coach for one season in 1994 — wasn't deciding on Lockett's game status until Sunday's warmups.
Carroll liked what he saw from Lockett, who is active for this game and rejoins DK Metcalf as two of the most productive WR tandems in the NFL over the last four seasons. But the duo won't get help from third WR Marquise Goodwin, who suffered a shoulder injury last game and went on IR late this past week. And starting RT Abraham Lucas (knee) is also inactive.
This is the Jets' six-player inactive list for Sunday's game:
QB Zach Wilson
RB James Robinson
CB Brandin Echols
G Nate Herbig
TE Jeremy Ruckert
DL Vinny Curry
And here is the Seahawks' seven-player list:
WR Penny Hart
CB Artie Burns
RB Travis Homer
S Ryan Neal
T Abraham Lucas
DT Isaiah Mack
LB Vi Jones