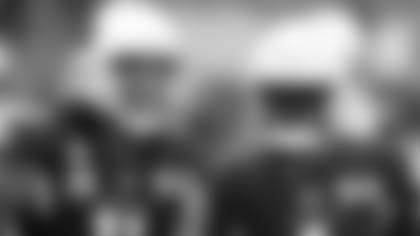 With training camp on the horizon and September not far off in the distance, NewYorkJets.com is examining each of the Green & White's opponent matchups in 2020._We continue our series with AZcardinals.com's Darren Urban, as the Jets will face off against the Cards in Week 5 at MetLife Stadium. _
The Headline
After a couple years of quarterback confusion, the Cardinals found their long-time solution in the young and talented Kyler Murray, who is now entering his second season in the NFL. Murray is coming off an impressive rookie season, finishing with 3,722 passing yards, 20 passing TDs, 12 INTs and 544 rushing yards and 4 rushing TDs. His first-year performance earned him the 2019 NFL Offensive Rookie of the Year award and a Pro Bowl alternate honor, and he became one of just three QBs in league history to ever finish with over 3,000 passing yards and 500 rushing yards in as a rookie. Now entering his second season with head coach Kliff Kingsbury — who has gone on record with praise of Murray since he was in high school — Arizona is poised to be a tough matchup.
"Getting a quarterback in there that you feel can be your long-term franchise guy, which the Cardinals finally did with Kyler Murray, is a huge step in the right direction," said Urban."I think he can take a giant step forward this year, and that's where a lot of the optimism around here starts. Kyler Murray played 16 games as a rookie, played well, and is now in a position where maybe he can be a Lamar Jackson or a Patrick Mahomes in his second year."
What's Changed
The Houston Texans shook the football world this offseason after sending WR DeAndre Hopkins, Deshaun Watson's No. 1 target, to Arizona in March. The Cardinals also received a fourth-round selection in the 2020 NFL Draft in exchange for RB David Johnson, a 2020 second-round pick and a 2021 fourth-round pick. Hopkins has been one of the league's top receivers for a few years now and finished off 2019 with 104 receptions for 1,165 yards and 7 TDs. The eighth-year veteran will now help the young QB elevate the Cardinals' offense.
Matchups to Watch
To put it broadly, the new-and-improved Cardinals' defense will present an interesting matchup for the Jets' revamped offense. Last season, Arizona finished dead last in total defense, 28th in points allowed, and in the bottom 25% of most other categories. The Green & White offense , meanwhile, finished last in total yards, 31st in rushing yards per game and 29th in rushing yards per play. However, both teams made vast improvements on their respective sides of the ball.
The Jets added WR Breshad Perriman to the squad and RB Frank Gore in free agency and drafted a number of talented players at skill positions — like WR Denzel Mims. GM Joe Douglas also gave the offensive line a much-needed makeover. As for the Cardinals, they added defensive pieces like DT Jordan Phillips, edge rusher Devon Kennard and LB De'Vondre Campbell and drafted an additional four players.
"I think they can be a much better matchup," Urban said. "When you mention the Jets, they've got a great, young quarterback. What kind of receivers can they put out there, and what can they do to offset Patrick Peterson, so he doesn't get locked down on one receiver so that you're forced to always go in a different direction? What can [Le'Veon] Bell do rushing the ball against a defense that's been upgraded, but since they haven't been on the field, they've got to prove it."
Why It's Important
The contest versus Arizona will kick off the second quarter of the season and provide the Jets the ability to head into their first Los Angeles road trip since 1993 to play the Chargers with momentum if they win. Although not a playoff team in 2019, the Cardinals have done some rebuilding this offseason and will present a hefty challenge with new WR weapons on offense, a young QB coming off a successful rookie campaign, and a rebuilt defense. A win over the Cards could set the tone for the Jets for the second and third quarters of the season heading all the way the Week 11 bye.
"There are so many ways to look at the early part of the Cardinals' schedule. If you go by last year's records — which is terrible to do because we all know teams are so different from year to year — this is where they need to make some hay," Urban said. "The back half of their schedule is a tough road to go. At the same time, there's this stretch of long road trips. The other part of this is, they have every intention of playing the Panthers game and the Jets game by staying back east. Does that change? In a perfect world, they would try and avoid the jetlag problem and stay back east between those two games."