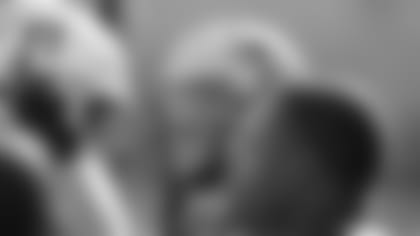 ProFootballFocus.com
Steve Palazzolo, Senior Analyst
Carson Wentz, QB, North Dakota State
Wentz is projected to go much higher, and the hype for him is quite real at either No. 2 to the Browns or four to the Cowboys, but I'm less inclined to hand the keys to the franchise just yet.
Wentz was as advertised at the Senior Bowl – good size, arm strength, athleticism – and all of his positives and negatives were evident in person just as they are in the film room. He has the big arm to play in a vertical passing system, driving the ball down the field, but that will be paired with some questionable decision-making, perhaps expected for a QB with so little experience. For that reason, I'm much more likely to take a chance on his talent at this part of the draft, and the Jets are a great fit for him to sit and develop.
Bleacher Report
Joe Pantorno, Featured Columnist
Darron Lee, LB, Ohio State
CBSSports.comRob Rang, The Sports Xchange/CBSSports.comLeonard Floyd, OLB, GeorgiaAdding a speed rusher like Floyd to complement an already stout defensive line could be exactly what the Jets need to end the Patriots' supremacy in the AFC East.
Walter FootballJaylon Smith, LB, Notre DameJaylon Smith tore up his knee, so he'll drop from the top 10 into the 20s, most likely. I think this is a good spot for him though. Remember, Todd Gurley tore his ACL and still was a top-10 choice. The difference here is that Smith probably won't be ready to play until late in 2016, but he's still too talented to pass up.* *
Bleacher ReportRyan McCrystal, Featured ColumnistEzekiel Elliott, RB, Ohio State
SB NationDan KadarTaylor Decker, OT, Ohio StateDecker has experience playing on both sides and has enough talent to start early in his NFL career.
FanSided.comBrady LuntJaylon Smith, OLB, Notre DameThis could be seen as a huge gamble on account of Jaylon Smith's recent injury concerns. However, there are recent reports that he should be ready to go by the off-season, making this an unbelievable value. Smith, talent-wise, would be a top-10 pick if not for the knee injury. He has tremendous athleticism and can do about anything asked of for linebackers.
Bleacher Report
Luke Easterling, Featured Columnist
Leonard Floyd, EDGE, Georgia
Floyd notched 17 sacks and 28.5 tackles for loss over his three seasons in Athens, forcing five fumbles and racking up 54 quarterback pressures. Though he's a bit undersized at 6'4", 231 pounds, he's got room on his frame to add some bulk.
**FanSided.com**
Erik Lambert
Jack Conklin, OT, Memphis
Jack Conklin doesn't go earlier in the draft because he's not quite the athlete some of the others are, but he's proven himself an experienced, dependable blocker who is smart, works hard and takes full advantage of his size and strength. He'll fit right in with what New York likes to do.
Bleacher Report
Daniel Rogers, Featured Columnist
Ezekiel Elliott, RB, Ohio State
Bleacher Report
Mike Norris, Featured Columnist
Reggie Ragland, ILB, Alabama