LUPUS RESEARCH ALLIANCE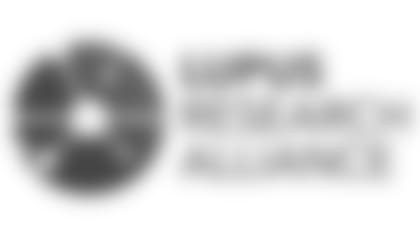 The New York Jets organization is deeply committed to supporting the Lupus Research Alliance, a national voluntary health organization chaired by Robert Wood Johnson IV‒a member of the founding family of Johnson & Johnson and owner of the New York Jets. The Lupus Research Alliance's mission is to find better treatments and ultimately prevent and cure systemic lupus erythematosus (SLE, or lupus), a debilitating autoimmune disease, by supporting the most promising and innovative lupus biomedical research. Collectively to date, the organization has committed over $200 million to lupus research projects at the most prestigious universities, medical schools and hospitals throughout the world.
Born from the merger of three organizations with a common belief in the potential for science to overcome lupus, the Lupus Research Alliance is at the forefront of driving innovative research that can make a difference for people living with the prototypical autoimmune disease. With that shared conviction, the Board of Directors promises to cover all administrative and operating costs of the organization, ensuring that 100% of all donations go directly to funding research programs in order to realize our vision of a world free of lupus.
Since 2001, the New York Jets continue to increase awareness of lupus and help raise much needed funding for research through the Walk with Us to Cure Lupus program, proceeds from the annual New York Jets Kickoff Luncheon and other events in the tri-state area.  To find a walk near you, visit walk.lupusresearch.org or call toll free, (866) 925-5257.  Together, we will find a cure!