The New York Jets take great pride in a long-standing, year-round commitment to our community. Programs funded by the New York Jets Foundation look to positively influence the lives of young men and women in the tri-state area by supporting youth football, preventing bullying, and promoting social justice, particularly in disadvantaged communities. From launching football teams at urban high schools to unifying our community for change to fostering positive school environments, the New York Jets invest in programs that make a difference in the lives of others. In addition to our focus on youth development, the Jets support the efforts of the Lupus Research Alliance, numerous established charitable organizations and causes sponsored by the NFL.


Through collaboration we can create change. The New York Jets have a powerful platform to condemn racial injustices in America and we will use it. Simply put, Black lives matter. The opportunity to create a better, united community in this country cannot be lost. We encourage all to join us as we take a stance against these societal inequities.
Our work towards making a positive impact in the community begins with reducing barriers of opportunity. We will continue to support and add programming to work through the issues of poverty, race equality, inclusion and diversity, criminal justice reform, police-community relations, and access to health care and education, with the objective of uniting our community.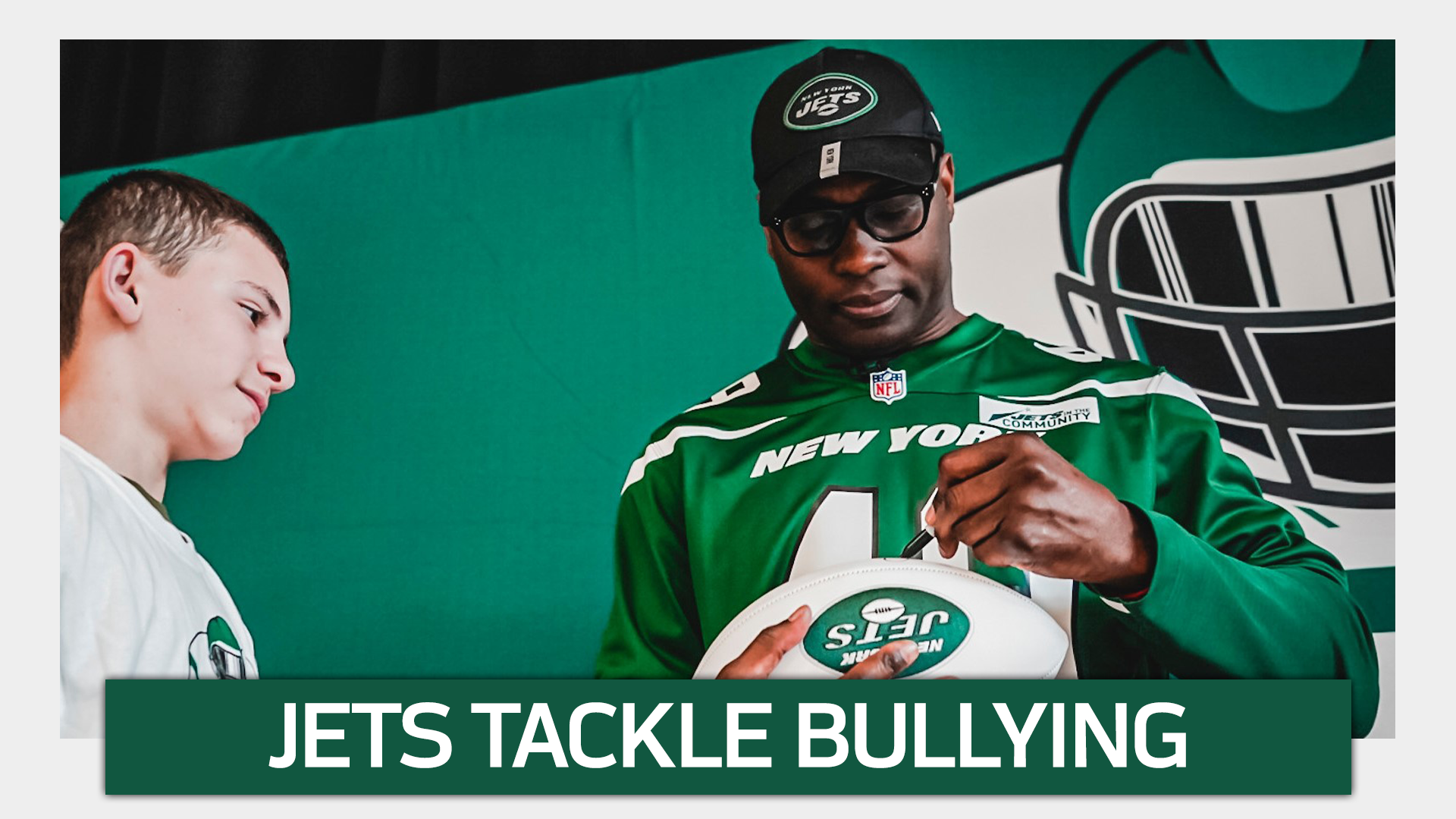 The Jets Tackle Bullying program is a collaboration with STOMP Out Bullying to tackle all forms of bullying by raising awareness, providing tools for educators and preventing bullying for kids and teens. The Jets have made available a team branded STOMP Out Bullying Educator's Prevention Toolkit at no cost to schools in the tri-state area. This toolkit enables educators to create meaningful dialogue, educate students through proven Social Emotional Learning methods, adopt character building in schools and involve both students and faculty in working together to change school climate.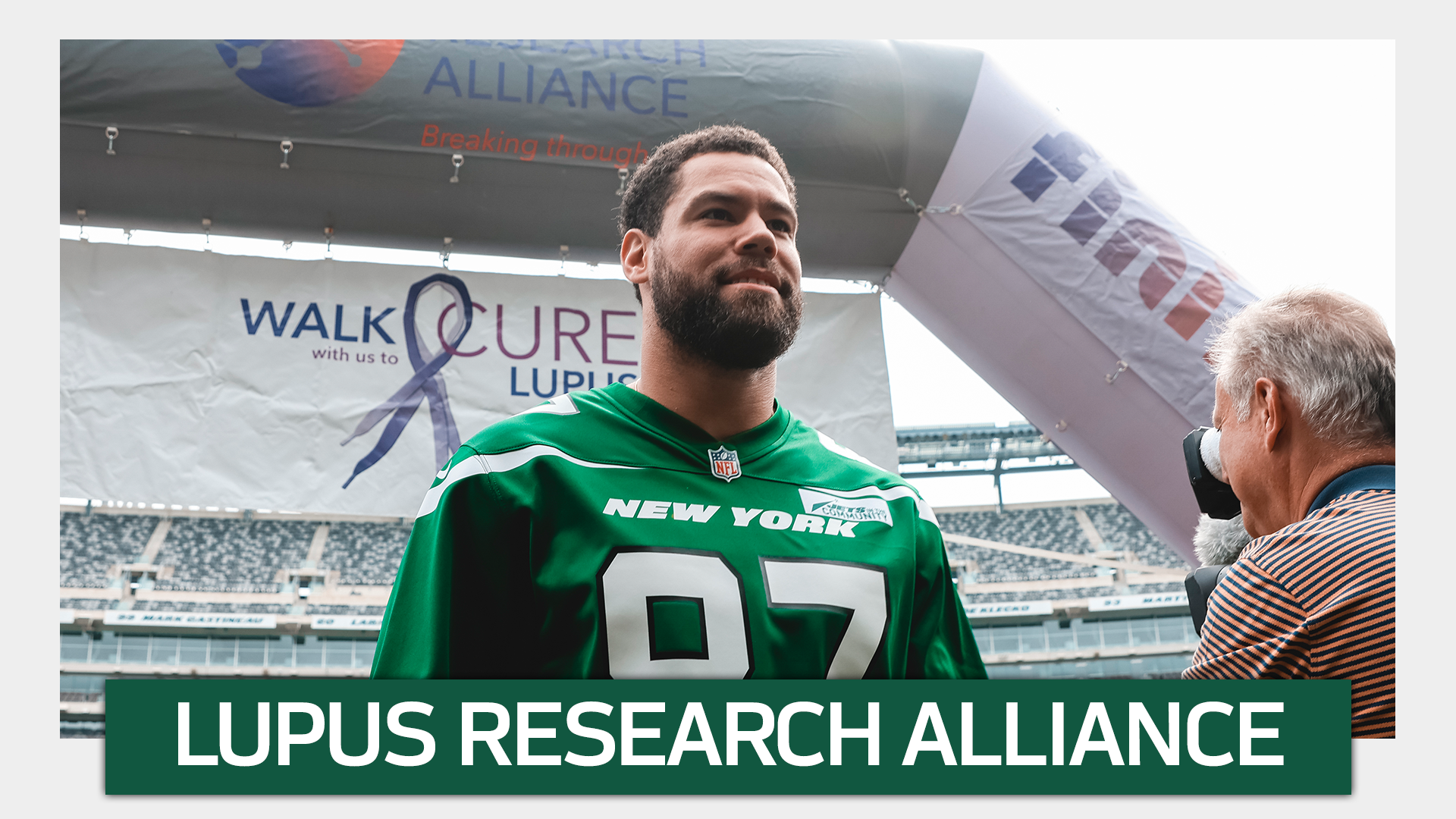 The New York Jets organization is deeply committed to supporting the Lupus Research Alliance, a national voluntary health organization chaired by Robert Wood Johnson IV‒a member of the founding family of Johnson & Johnson and owner of the New York Jets. The Lupus Research Alliance's mission is to find better treatments and ultimately prevent and cure systemic lupus erythematosus (SLE, or lupus), a debilitating autoimmune disease, by supporting the most promising and innovative lupus biomedical research. Collectively to date, the organization has committed over $200 million to lupus research projects at the most prestigious universities, medical schools and hospitals throughout the world.
Born from the merger of three organizations with a common belief in the potential for science to overcome lupus, the Lupus Research Alliance is at the forefront of driving innovative research that can make a difference for people living with the prototypical autoimmune disease. With that shared conviction, the Board of Directors promises to cover all administrative and operating costs of the organization, ensuring that 100% of all donations go directly to funding research programs in order to realize our vision of a world free of lupus.
Since 2001, the New York Jets continue to increase awareness of lupus and help raise much needed funding for research through the Walk with Us to Cure Lupus program, proceeds from the annual New York Jets Kickoff Luncheon and other events in the tri-state area. To find a walk near you, visit walk.lupusresearch.org or call toll free, (866) 925-5257. Together, we will find a cure!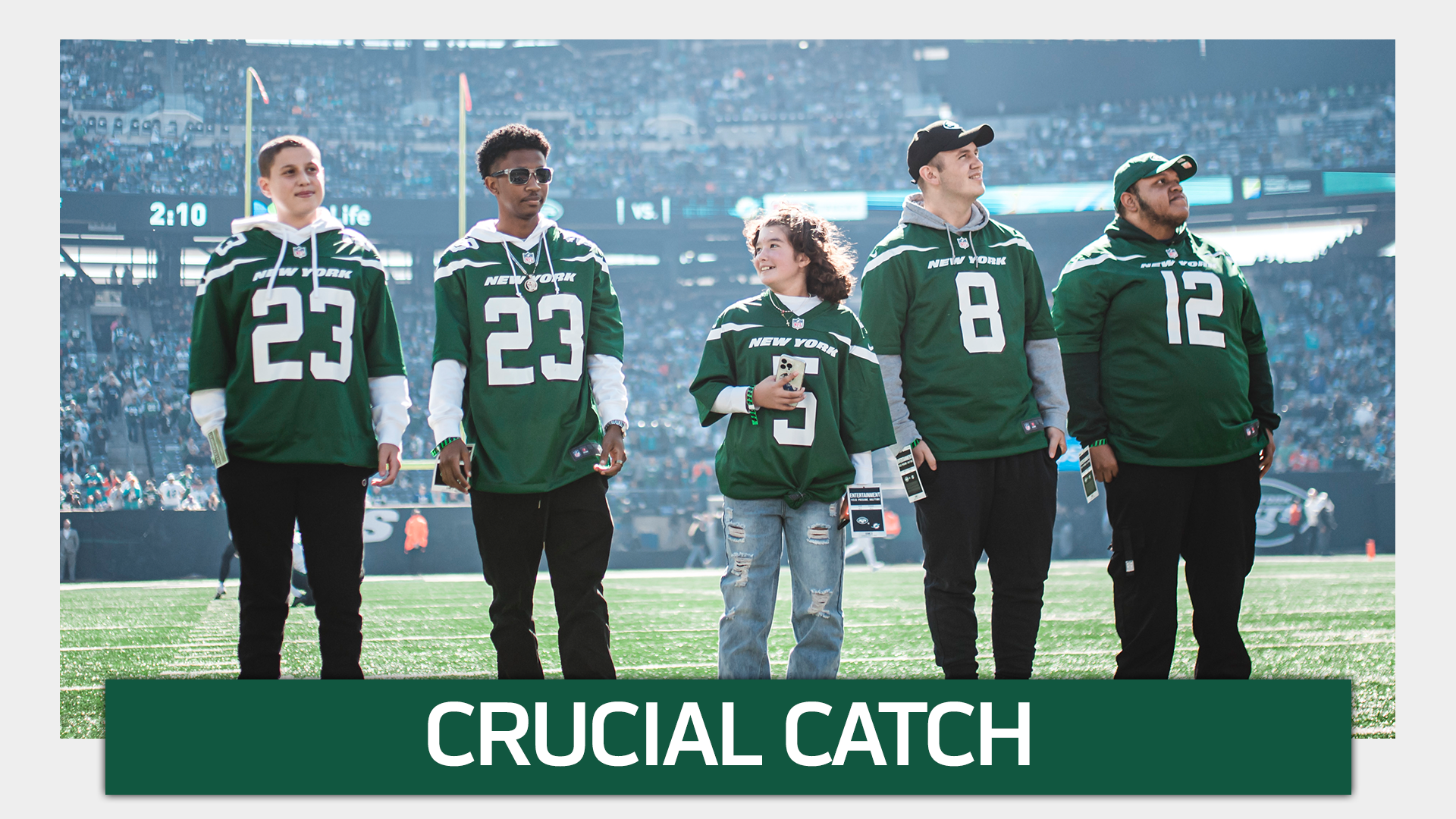 The New York Jets and Atlantic Health System are continuing their fight against pediatric cancer as part of the NFL and American Cancer Society's "Crucial Catch: Intercept Cancer" campaign. Each year The Jets recognize children who are undergoing or have completed treatment at the Valerie Center at Goryeb Children's Hospital, part of Atlantic Health System, as virtual honorary captains. For more information on how to help the Jets and Atlantic Health System fight pediatric cancer please go to AtlanticHealth.org/Jets.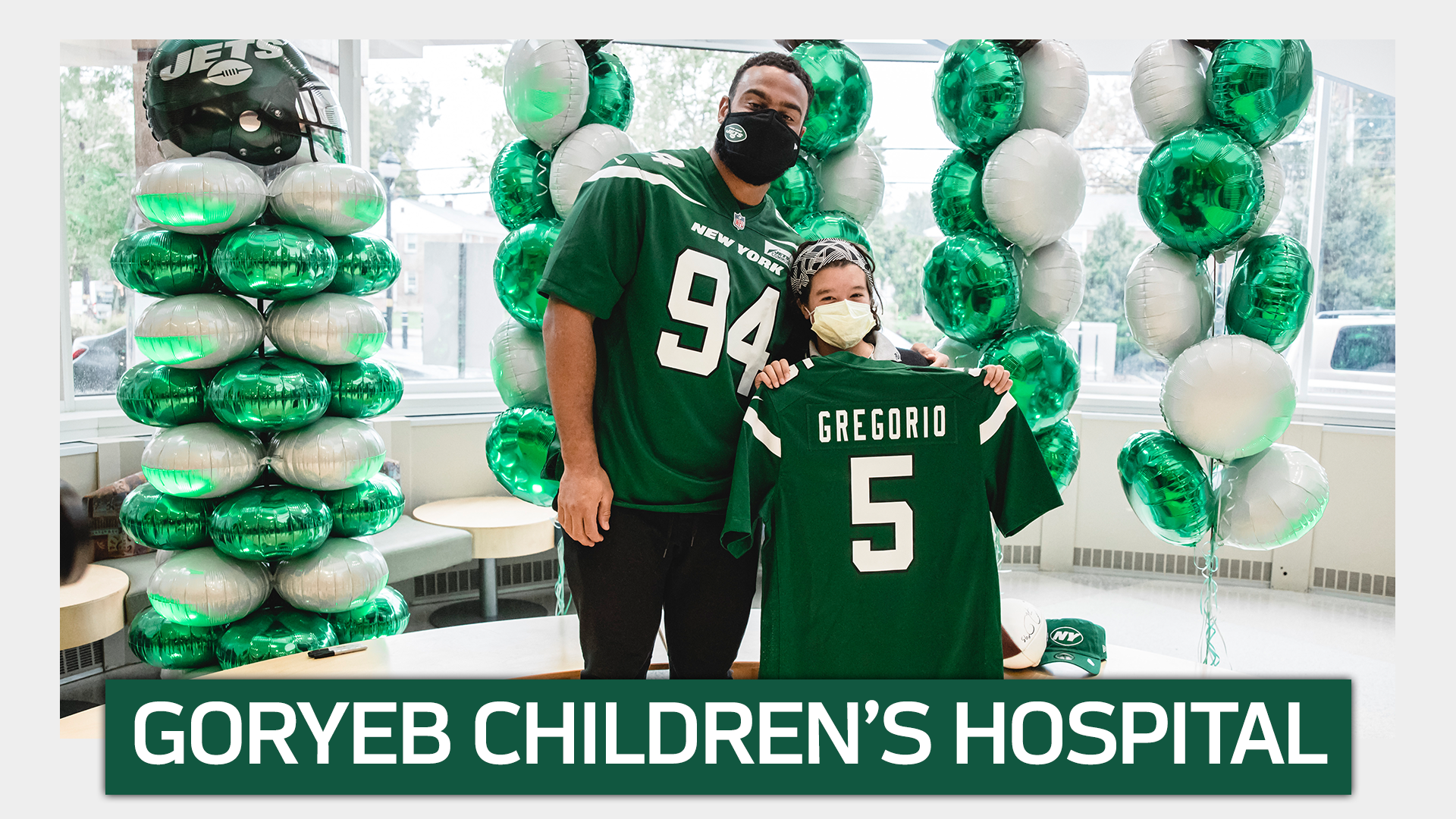 Located on the campus of Morristown Medical Center and part of Atlantic Health System Children's Health, Goryeb Children's Hospital is a nonprofit, state-designated "Children's Hospital" – an earned recognition from New Jersey and the national Children's Hospital Association. With more than 250 community pediatricians on staff and more than 100 board-certified pediatric specialists, we're northern New Jersey's leading specialized pediatric hospital and number one in the state for the treatment of pediatric cancer. To meet high demand, Goryeb Children's Hospital is currently expanding its pediatric intensive care unit (PICU) and adding inpatient beds. These spacious private patient suites will feature the latest equipment and rooming-in accommodations for parents, as well as a dedicated pharmacy for improved safety and quality of care. Throughout the year Jets players visit patients at Goryeb Children's Hospital on the off-days.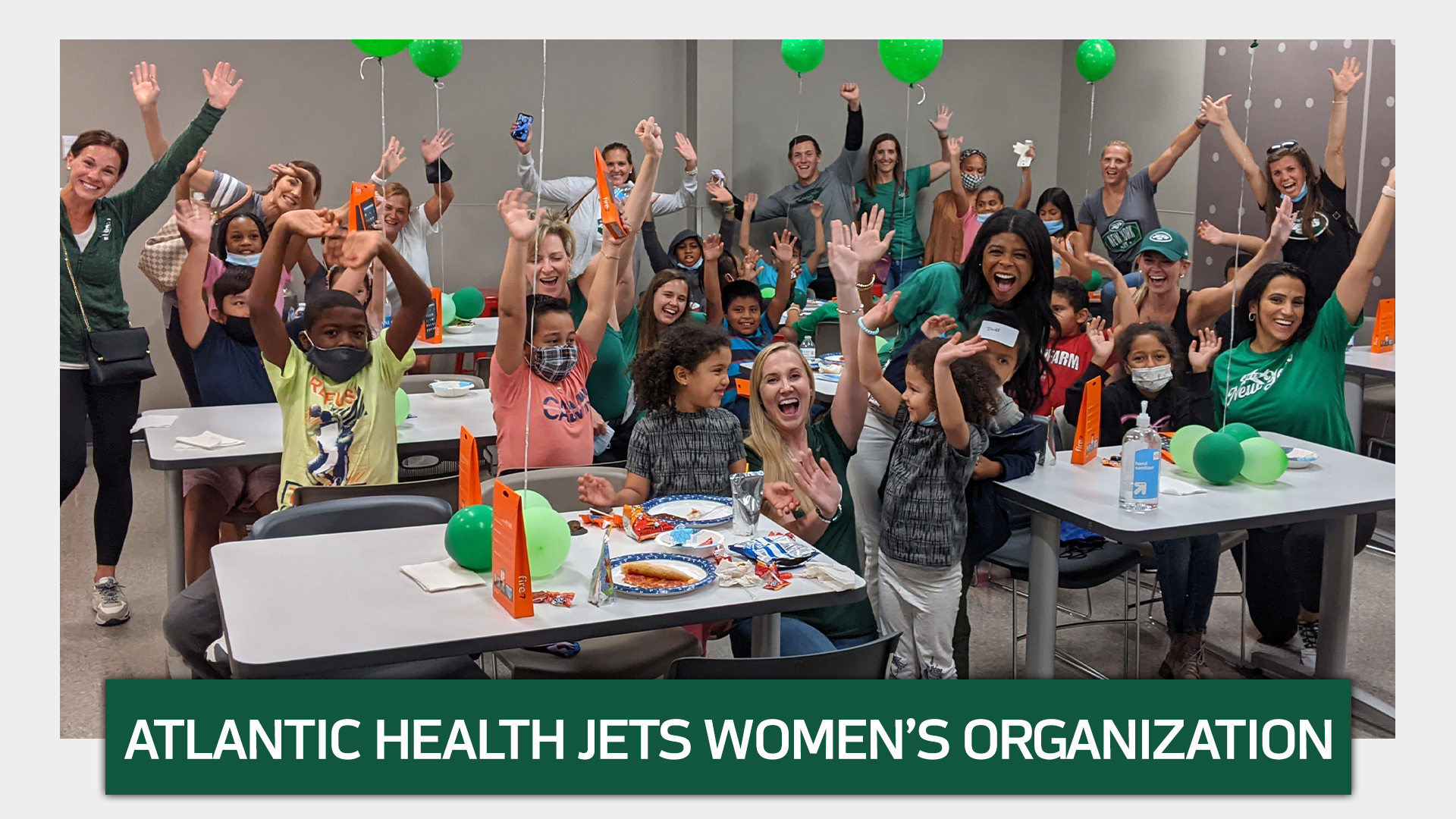 In 2008, the Jets Women's Organization and Atlantic Health partnered to form the Atlantic Health Jets Women's Organization (AHJWO). Through this partnership, the AHJWO can accomplish its mission of working together to build goodwill in the tri-state community through active volunteer participation. Comprised of significant others of players, coaches, and football staff, the Jets Community Relations Department oversees the organization. The AHJWO serves as a unique and positive outlet in the community on behalf of the New York Jets and seeks to team up with select charities to assist in maximizing the impact of their events. The work of the AHJWO would not be possible without the partnership with Atlantic Health.

The Jets and United Way's Hometown Huddle presented by ASAP is an annual day of service that provides the Jets rookie class the opportunity to participate in a community service project together. Each year, the Jets Hometown Huddle consists of building a Jets PLAY 60 fitness zone in an underserved community. Since 2008, the New York Jets have donated over $600,000 to build PLAY 60 Fitness Zones throughout New Jersey.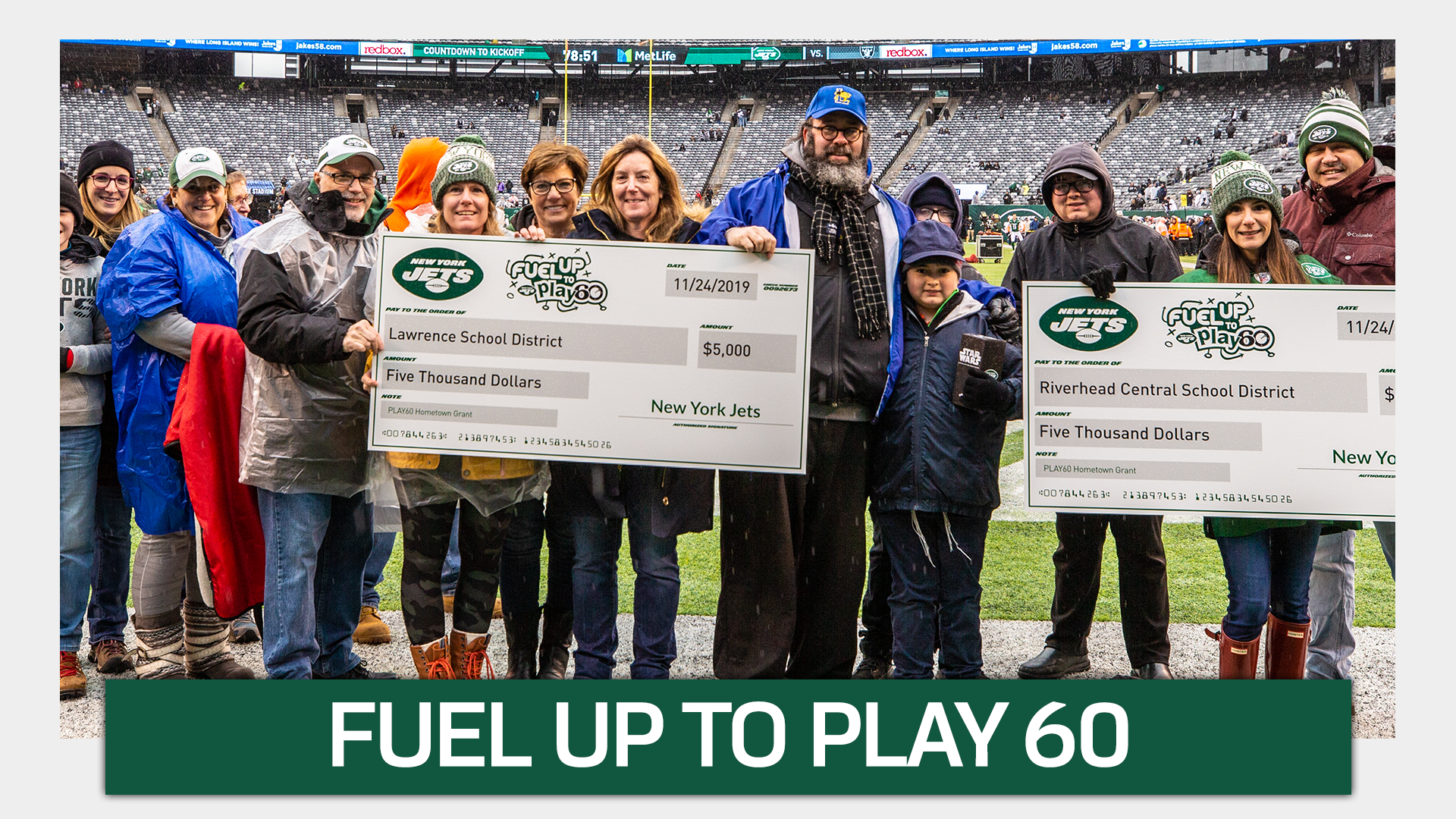 Through the Fuel Up to PLAY 60 program, the New York Jets and American Dairy Association Northeast are offering two $5,000 Hometown Grants to eligible schools in Nassau County and Suffolk County that best showcase how their students stay active for 60 minutes per day, as well as provide increased access to school breakfast and ensure their students are fueled to learn. Grants will be awarded to one school in each county to help facilitate sustainable physical activity and eating improvements. Schools not already enrolled in the Fuel Up to PLAY 60 program can enroll at www.fueluptoplay60.com and email Kristina Moher at KMoher@milk4u.org for the online grant application.
Fuel Up to Play 60 is an in-school nutrition and physical activity program launched by National Dairy Council and National Football League, with additional support from the US Department of Agriculture. The program encourages youth to consume nutrient-rich foods and achieve at least 60 minutes of physical activity every day. Proper nutrition and consistent physical activity are both necessities for maintaining a healthy child.

Salute to Service is the League's year-round effort to Honor, Empower and Connect with our nation's service members, veterans and their families. Salute to Service is highlighted in NFL games during Weeks 10 - 12 and in other special events around the League, as fans and the NFL's 32 clubs demonstrate their gratitude for the sacrifices of our heroes.
The New York Jets recognize and celebrate First Responders at a selected regular season home game. Workers from local hospitals, fire departments and police stations are honored throughout the game and integrated into the game presentation.
During our Salute to Service Week, the Jets and Soldiers to Sidelines will host thirty (30) veterans and active military members for a virtual coaching certification seminar. Over the course of six (6) days, they will learn the process of becoming a football coach. All participants will earn coaching certificates following the seminar. The Soldier Coaches will be armed with coaching knowledge and techniques along with connections to the athletic community. Soldiers to Sidelines is a non-profit organization who believes that our service members can have a meaningful and lasting impact on others through athletics.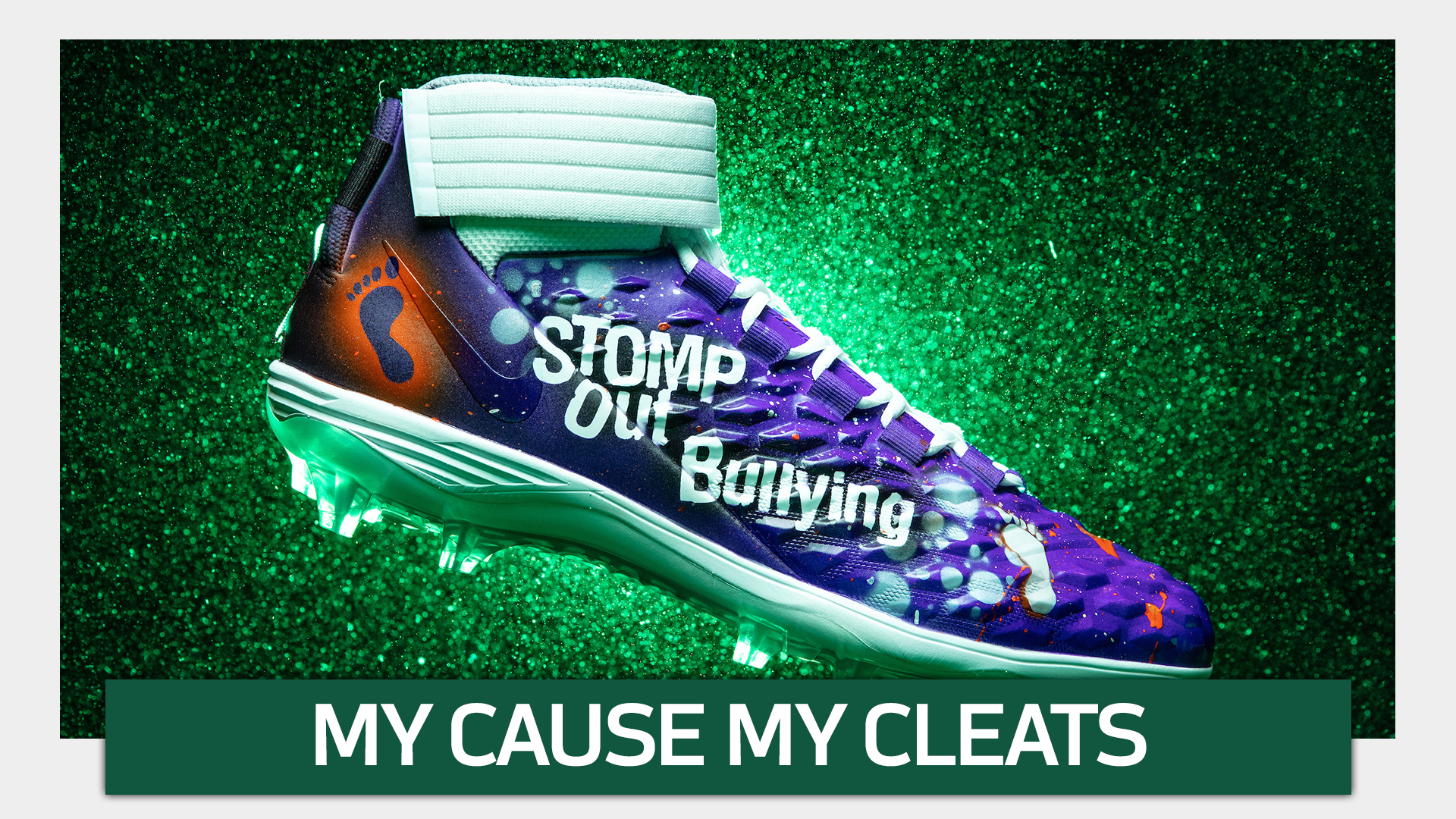 New York Jets players will have the chance to showcase causes that are important to them as part of the NFL's My Cause, My Cleats campaign. Participating players will take the field during Week 13, wearing customized cleats that highlight their causes and organizations. In addition to wearing them on Sunday, many of the cleats will be auctioned off on NFL Auction to raise money for their respective causes. Organizations chosen in the past include Atlantic Health System's Goryeb Children's Hospital, STOMP: Out Bullying and National Down Syndrome Society.
The New York Jets offer fans numerous exclusive auction items throughout the year, ranging from game-worn items to VIP Gameday Experiences, Training Camp Experiences, private Quarterback Clinics and more. All proceeds from the auctions benefit the extensive work of the New York Jets Foundation.

Since 1973, United Way, the NFL and the New York Jets have had the most visible and longest-running charitable collaboration of its kind. Every year, thanks to community service projects, millions of Americans learn about United Way's vital work and the volunteer spirit of the NFL.
An innovative digital learning experience that uses evidence-based strategies to educate students on how to cultivate and maintain healthy relationships and make good decisions during their critical middle school years.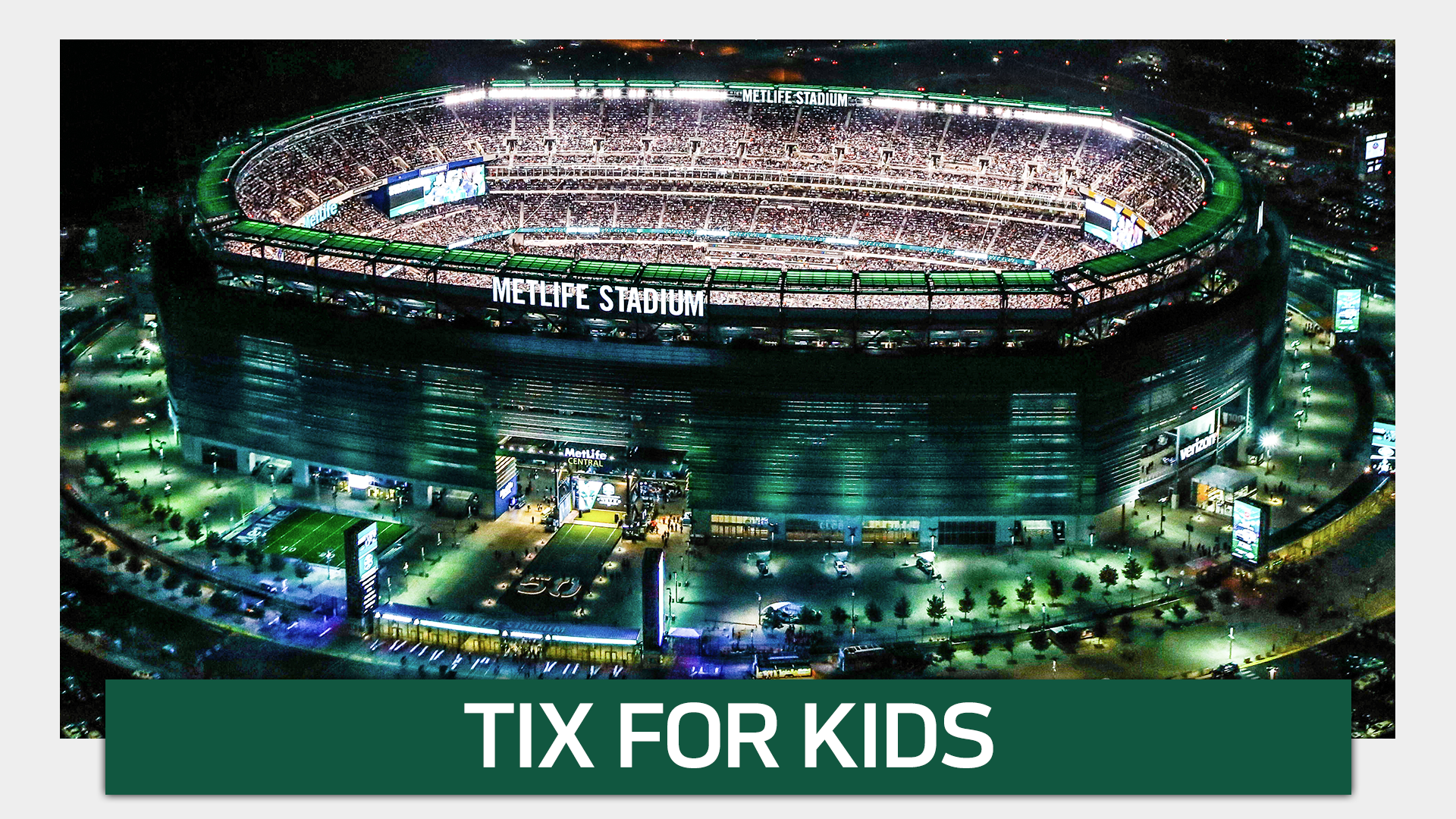 The New York Jets implement Tix for Kids with the United Way of New York City. The charitable ticket distribution program was created to give season ticket holders an opportunity to donate their tickets to underprivileged children. This program allows numerous children to experience the excitement of the NFL first-hand as many of them have never attended a professional football game. United Way of New York City makes these donated tickets available to children and youth participating in their programs via community-based organizations throughout New York City, including Children's Aid Society, East Side House, Good Shepherd Services, Partnership with Children, Sports & Arts in Schools Foundation and many others. Log in to your My Jets Account at am.ticketmaster.com/nyjets. There is no charge for this service. Upon receipt of your ticket donation, United Way will issue a written letter of confirmation recognizing your charitable donation for tax purposes.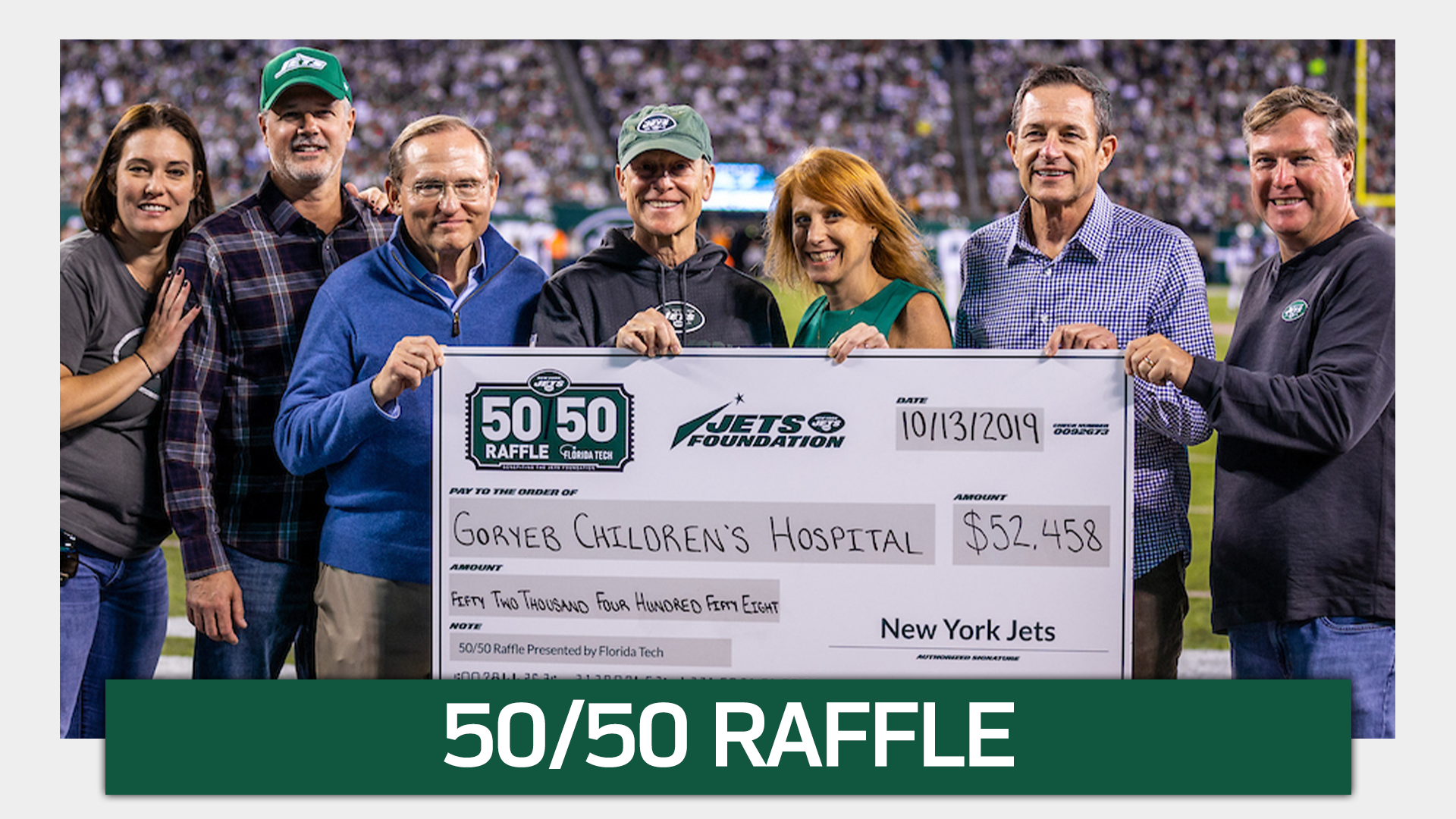 During each home game the New York Jets Foundation will host the Jets 50/50 Raffle presented by Florida Tech. Fans are provided the opportunity to purchase raffle tickets with one lucky fan winning half of the raffle jackpot when the winning number is announced early in the 4th quarter. The remainder of the jackpot will benefit select charities as well as the Jets Foundation.