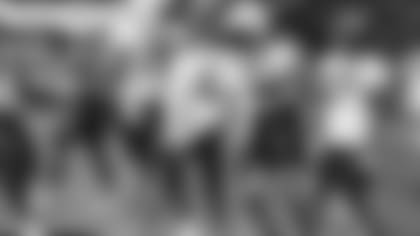 During WR Mecole Hardman's four seasons with the Kansas City Chiefs, the blazing-fast wideout was heavily utilized in the return game and on gadget plays. As a rookie in 2019, Hardman averaged 26.1 yards on kickoffs and his special teams prowess earned him Pro Bowl and 2nd Team All-Pro selections.
With the Jets, Hardman is looking to expand his role and put opposing secondaries on their heels with his 4.33 speed.
"[In Kansas City] I knew I could do those things," Hardman said when asked about playing as a traditional wideout. "But in my last situation, I wasn't required to do those things. We had people to do it. I was doing the things that people couldn't do. When you got Tyreek Hill and Travis Kelce, they are doing most of those things."
Playing alongside All-Pro and future Hall of Famers in Hill and Kelce in Kansas City, Hardman, a two-time Super Bowl Champion, was often asked to be a gadget guy for head coach Andy Reid and QB Patrick Mahomes' high-flying offense. He had 21 touchdowns in four seasons including three in the playoffs.
In the punt game, Hardman averaged 9.0 yards a return over four seasons including a 12.1 number in 2021 that lead the league. He scored on several end-around plays, screens and jet sweeps during his stint, including a three-touchdown game against the 49ers where on each score he got the ball behind the line of scrimmage.
The Green & White won't stop using Hardman in specialist and specialty roles, but the fifth-year wideout is determined to increase his role on offense.
"I am not just a gadget guy, that is just what I am good at in this role on my team," Hardman said. "I wouldn't say I am motivated, just want to show y'all I can do that stuff too."
HC Robert Saleh added: "When we talked to him during free agency, we said embrace your superpower. That's not going to go away. When he has the ball in his hands, it's elite. His vision is elite, his field presence is elite, his ability to find lanes and gain yards is elite, but the thing we're committed to is helping him evolve his route running and get him away from just being a high-cross guy and a go-ball guy and see if we can help him in the intermediate game and help him strengthen that part of his game. He's working at it, and it's going to take more deliberate work from everybody, but he's off to a good start."
Hardman had 34 receptions for 297 yards and 4 touchdowns and added two scores on the ground last season. He has exceeded 500 yards receiving each of his first three seasons including career highs of 693 yards and 59 catches in 2021.
After joining the Jets in March following the Chiefs' Super Bowl victory over the Eagles, Hardman worked to the side with trainers during the spring. Hardman, who had surgery in February to repair a core muscle, was a full-go when training camp commenced last week.
"Coach (Nathaniel) Hackett is doing a good job moving me around and putting me in different spots on the field," Hardman said. "But also letting me do the things that I am good at, which are the gadget stuff and the jet sweeps and all the deep balls. [Hackett] is implementing it very well and I am enjoying it."
During practice Saturday, QB Aaron Rodgers got the defense to jump offside in a red-zone period. With the free play, Rodgers whipped a pass over the top of a defender to a leaping Hardman for a touchdown in the back of the end zone.
Hardman said he sees similarities between Mahomes and Rodgers, but he thinks the 39-year-old signal-caller's experience is unmatched.
"I think [Rodgers] is very intelligent and he is a great QB," Hardman said. "He is definitely on time with everything. He tells us to be open on time and it has been good building chemistry with him.
"They are both Hall of Fame QBs. With 19 years, I just think Rodgers' maturity and experience are a level above. He has seen everything, and you can't trick him. He has been in every situation, and I think that is what separates the two. As far as their playmaking ability, I think it is similar."
See Aaron Rodgers, Sauce Gardner, Garrett Wilson and the Jets during the first four practices of training camp.