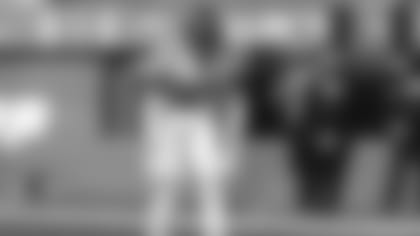 Bob Wischusen has been the radio play-by-play voice of the New York Jets for 19 years. Lasting all season, Wischusen will share thoughts about the Green & White in a weekly column.
Rookie Standout
There have been several veteran players the Jets have either traded or released this season. I think it was wise to free up playing time for younger players who are going to be much more a part of the Jets' future. When the Jets released Pierre Desir, my first thought was, 'Great, that means we will see a lot of Bryce Hall.' We have seen, over the past two weeks, tons of playing time for a young cornerback who has a lot of potential and a high ceiling. Remember, Hall was projected by most draft prognosticators to be a second-round pick before an injury ended his senior season. Now that he's getting all of this playing time, you can see why. He has a lot of potential, and the best thing the Jets can do is continue to run him out there against top-notch receivers and have him learn what the NFL is all about. So, a player that I have been keeping my eye on and will continue to keep my eye on, and has looked really good over the last couple of weeks, is Bryce Hall.
Awaiting Darnold's Return
For the most part the Jets' offense has looked exactly the way we thought it would look with Joe Flacco at quarterback. He's a professional quarterback. He's been through all of this before. He knows how to get a team in and out of the huddle and execute the game plan. The two things, though, that I'm looking forward to the most about Sam Darnold returning is: Continuing to watch the Jets with their healthy top three receivers; and Darnold's mobility (when he's able to return) will add a dimension to the Jets offense. So although Flacco has been every bit the pro that we all expected him to be, getting Darnold back on the field with the three top receivers should finally give us a look at what this offense was envisioned to be.
A Challenging Year
The Jets' biggest challenges the rest of the season, to me, are twofold. First is the youth in the secondary. They are a young group in the back end of the defense. You certainly saw that this past weekend at Los Angeles with the lack of experience at corner and safety. It's going to be something that defensive coordinator Gregg Williams is going to have to try his best to work around for the rest of the year. Second in the broader scheme of things, the hardest thing the Jets are dealing with right now is not getting a return on their investment. You're asking these players to lift, train, practice, take care of themselves, work hard in the meeting rooms and on the practice field all week. To come so close the past few weeks to getting their first win and to come up short, well it's hard to keep asking players to invest when they aren't getting a return. Last season, the Jets held together extraordinarily well, but they also won 6 of their last 8 games. So, they saw some positive results. With the losses, I'm really concerned that the Jets, at some point, are going to fracture a bit, which would only be expected of a team that's gone through all that they have.