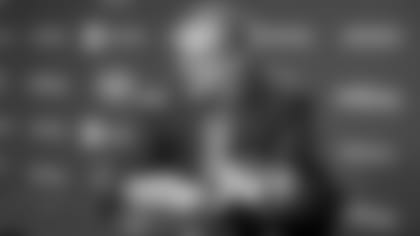 The Jets didn't go the trade route Thursday, but they might just take that path Friday. But instead of moving down, the talk will be focused on whether the Jets move up.
Speculation swirled prior to the start of the 2019 NFL Draft that a number of teams were interested in the Green & White's No. 3 overall selection. Jets general manager Mike Maccagan made it clear that he would listen to offers and he did just that all the way up until taking Alabama DL Quinnen Williams.
"When you're sitting there at 3, there are definitely some teams we talked to before and a few teams we talked to when we are on the clock," Maccagnan said. "But there was never an offer or deal that we felt good enough to move back from."
The 6'3", 303-pound Williams, who had 18.5 tackles for loss and seven sacks last season for the Crimson Tide, followed chalk atop the draft in Nashville. The Arizona Cardinals took Oklahoma QB Kyler Murray with the No. 1 overall selection and the San Francisco 49ers grabbed arguably the top edge rusher in the draft in Ohio State's Nick Bosa at No. 2. The Jets entertained conversations, but they were happy to stay put and land a dynamic interior force.
"Quite frankly we were very happy with the player that was available. We felt like there was a good chance he'd be there and from our standpoint — as we said before — best player available at that point in the draft not only from a playing standpoint but from a character standpoint," Maccagnan said. "We feel really good about him and a young player too with a bright future."
The Jets will head into Day 2 with a pair of selections in the third round but without a second-rounder. Maccagnan and the personnel department will huddle up tonight and tomorrow to discuss an attempt to get into Round 2.
"I think we'll probably look into it," Maccagnan told reporters. "I think it's one of those ones where it really depends on how the board unfolds. Obviously there are a lot of picks to go through today and we'll kind of, like a lot of teams do, we'll huddle, and we've done a lot of work on trying to project where guys will go."
Depending on what trade chart you use, the Jets' two third-rounders (No. 68 and No. 93) could be packaged into a low- or middle-round second-rounder.
"If there is a player or two we feel is worthy of going up and chasing, we'll look into doing that," Maccagnan said. "I'm not going to sit up here and say we'll absolutely do that, but I think every team does that more or less."