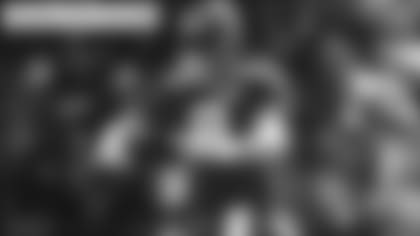 Jets quarterback Aaron Rodgers could make his preseason return after four years. The last time he played in a preseason game was with the Packers in 2018 in a 51-34 shootout against the Steelers.
"I wouldn't mind playing in the preseason," Rodgers said. "I wouldn't mind if Robert [Saleh] said 'Hey, we are going to go. Let's do it.' Most coaches have that fear where they want to get you to the Week 1 and not risk it, but I believe there is a chance for the last one (against the Giants on Aug. 26)."
Against the Steelers, Rodgers played one series. He went 2-for-4 for 35 yards and 1 touchdown (an 8-yard touchdown pass to TE Jimmy Graham) for a 119.8 passer rating.
Rodgers has impressive numbers in the preseason throughout his career. Since 2008, the four-time NFL MVP has a 26-to-3 touchdown-to-interception ratio and completed 67.8% of his passes for a 114.2 passer rating.
"Guys ask me all the time when the last time I played in the preseason was," Rodgers said. "And I always have a hard time pinpointing it."
Since the NFL started doing joint practices, Rodgers has utilized those scrimmages to get warm against live reps. The Jets have four upcoming joint practices scheduled for Aug. 9 & 10 at Wofford College with Carolina and Aug. 16 & 17 at One Jets Drive with Tampa Bay. Each set of practices will be followed by a preseason game, Aug. 12 at Bank of America Stadium vs. the Panthers and Aug. 19 vs. the Buccaneers at MetLife Stadium.
"With these new joint practices, those kind of serve as that time, although I am not getting hit," Rodgers said. "We will probably use Carolina and Tampa, those joint practices, as our preseason tune-up. But if Robert says, 'Hey, let's go a quarter or a quarter and a half in the last game,' then let's suit up and do it."
If Rodgers does take the field, it will likely be in the preseason finale against the New York Giants at MetLife Stadium. This will be the second consecutive season the crosstown rivals will play each other to close the preseason.
The Jets, however, will kick off their preseason slate Thursday night, Aug. 3, at 8 p.m. in the 2023 Hall of Fame Game against the Cleveland Browns at Tom Benson Hall of Fame Stadium.
Third-year QB Zach Wilson will start and Rodgers is excited to see what Wilson will do in his first game action since last season when he played in 9 contests. Rodgers said he was also hoping to hop on the headset and potentially call plays.
"He has got a chance to reset everything and take back the narrative," Rodgers said about Wilson. "I think he has done a great job and played really well in camp. He has made a number of great throws. He looks confident. His fundamentals are improving. He is throwing the ball on time. Because he has got all the other intangibles. He can run, he can move, he can throw on the move, and he can throw no-look passes. This will just be a good reset for him."
Rodgers, who grew up watching VHS tapes of his favorite football players and games including Super Bowl III, is looking forward to exploring the Pro Football Hall of Fame.
"I have been to the basketball hall of fame," he said. "But I have never been to the football hall of fame, so I am excited to be there and see some of the older guy stuff that I grew up watching. … And it will be fun to hopefully see [Darrelle] Revis and [Joe] Klecko at some point because it is a big weekend for them."
See top photos from Tuesday's practice at Atlantic Health Jets Training Center.