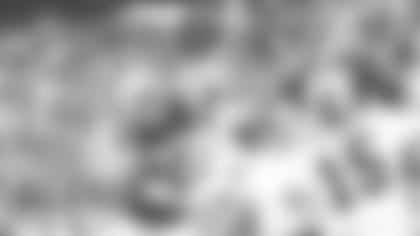 It is sometimes difficult to put an actual value on experience. But when it drops in your lap, or in this case, on your roster, it's huge.
Beginning in 1960, defensive tackle Paul Rochester spent three seasons with the then-Dallas Texans, earning a trip to the Pro Bowl in 1961. The following season, he and his teammates posted an 11-3 record and won the AFL championship over the then-Houston Oilers.
In 1963, the Texans headed north and became the Kansas City Chiefs. And after nine games, Rochester surprisingly headed east to join the Jets.
"It wasn't a trade. (Chiefs head coach) Hank Stram just let me go. Not very smart move on his part," Rochester said. "Coach Weeb Ewbank was smart enough to pick me up for the rest of that season, and six more."
Once with the Green & White, was Rochester told what his role would be?
"(Defensive line coach) Walt Michaels took me aside and told me what he expected of me," Rochester said, "to work tackle end games with Gerry Philbin. And be a team leader."
Rochester didn't need to be told twice. In 1967, at 8-5-1, he helped the Jets post the first winning record in the team's history.
The following season, after winning the AFL championship over the then-Oakland Raiders – Rochester's second league title – the Jets won Super Bowl III by upsetting the NFL Champion then-Baltimore Colts, 16-7. And while Rochester didn't guarantee a victory like his less than shy teammate Joe Namath, he did accomplish something during the game that no one else did.
"Getting the only sack of their quarterbacks, Earl Morrall and Johnny Unitas," Rochester said of his third quarter sack of Unitas. "Earl was an ex-teammate of mine from Michigan State University. (The win) put us on equal footing with the NFL."
Other than the victory, Rochester has another reason why he'll never forget the game.
"My kid brother by 13 years (Phil), was able to come to the game before going to Vietnam. He died soon after."
One of the few to have played all 10 seasons that the AFL existed, Rochester made his way back to MetLife Stadium in October 2018, to help celebrate the 50th anniversary of Super Bowl III with his teammates and Jet fans.
"I was able to bring my children, their mates and my grandchildren to the celebration," Rochester said. "We had a great time telling stories about the good ol' days. I love New York's fans. It was like going home. I went to Sewanhaka High School on (Floral Park) Long Island, not far from Shea Stadium."
Retiring in 1970 after playing in 132 career games, Rochester put his Michigan State degree in forestry to work and launched into his second career on the retail side of the field.
His company, Paul Rochester and Associates, represented several different businesses which sold building and roofing materials in Florida, Georgia and Alabama. He was also in real estate.
Now making their home in Jacksonville, Florida, Rochester and his wife, Nancy, recently celebrated their 60th wedding anniversary. They have two children: Laurel Nielsen and Don; and two grandchildren.