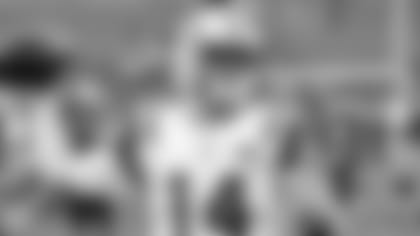 Throughout the season, NewYorkJets.comreporters Eric Allen, Randy Lange and Ethan Greenberg will each give their answers to a series of questions regarding this year's team.
EA: I expect Darnold to play well. We have been watching the rookie passer for months and not once did I think after a practice or a game that Darnold had a poor effort. This is the regular season and Matt Patricia is going to try to confuse and frustrate the Jets' signal caller with pressures and overage disguises. Darnold isn't going to win every play and he's not always going to make the right decision, but the Jets' coaches have been saying for months that the 21-year-old performs better when the lights are brighter. To be successful at this position in the National Football League, you need to be instinctive and Darnold has shown to have a great feel for the game. Many players over time have mastered the classroom, but the USC product has absorbed that information and been able to process quickly in between the white lines. His feet are special and he is a guy who can make it happen when it goes wrong around him. I think I'll leave Ford Field tonight thinking the kid was good. This is a great challenge for the Darnold and the Jets. The Lions averaged 27 points at home last year and they have one of the top quarterbacks in the game in Matt Stafford. Darnold doesn't have to worry about Stafford though. Protect the football against an opportunistic Lions secondary, get some help from Bilal Powell and Isaiah Crowell and an interesting group of tight ends, make use of the legs on the designed rolls and boots and there will be times when Robby Anderson and Quincy Enunwa are open for explosion plays. The even-keeled Darnold just has to be himself because he is ready for this moment.
RL: What I expect to see from Sam Darnold tonight in Detroit is more of what we've already seen in the offseason and preseason — a quarterback who takes charge in the first regular-season huddle of his pro career, remains calm under pressure, knows where to throw, especially if a checkdown is called for, knows when to throw it away, knows exactly when it's time to scramble and knows just where the sticks are. What I hope for Darnold is that he doesn't get flustered if Ziggy Ansah gets into his kitchen a few times, doesn't turn the ball over, finds all his first, second and third receivers, converts third downs, plays within himself and gets the W.
EG: First and foremost, Jets fans just should be excited. Tonight will mark a new era for the Green & White not to mention it's been over eight months since the club has played a regular season game. The team has 17 new players from the end of last season and Sam Darnold could very well top the list in terms of who fans are excited to watch. Darnold's impressive summer earned him the starting job and outside of what we already know from three preseason games, I expect a gamer. As seen at USC, he's someone that always makes plays off-script and Monday night will be the first time we'll see Darnold play a full 60 minutes. We know he's even-keeled, we know he's poised, we know he can extend plays with his feet. I expect the same Monday night. Darnold, who burst onto the national scene with his Rose Bowl performance against Penn State, is a gamer and the wins and losses will count in the regular season. I'm very interested to see how he does under the bright lights of Motown, but I think he'll show why he was the No. 3 overall selection.